I know I speak of relative strength frequently, but it kinda makes common sense, doesn't it? In order to establish relative strength vs. your peers and the overall market, there has to be a lot of interest. When buying clothes, do you buy what's in style now....or do you buy something completely out of style and wait for that trend to return? You could probably get some really good deals on the latter, but how long would you have to wait for that gamble to pay off?
Trading is similar. If you know there's overall interest in a stock, why wouldn't you consider buying it when prices pull back a little? That's what I look for - a pullback to test key support. In an uptrending stock, many times that first level of support is the rising 20 day EMA, which brings me to Target Corp (TGT):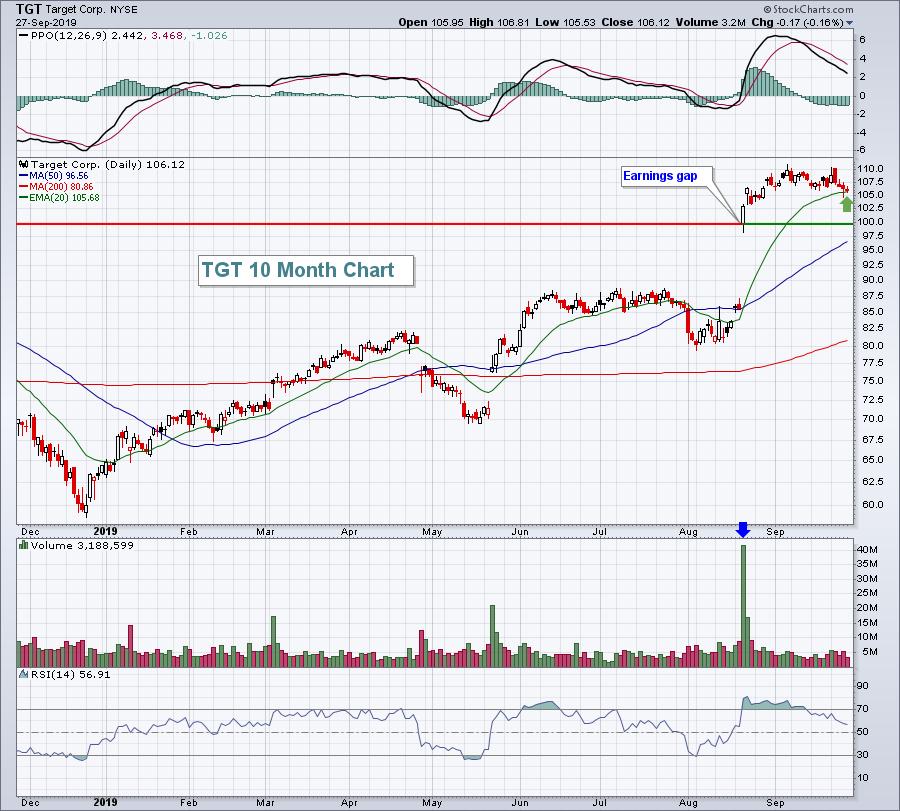 It's become a leader in the broadline retail space ($DJUSRB). While retailers have been hit recently, TGT has maintained its leadership role. Therefore, I like entry into TGT at the current price and again if gap support closer to 100 is tested. I'd consider a tight closing stop just beneath with a target of 112.
I have a few other Monday trade setups to begin the week. If you'd like to check them out, SIGN UP for a $7 30-day trial. They will be included in my EB Daily Market Report (DMR), which is usually published between 11am and noon EST and sent directly to your email. It's also published daily on the earningsbeats.com website. Feel free to check out recent DMR samples. As always, I appreciate your support!
Happy trading!
Tom