I've discussed this on many occasions, but bull market advances requires the rotation of dollars from the bond market. We can have money going into both stocks and bonds for a short period of time, but that generally won't work over a longer period of time. The choice needs to be made by market participants - do you believe our economy strengthens so you choose equities over bonds? Or do you believe our economy weakens and you choose bonds over equities. Currently, we have money moving into both with the S&P 500 not far from its all-time record high close of 3025, while money has flowed into bonds, sending the 10 year treasury yield ($TNX) spiraling lower to end last week at 1.52%. Money POURED into treasuries last week with the weak manufacturing data as the TNX fell 16 basis points. That was the third largest weekly drop of 2019.
But that was off the reaction to last week's economic reports. As we move into another earnings season, the difficult decision awaits. Stocks or bonds? The stock market rallied on Thursday and Friday, but eventually market participants will need to choose one or the other.
Major stock market rallies have one thing in common. They benefit from the rotation from bonds to stocks. In other words, when the TNX is climbing, so too generally is the S&P 500: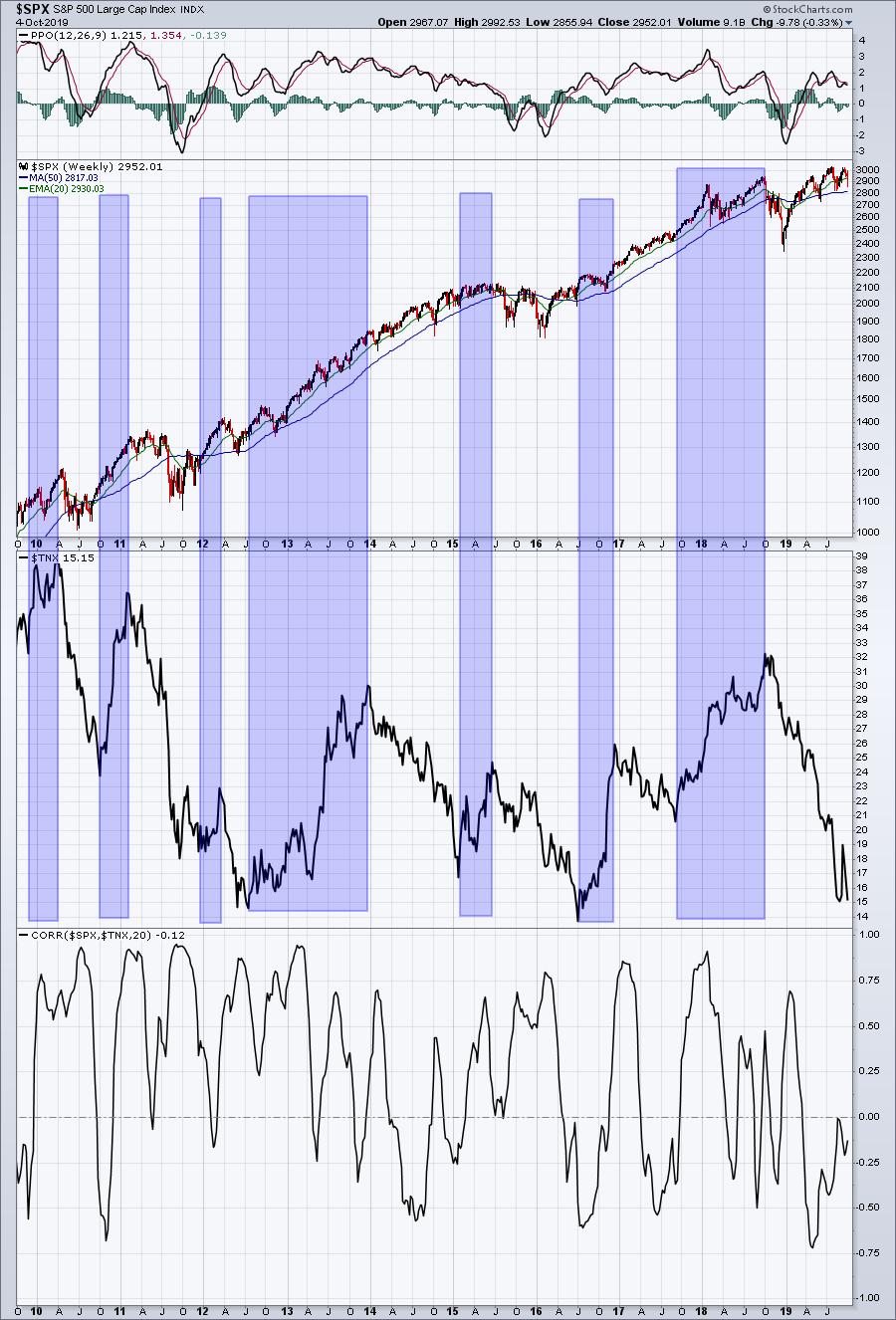 The blue-shaded areas show what happens when the TNX is moving higher. In every single case, the stock market rallies. These are illustrations as to what happens when market participants choose stocks over bonds. There were two periods (2014 and 2017) where the S&P 500 rallied despite lower treasury yields, but they were more the exception than the rule.
This "stocks vs. bonds" discussion is just one of the many things I'll be discussing at my Q4 Market Outlook webinar that begins at 4:30pm EST today. CLICK HERE for information on how to join me this afternoon. I hope to see you there!
Happy trading!
Tom