I completely understand that it's really not possible, but Wall Street does provide us a number of clues. When a company is being accumulated and is outperforming its industry group peers plus the benchmark S&P 500, there's typically a reason for it. As I've discussed on many occasions, big Wall Street firms have an advantage over us. They are able to send analysts out to meet with company management teams and discuss all things business (except during "quiet periods" when management cannot discuss those things). Those analysts return to their offices and begin buying (or selling) for their own accounts and for client accounts.
But we, as astute technicians, have an advantage on many on Wall Street. We have our charts. And our charts tell us a story. It's a story about Wall Street and all their shenanigans. Perhaps Lam Research (LRCX) truly shocked everyone with a very solid report and bullish forecast, but I highly doubt it. LRCX was performing exceptionally well on both absolute and relative bases prior to their earnings release on Wednesday after the bell. Our big advantage - the charts - illustrated this quite clearly: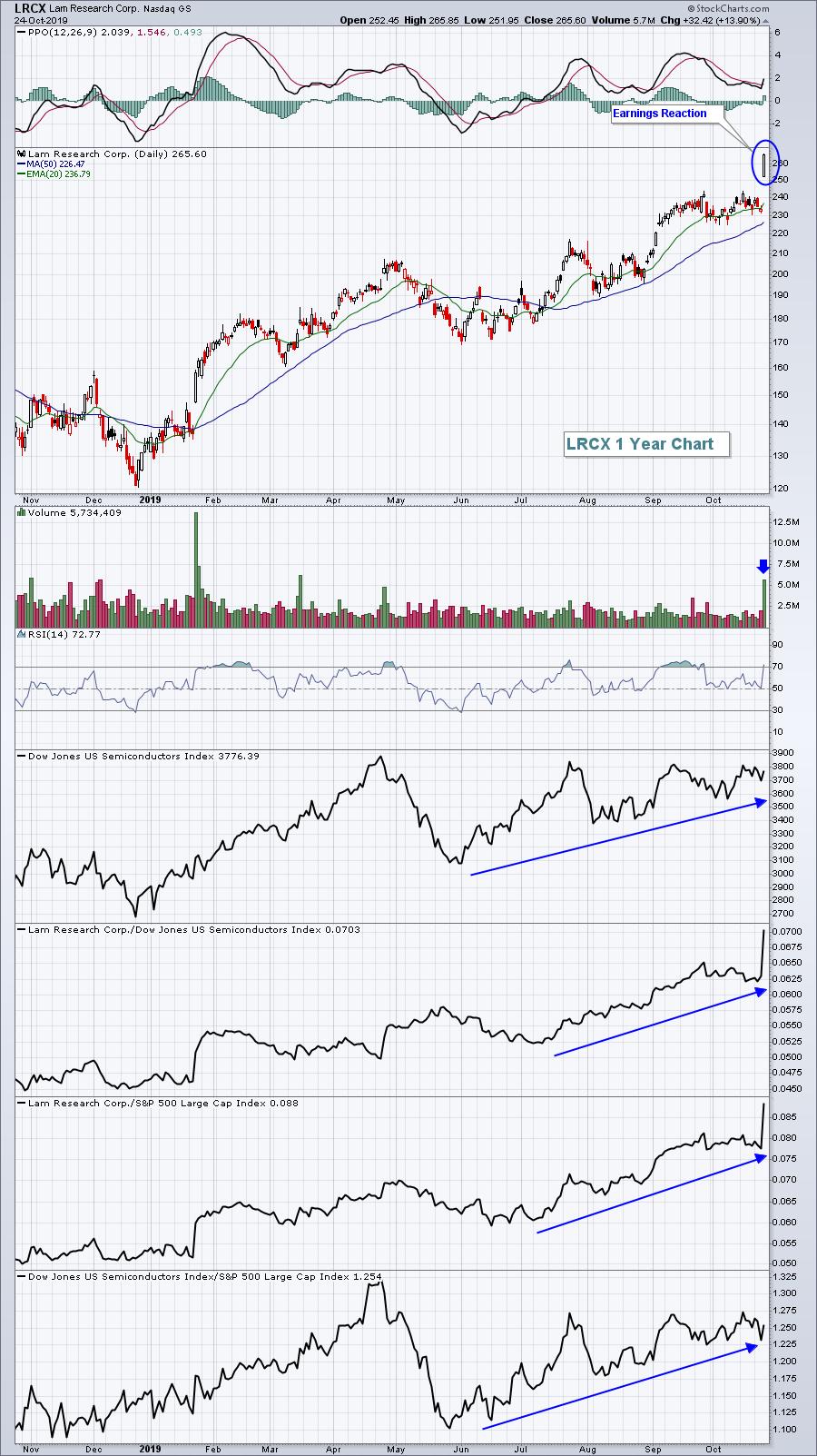 LRCX was very strong prior to its earnings release and then traders bid the shares much higher after the results were released. It's difficult sometimes to predict how a company's stock price will react - even to a blowout report - because a lot of good news is already built into price. But it was clear to me that Wall Street was expecting that major beat.
And they got it.
So who's on deck to report Monday that could deliver the same type of big news? Well, I have 5 that I believe will report very strong numbers, likely above revenue and EPS expectations. I'm sending those out to EarningsBeats.com members this weekend. While I don't encourage holding stocks into earnings because there are always big surprises in both directions, it's certainly an opportunity to experience the benefit of understanding relative strength. If you'd like to receive these 5 annotated charts, CLICK HERE to start your $7 30-day subscription. I'd love to have you join me and try my service!
Happy trading!
Tom