The September ISM manufacturing index fell from 49.1 in August to 47.8 this month, signaling a rather significant contraction. Export orders were much worse, posting 41.0, which was their third consecutive month of contraction. The report was released at 10am and, following a move lower heading into the report, the reaction in both the stock and bond markets was immediate and severe: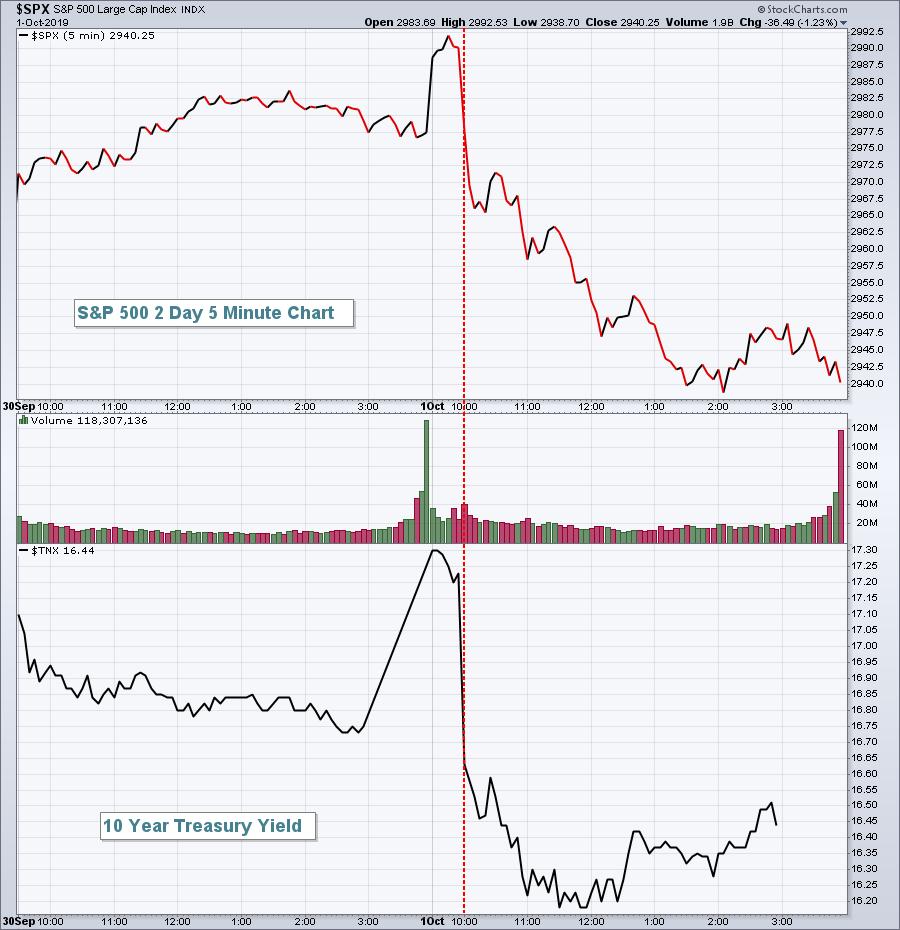 Let's be clear. Manufacturing index values below 50 are worth noting because they so a significant slowdown in our factories. That's clearly a problem. It also follows the awful readings that we saw in Germany recently and, in my opinion, confirms that the Federal Reserve is not done with its rate-cutting campaign. The trade war is having implications around the globe and I feel quite confident this report will convince the Fed to keep lowering rates in Q4.
The slowdown in manufacturing now puts that much more pressure on the nonfarm payrolls report, which is due out on Friday morning. We just had the ADP employment report out a few minutes ago and it revealed that 135,000 jobs were added, a bit below the 152,000 consensus estimate.
Yesterday marked my first Trading Places LIVE show on StockCharts TV. It aired from 9:00-9:30am EST and will be a regular part of StockCharts TV's fall lineup. You can catch me on StockCharts TV on Tuesday and Thursday mornings. I will also be hosting webinars at EarningsBeats.com on Monday and Wednesday mornings from 9:00-9:30am EST to complement the shows here at StockCharts. I will be hosting my first such webinar this morning. If you'd like to join me, just CLICK HERE. It will start promptly at 9:00am EST and I'll take you right up to the opening bell!
One topic that I'll be covering is the long-term technical outlook for our major U.S. indices, as well as those around the globe. I'll provide you with the key short-term, intermediate-term, and long-term support levels you should be concerned about. The 2940 low that was tested into the close is the first key level to watch and, based on weak futures, that support level will likely be lost at the open. I'll go through other levels during the webinar.
I look forward to seeing you at 9:00am EST!
Happy trading!
Tom