There are two groups, when they get rolling, that you do not want to miss. The first is semiconductors ($DJUSSC), which have exploded through resistance over the past two weeks and are higher by roughly 30% since June. KLA Corp (KLAC), Teradyne (TER), Advanced Micro Devices (AMD), Lam Research (LRCX) - the list goes on and on of stocks within this space that have been surging.
The second group is biotech ($DJUSBT). For the first time since January, the DJUSBT hit a SCTR score above 70. Its price high surged to a 6 month high and it is up more than 10% over just the past month. A 20 day EMA test would be the ideal spot to enter if we see a short-term pullback: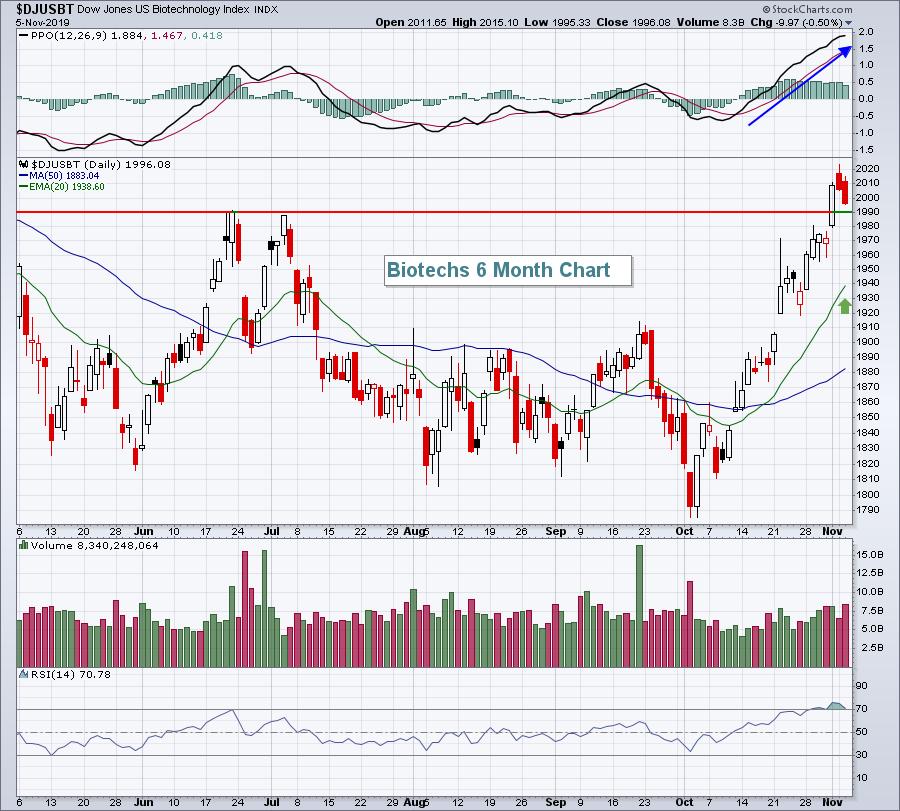 But the bigger picture is what excites me. The DJUSBT has been consolidating for nearly two years after a meteoric rise. The 2019 downtrend line has been broken and the weekly PPO has just turned positive: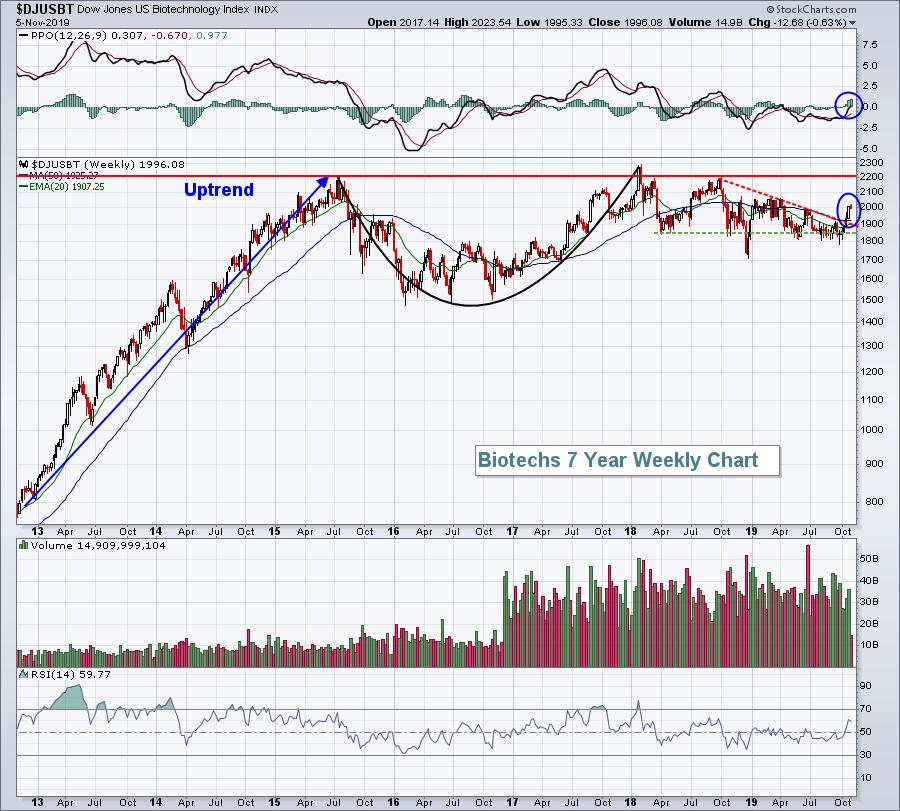 The depth of that cup is 700 points (from 2200 down to 1500). An ultimate breakout above 2200 would measure to 2900. From the current DJUSBT index value of 1996, that'd be close to a 50% move - exciting indeed!
There was a false breakout in 2018 and a false breakdown in 2019, but I believe this group could be a BIG leader in the balance of 2019 and throughout 2020. Amgen (AMGN), one of the more recognizable names in the space, just broke out last week on excellent volume and that will drive more buyers into the space. I have one name that's been beaten down and consolidating for 4 years. It has a positive divergence on its weekly chart and just reported earnings that beat estimates on both revenues and EPS. It will be my featured stock in the "3 You Must See" that I end my show with each day. That show, Trading Places LIVE, airs here on StockCharts from 9:00am to 9:30am every Tuesday and Thursday. On Mondays and Wednesdays, however, I feature the same Trading Places LIVE show at EarningsBeats.com.
If you'd like see the biotech that could be poised to explode, join me at 9:00am EST this morning using the following link:
If you're too late to join the show, write me at "tom@earningsbeats.com". I'll set you up for a free subscription to my EB Digest newsletter that I publish 3x per week and I'll be happy to send along the stock!
Happy trading!
Tom