One week ago, I indicated that I'd have 5 trading candidates for anyone who signed up for a $7 30-day trial. It was similar to the Monday Setups that I had previously provided on MarketWatchers LIVE, the flagship StockCharts TV show that I had hosted for two years. Here's a quick look at how they performed and how I view them now:
ODP: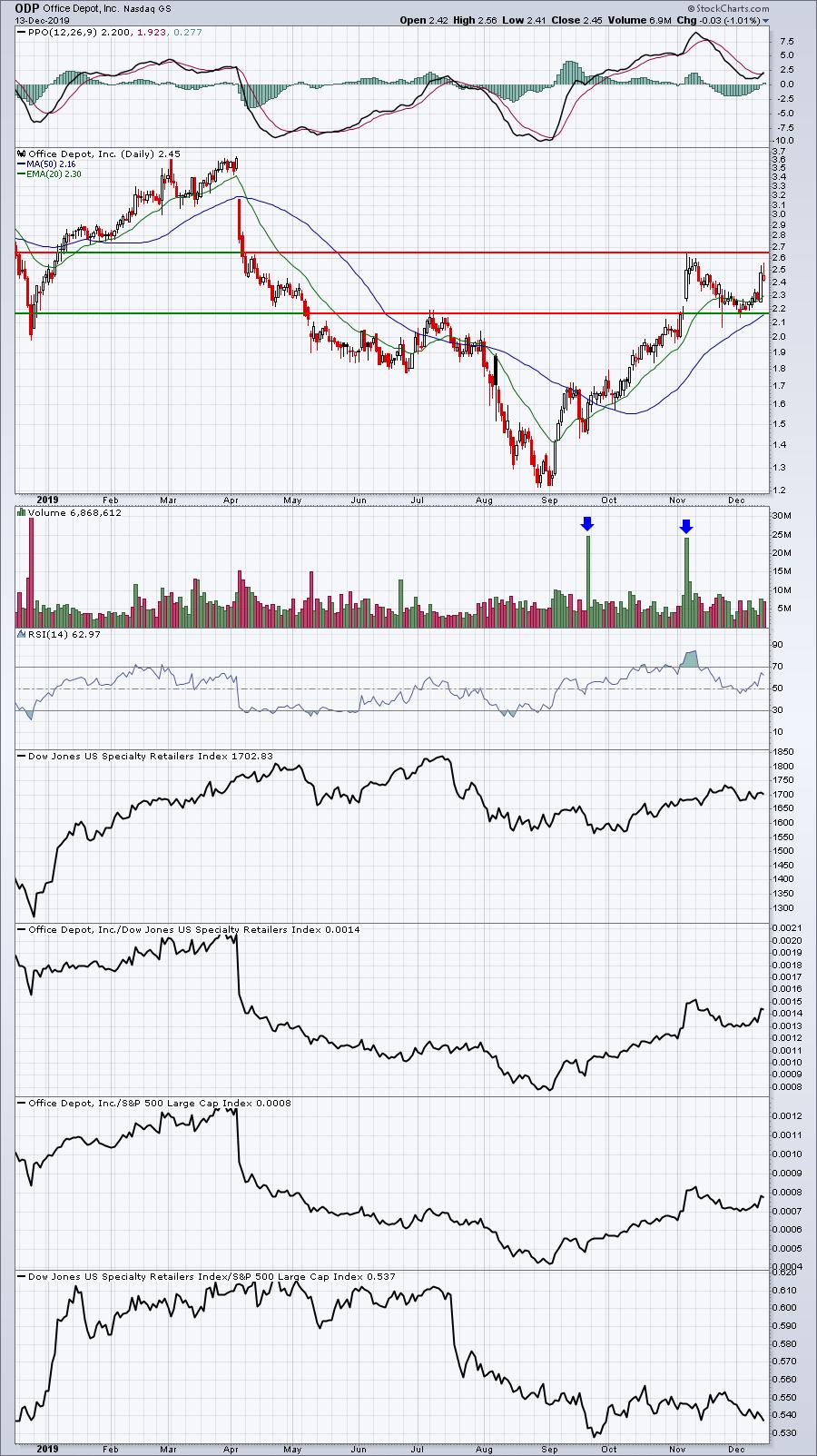 ODP is currently in a 2.20-2.60 trading range, consolidating after a big move on heavy volume in early-November. Its relative strength is building, which is bullish, but I'd like to see one more big volume break above 2.60 to confirm an uptrend is in play. I believe it is, but one more "higher high" would do the trick. ODP was at 2.28 on Monday mid-day when it was sent to members. Current price: 2.45. Result: 7.46% gain. At its highest intraday level, it was up 12.28%.
GNTX: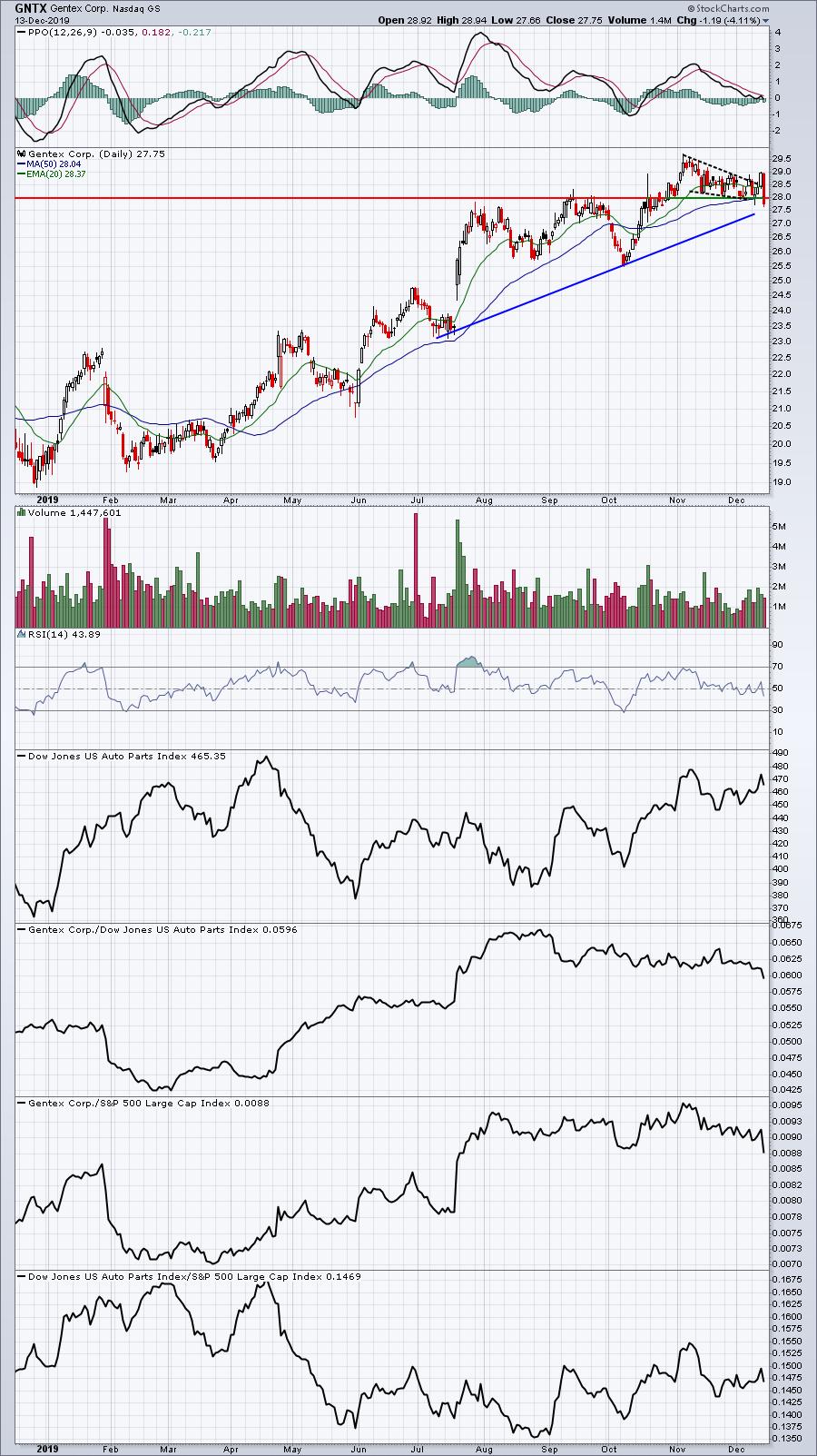 GNTX broke out of a bull wedge on Thursday and appeared to be off to the races. But, as the market will often do, that breakout quickly fell apart on a big reversal Friday. Volume was lighter on that reversal, though, so I think after a bit more volatility, GNTX will move back up. GNTX was 28.29 when sent to EarningsBeats.com members. Current price: 27.75. Result: -1.91%. At its intraday high of 28.97 on Thursday, GNTX was up 2.40%.
CALX: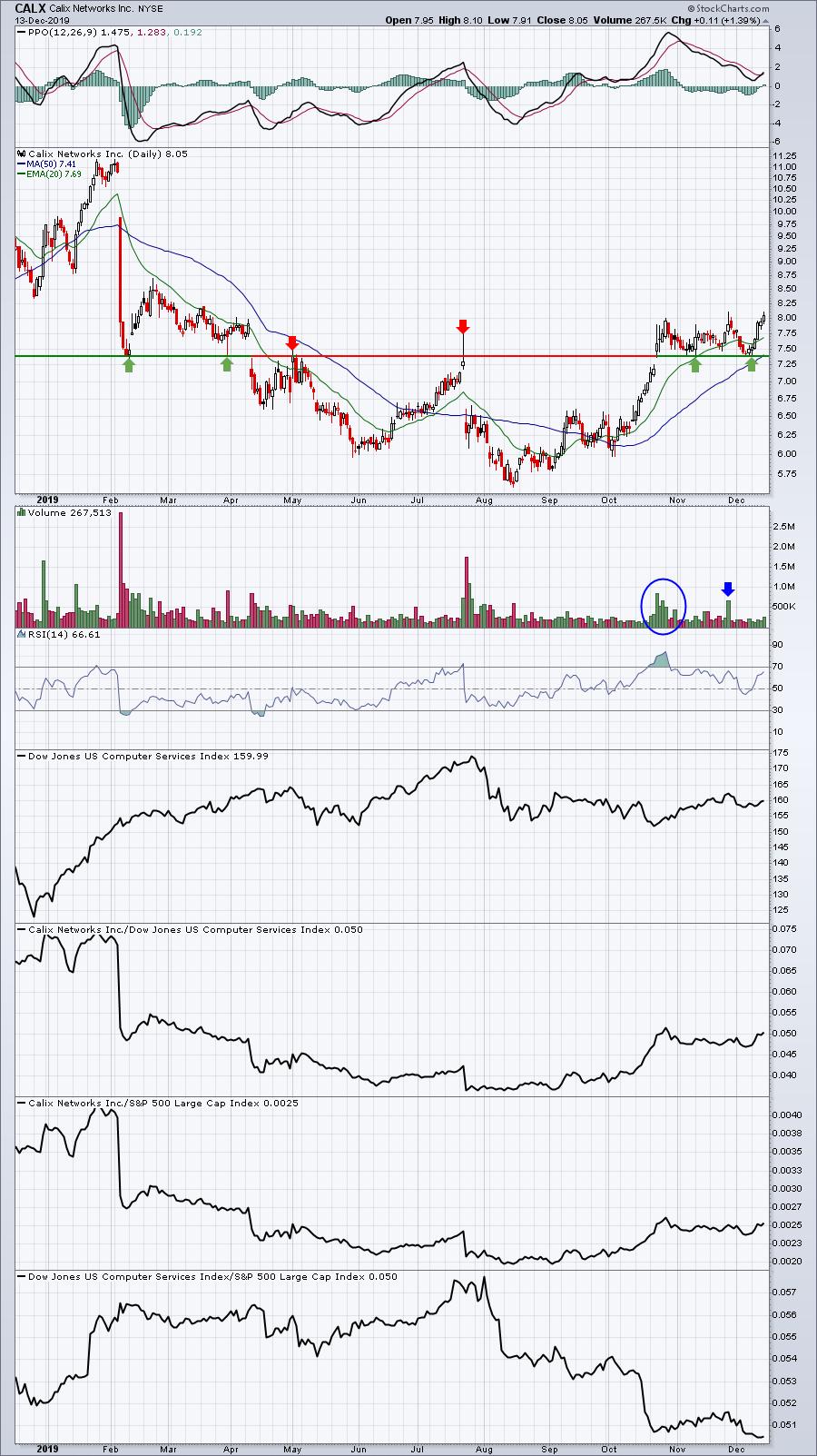 CALX was the best pick from last week without a doubt. ODP was close in terms of percentage gain, but it didn't make another breakout. CALX did. The recent push higher, followed by consolidation and another breakout bodes well for further gains down the road. CALX was at 7.46 when it was sent to EB.com members last Monday. Current price: 8.05. Result: +7.91%
LMT: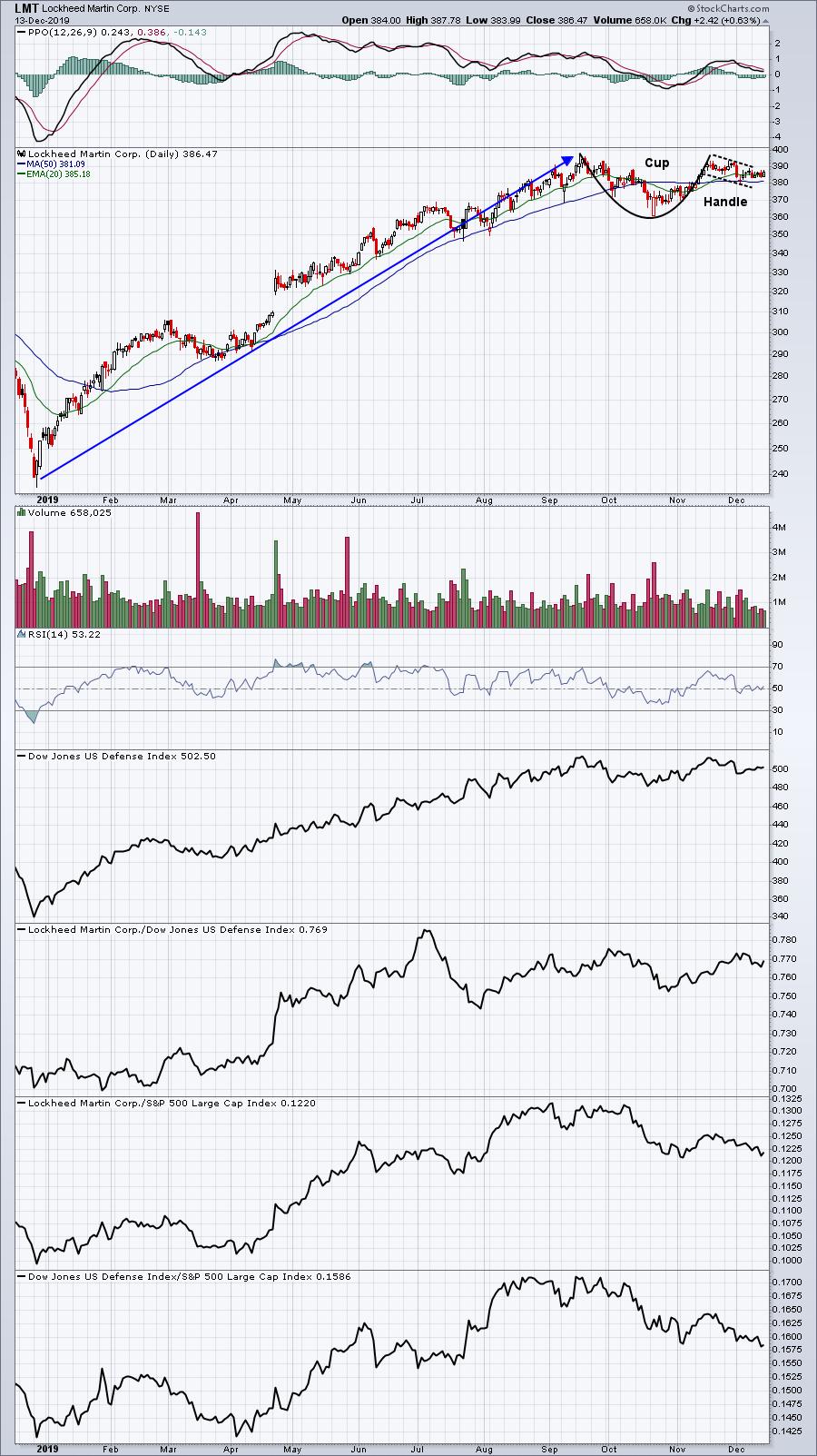 LMT remains in a very bullish cup with handle continuation pattern, so I expect a breakout and another surge higher in time. Last week, it was sent to EB.com members at 384.90. Current price: 386.47. Result: +0.41%. Intraweek highs were a bit higher, but wouldn't have added much in terms of gains.
MX: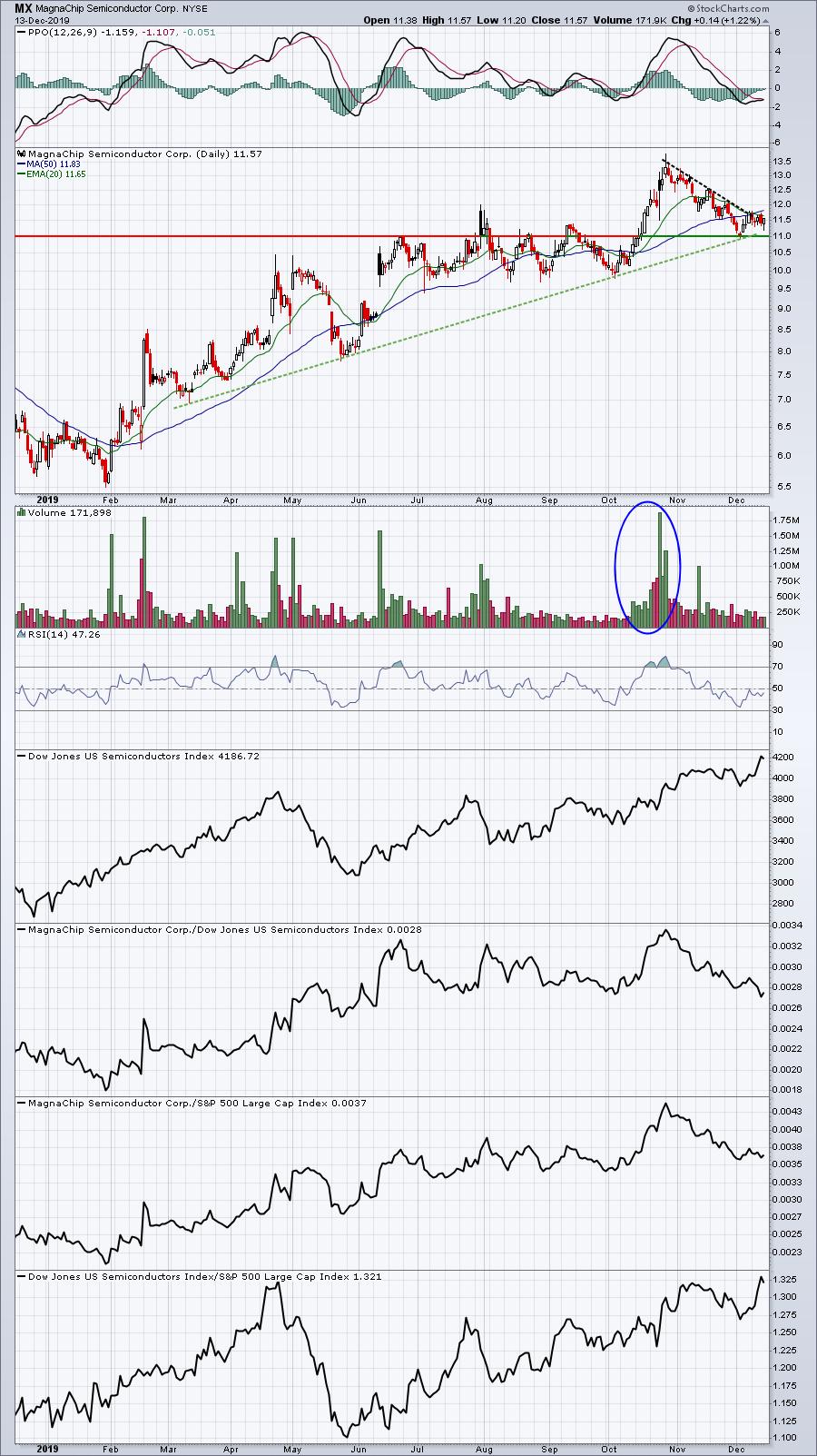 MX continues to squeeze in a bullish triangle formation. Off an uptrend, these types of patterns tend to resolve to the upside, so that's what I'd look for. MX was sent out to EB.com members at 11.60. Current price: 11.57. Result: -0.26%. I do like the hammer that printed on Friday.
Discussions of trade setups and trading in general is very important, especially now that the trading environment has changed. There are no longer commissions on trades, which is a major benefit to active traders. Depending on how many times you trade, $5 a pop can add up.
Today, I'll provide another group of trading candidates and explain how I'll be taking advantage of the new "zero cost" trading environment in a free webinar, "How Commission-Free Trading Stacks the Odds in our Favor". I'd love to have you join me. CLICK HERE to register.
Happy trading!
Tom