It made sense to underweight healthcare (XLV) throughout much of 2019, but that's no longer the case. In fact, my proprietary momentum ranking system ranks healthcare behind only technology (XLK) and financials (XLF) in terms of sector momentum. The StockCharts Technical Rank (SCTR) has the same ranking as well: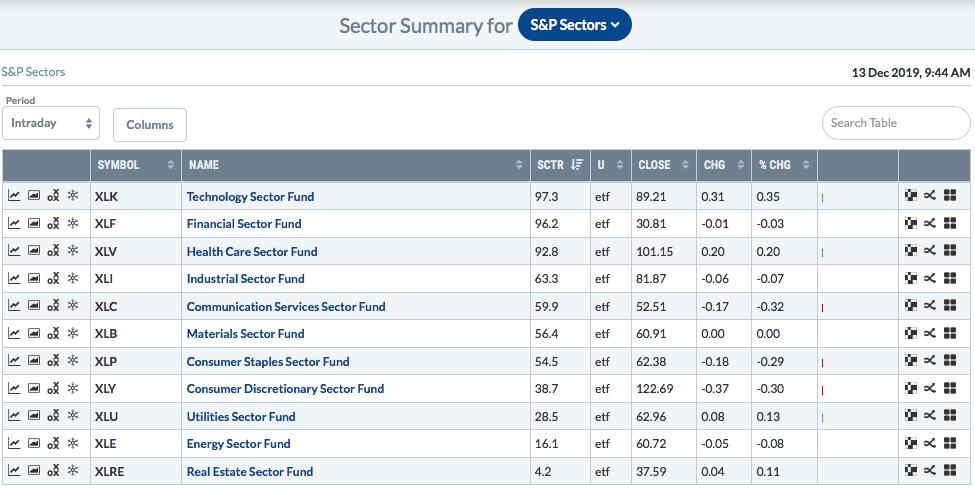 Those are the top 3 and none of the others are close.
You might be surprised as to the top industry groups under my system....or maybe not.
Computer hardware ($DJUSCR)
Home construction ($DJUSHB)
Semiconductors ($DJUSSC)
While they haven't made it to the top of the list yet, banks ($DJUSBK) and biotechs ($DJUSBT) are rallying very quickly and gaining momentum each and every week. Others that have been strong, but not for long enough to crack the top of the leaderboard, include recreational products ($DJUSRP), health care providers ($DJUSHP), and gambling ($DJUSCA). The latter has just made a very strong breakout, however, on an absolute basis: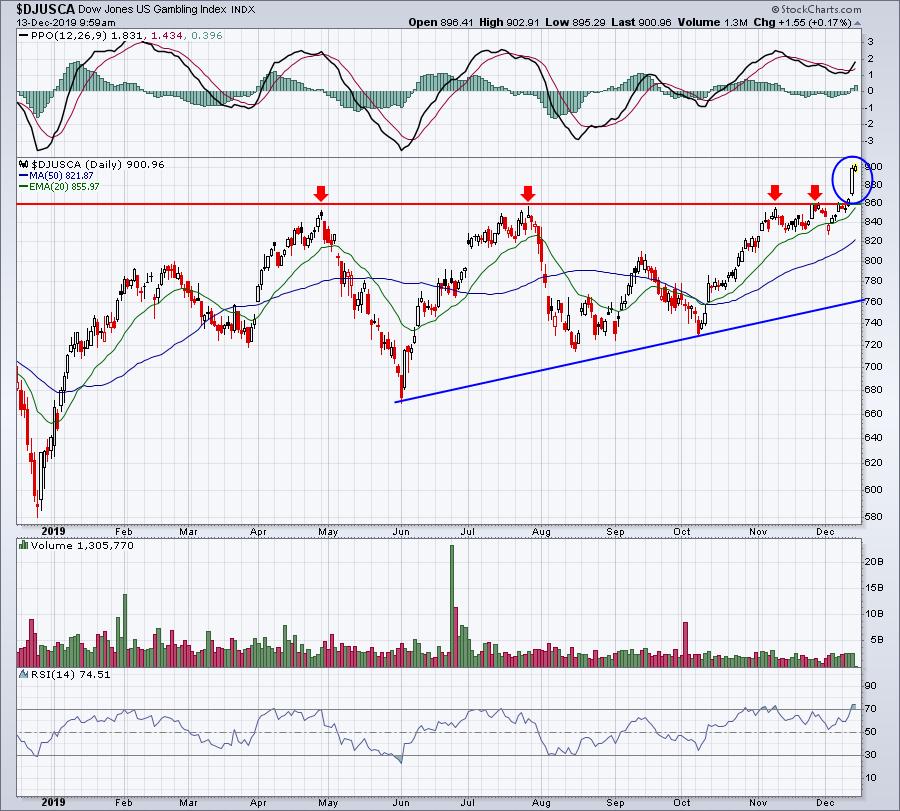 On Thursday, I provided our EarningsBeats.com members three potential trading candidates in this area of the market that are showing similar breakouts, ranging from leaders in the group to one company that could be undergoing a "character change" on its chart, moving from a downtrending stock to an uptrending one.
It's very important to see the relative strength and relative momentum early in a trend. Focusing on companies within those trending sectors and industries can yield much higher returns than the benchmark S&P 500. My EB Digest newsletter focuses on exactly this, is published 3x per week (Mondays, Wednesdays, and Fridays), and, best of all, is completely free! CLICK HERE to provide your name and email address and begin receiving your free articles now!
In less than an hour, my good friend and technical analyst colleague, Greg Schnell, will be joining me for yet another Market Vision 2020 mini-series event. He'll explain how he looks at the stock market. This event is free and requires registration to our free Market Vision 2020 newsletter. However, if you agree to allow us to add your name and email address to this newsletter (again, no charge whatsoever), then use the following link to come join us directly. The event starts at 11:00am EST and the room will be open by 10:30am EST at the latest. Here's the link to join:
Hope to see you there!
Tom