Wall Street is betting on certain industry groups to weather this COVID-19 storm much better than others. Knowing which groups are favored is very important, especially if we suffer another bout of impulsive selling. Gold mining ($DJUSPM) and mining ($DJUSMG) are the two best performers, gaining 19.51% and 18.63%, respectively, since February 19th. However, the strength here is likely due to multiple factors, not just COVID-19. Fear, in general, typically results in outperformance in these groups. While I wouldn't ignore the outperformance here as the group has become the best area of the market to trade on the long side near-term, I'm not looking at these two groups as beneficiaries of a paradigm shift as much as I am them being beneficiaries of extreme fear.
So which industry groups are the best groups to consider as paradigm shift beneficiaries? Of the 7 best groups outside of gold and mining, here are two that you should be thinking about:
Nondurable Household Products ($DJUSHN)
The overall downtrend in the DJUSHN is apparent, but one look at the relative strength of the group vs. the benchmark S&P 500 tells us that this is an area of the stock market that has clearly benefited from this crisis. We're now approaching key relative support (green arrows), so if the stock market rolls over again for another bout of selling, I'd expect this industry group to provide viable trading candidates on the long side.
Truckers ($DJUSTK)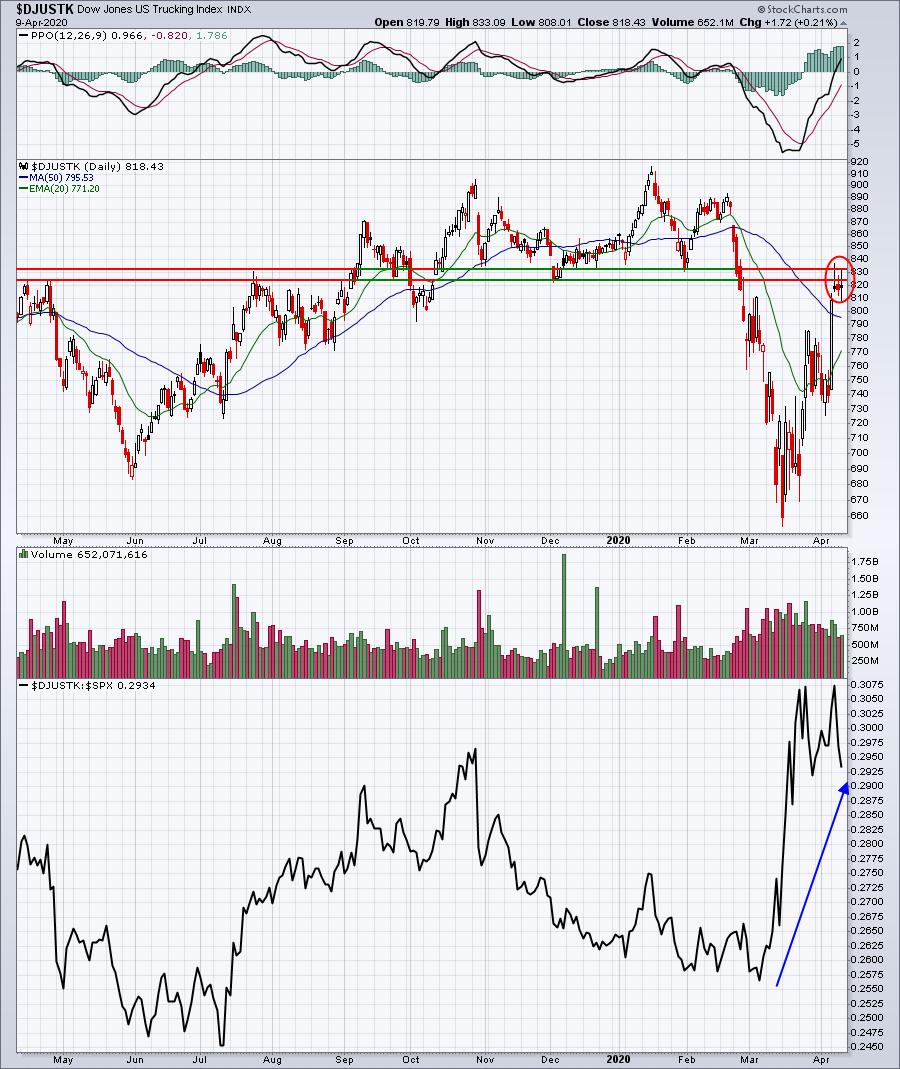 In the very near-term, the red circle above marks a potential "island". I'd be careful if we see a gap lower this week to leave those three candles on that island. That would be a short-term issue. However, longer-term back to early March, the DJUSTK has been favored by Wall Street. It's rather clear to me that the outperformance has been quite significant throughout this ordeal. It's actually a decent signal to me that maybe our economic growth won't be stunted for as long as many might think. Why else would this group be holding up so well?
There are 5 other industry groups that have performed better than the DJUSHN and DJUSTK since February 19th and that will be one part of the discussion I have with EarningsBeats.com members later this morning at 10:00am EST. It's our weekly WebinAR (WAR) Room chat for our members to come together during this time of isolation and social distancing. With so many of us confined to our homes, we're reaching out to everyone to provide an hour or two of financial education and ideas.
I've also developed an AD (Accumulation/Distribution) ChartList with over 300 companies on it that I'll be discussing with members. This ChartList, along with our Strong Earnings ChartList, will be available for download for all EarningsBeats.com members who are also at least Extra members at StockCharts.com. If you'd like to join this morning's webinar (or receive a recording later) and you're not currently an EarningsBeats.com member, you can CLICK HERE for an agenda of today's event and sign up for a fully refundable $7 30-day trial. We'll make sure you get room instructions after signing up.
Happy trading!
Tom