A few weeks ago I joined David Keller, Chief Market Strategist of StockCharts.com and host of SCTV's "The Pitch", to explore opportunities created by the COVID-19 panic. I explained at that time that my analytical background led me to research the massive rotation that took place during the initial panicked selloff from the February 19th top to the March 23rd bottom. Not all stock selloffs were created equal during the decline. Plenty of accumulation was taking place under the surface of the market, but only in certain areas - areas that stood to benefit from "stay-at-home" orders and the paradigm shift to social distancing.
That research led me to develop a Strong AD (Accumulation/Distribution) ChartList and a Weak AD ChartList to take advantage of the fork in the road that took place in late-February. While just about every stock suffered opening losses on significant gaps to the downside for the next month, many of those stocks were accumulated after the opening bell (Strong AD stocks), while others continued their selling (Weak AD stocks). By combining StockCharts.com's very own SCTR scoring system with the accumulation/distribution line, I was able to create two extremely powerful ChartLists.
So when I appeared on The Pitch with Dave, I was armed with knowledge of significant accumulation in stocks that many traders were not necessarily following. They've proven to be HUGE winners. All 5 stocks that I discussed on The Pitch after the close on March 31st have easily outperformed the S&P 500's gain since that time. One stock, Wingstop (WING), gained 37% in the three weeks since the show, gaining more than 4 times that of the S&P 500. There are two charts to look at here. First, let's check out the long-term track record of WING: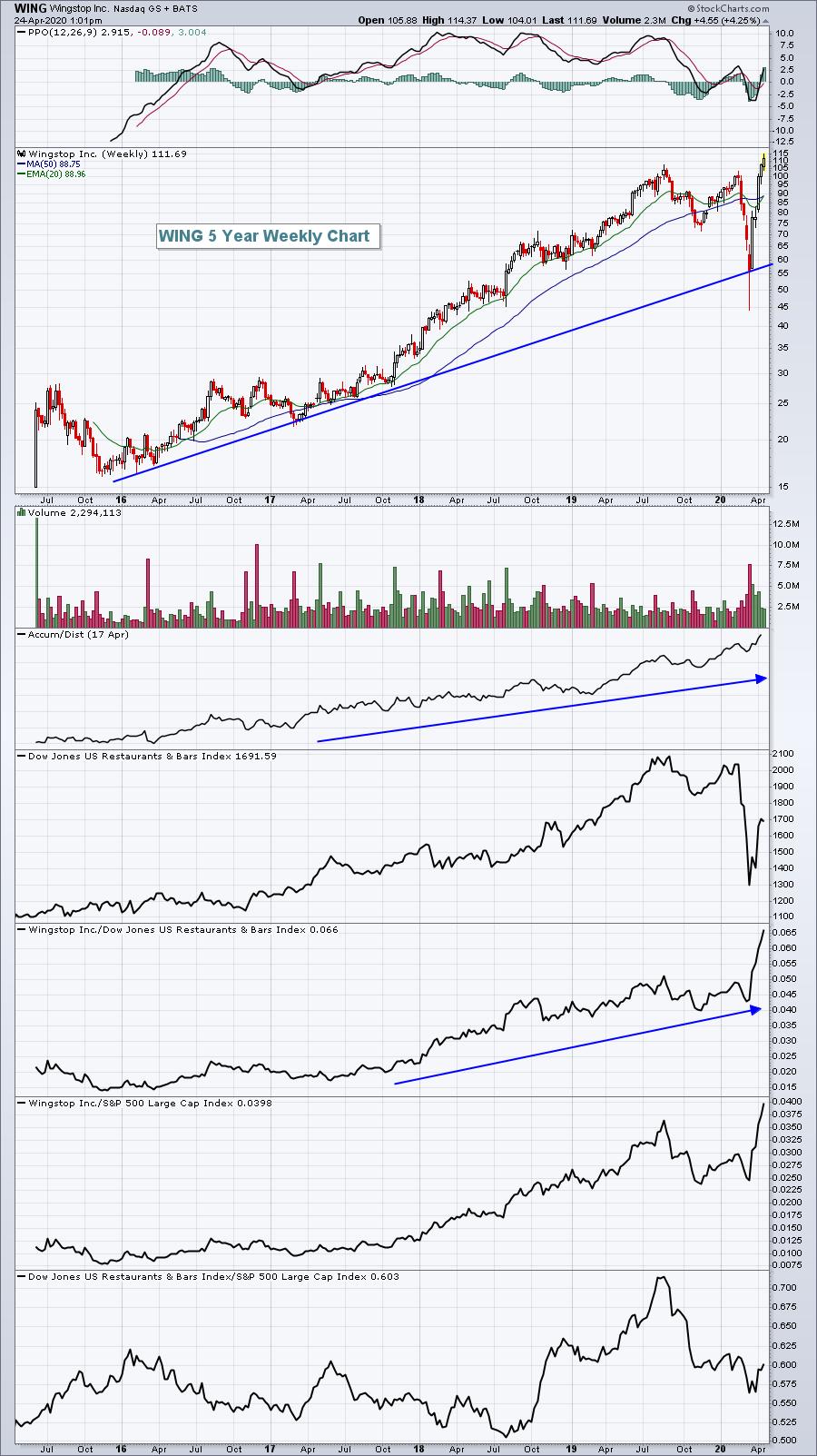 WING has been one of the best performing restaurant stocks ($DJUSRU) of the last 5 years. And check out that long-term accumulation/distribution line. It's been rising mostly non-stop since WING had its initial public offering. We can also focus on the near-term and what's happened during this pandemic:
During the stock market's meltdown from February 19th to March 23rd, WING fell like just about every other stock. But its accumulation/distribution line rose! Many of those down days saw significant intraday reversals, closing well off intraday lows and, in some cases, finishing in positive territory with hollow candles (a hollow candle occurs when a stock's closing price finishes above its opening price). So while the price action was falling, the accumulation/distribution line was rising. Smart money was buying! Now fast forward to the rally in WING since mid-March (green-shaded area). How many "filled" candles do you see? A filled candle occurs when a stock closes below its opening price, indicative of intraday distribution. Almost every candle has been hollow. Professionals are buying this stock hand over fist, after individuals panicked out. It's not illegal. It's not criminal. Wall Street is simply finding alternatives for the money they raised by selling airlines ($DJUSAR), recreational services ($DJUSRQ), hotels ($DJUSLG), gambling ($DJUSCA), mortgage finance ($DJUSMF), home construction ($DJUSHB), etc. We can follow Wall Street's cues or we can ignore them. It's a matter of choice.
WING is one of those alternatives that Wall Street was looking for. To see the other 4 stocks that I'm very bullish on and that I discussed on The Pitch, simply CLICK HERE. I have an upcoming WebinAR (WAR) Room for our EarningsBeats.com members on Saturday, April 25th at 2:00pm EST that you're welcome to join. I'll be discussing the 5 stocks from The Pitch, which is included as part of my "Top 20 Pandemic Stocks of 2020". For more information, follow the link above. I look forward to you joining me tomorrow!
Happy trading!
Tom