COVID-19 has lit a fire under one industry group that already was showing relative strength. Now its relative strength is off the charts and showing no signs of slowing. In fact, it closed at its highest level in more than two years and is within a whisker of a MASSIVE breakout.
It's biotechnology ($DJUSBT). I've been pounding the table for this group for quite awhile now. You might recall my article titled, "The Next Big Breakout Is Happening Today". That article was written in early February, but it still holds true today. Just about every area of the market has suffered since the February 19th top and the outbreak of the coronavirus in the U.S. Biotechs, however, have performed outstanding on a relative basis and, on Friday, made yet another major breakout in the short-term and it's very close to an even bigger breakout longer-term: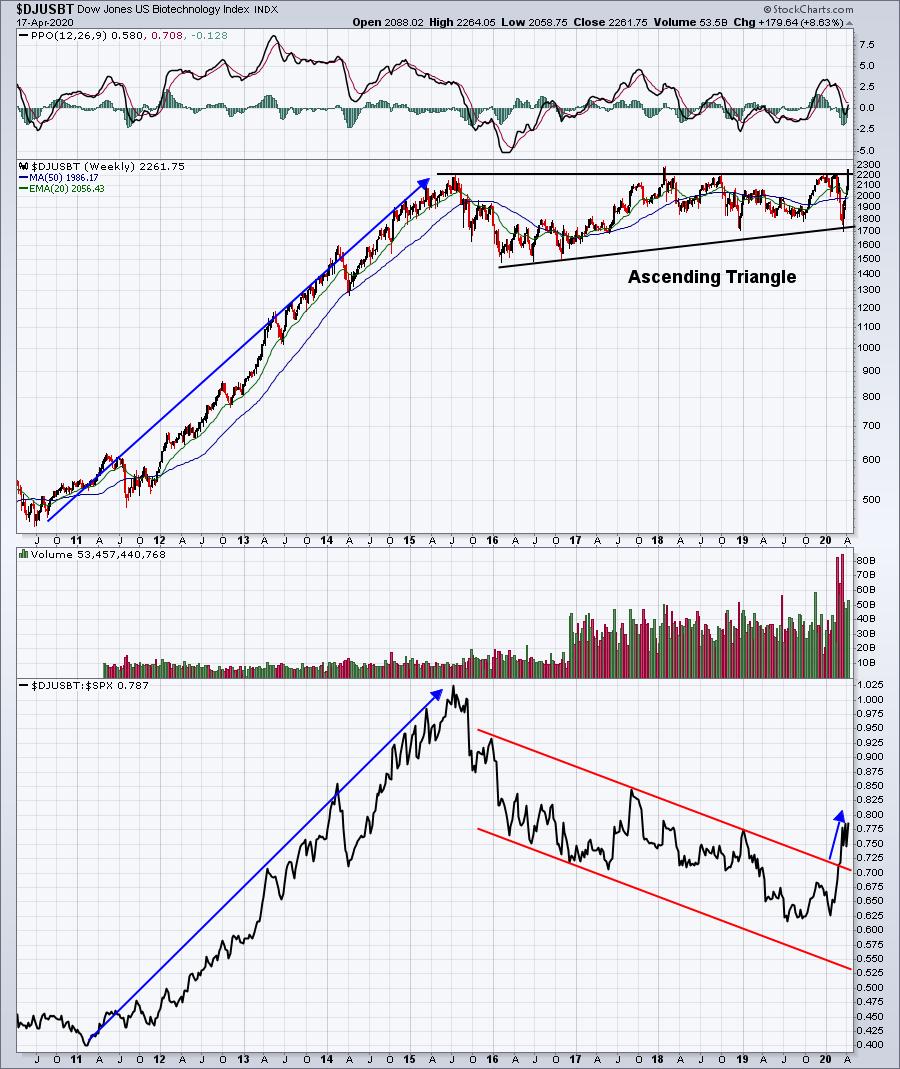 Biotechs are a lot like semiconductors ($DJUSSC) in the sense that when they get rolling, they REALLY get rolling. The breakout here in the DJUSBT with significantly improving relative strength tells me that the time is now for biotechs. In that article that I wrote back in February, I pointed out a stock that I was going to write about in our free EB Digest newsletter the very next day. It was Vertex Pharmaceuticals (VRTX), which continues to be one of my favorite biotech stocks: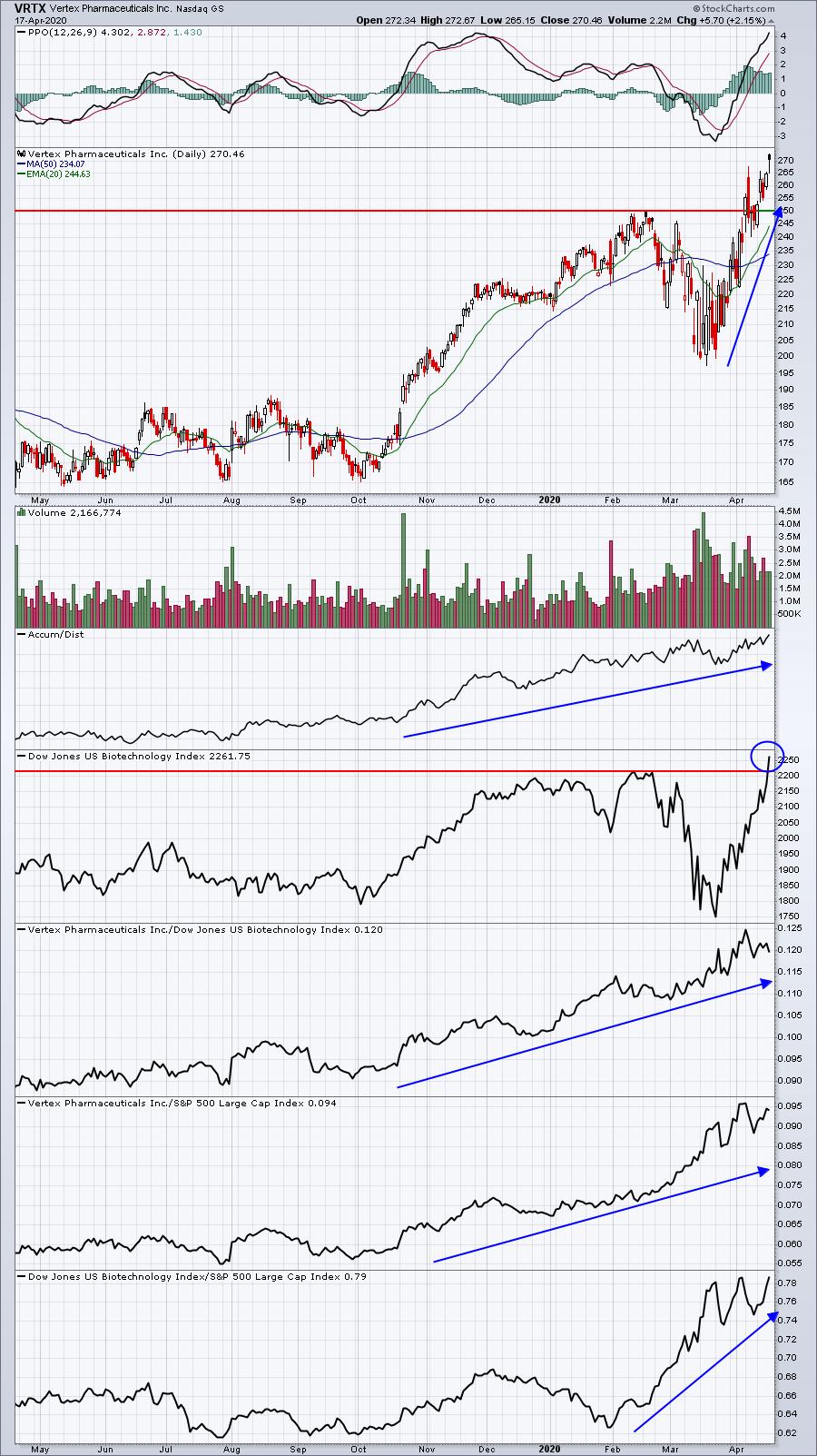 I liked VRTX so much that I included it in my Model portfolio that was announced on February 19th (market top). My Model portfolio is up 52.65% since its inception on November 19, 2018. Over that same period, the S&P 500 has gained 6.83%. Stocks like VRTX have helped this Model portfolio crush the benchmark S&P 500.
In a little over an hour (2pm EST), we are opening up our WebinAR (WAR) Room for EarningsBeats.com members. I'll be discussing the Big Picture (where I see the market going), the changing market conditions and increasing your odds of finding winning trades within these changing conditions, and perhaps two of the best additions to our service ever - the Strong and Weak AD (Accumulation/Distribution) ChartLists. From the VRTX chart above, you can see that while stocks tumbled in March, many showed significant signs of accumulation, including VRTX. Our Strong AD ChartList comprises 354 such companies, narrowing down the stock market to a much more focused group of excellent performers. The Weak AD ChartList, comprised of 250 companies, does the opposite. It identifies the stocks that are being massively distributed, which makes them leading candidates for shorting. Since unveiling these ChartLists for our members, the results have been staggering. To check those stats out and get more information on joining me in our WAR Room shortly, CLICK HERE.
If you decide to take us up on our fully refundable, $7 30-day trial offer AND you're a StockCharts.com Extra member or above, we'll provide you instructions how you can download both of these AD ChartLists directly into your StockCharts.com account! It's powerful!
Happy trading!
Tom