You can usually tell whether a strong earnings report is upcoming simply by the way a stock is trading prior to earnings. Wall Street has one major advantage over the rest of us. They contact management teams throughout the quarter and they have a fairly strong idea how business conditions are stacking up. They place their bets before the earnings reports are released. That's where EarningsBeats.com takes over. We maintain and frequently update our "Strong Future Earnings ChartList". This ChartList comprises stocks that meet the following criteria:
not already on our flagship Strong Earnings ChartList (SECL)
possess a strong SCTR (StockCharts Technical Rank) score, suggesting excellent relative strength
liquid (average trading at least 200,000 shares per day)
Currently, there are 22 semiconductor stocks on this list. Below are 3 small caps that look particularly strong as they approach their February earnings date:
Atomera, Inc. (ATOM)
Current price: $29.92
Market Cap: $641.9 million
Chart: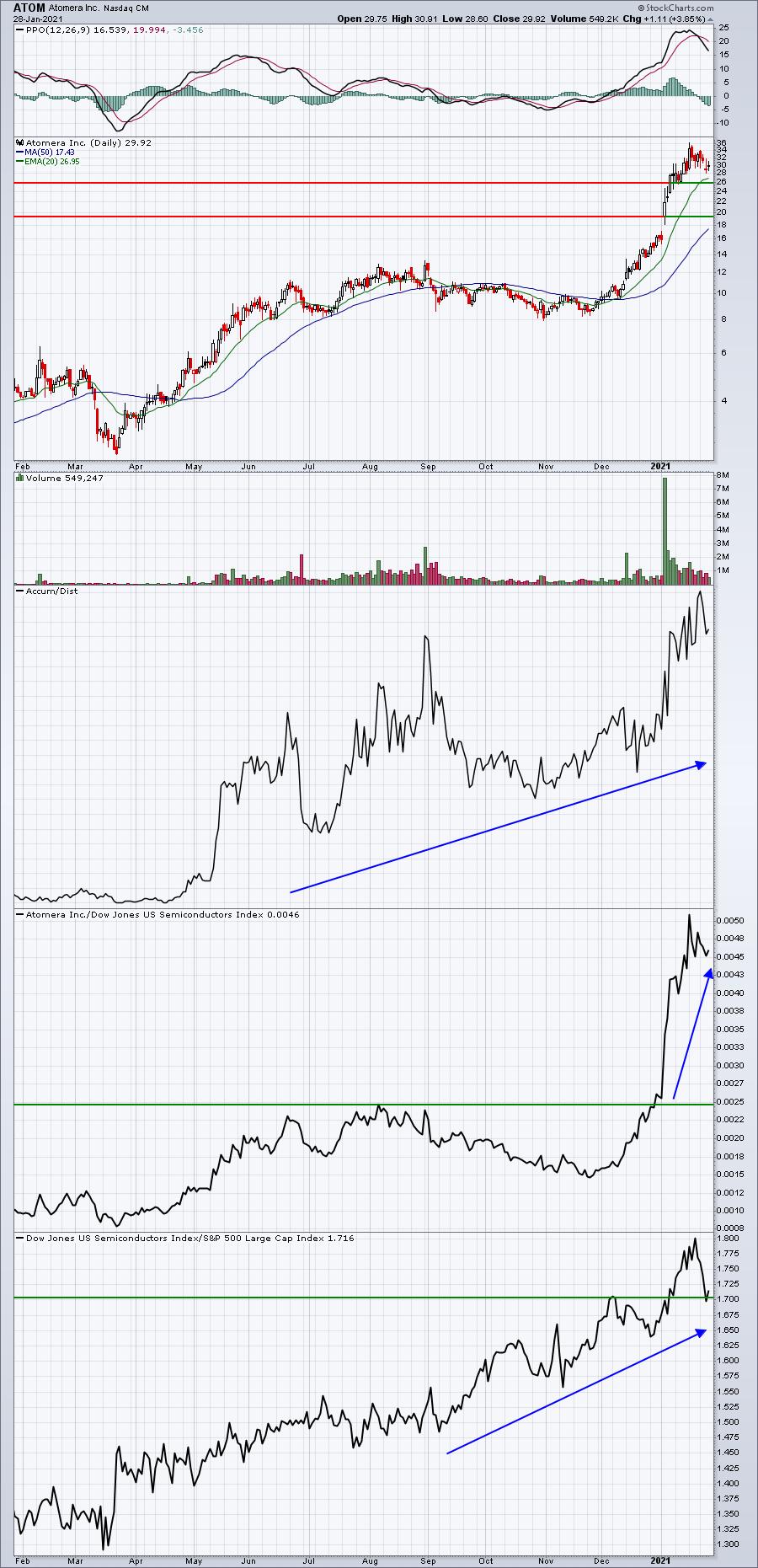 ATOM's big surge on January 5th came on MASSIVE volume and coincided with their announcement of a new collaboration with a leading semiconductor company. ATOM's patented Mears Silicon Technology (MST) is a quantum-engineered material that enhances transistors to deliver significantly better performance in today's electronics. Wall Street took notice in January and you should too. We need to recognize that strong results do not always lead to another surge, so patience may be required. But, after looking at the chart, it's clear to me that Wall Street is impressed. ATOM is being valued almost exclusively by POTENTIAL, however, as its revenues are miniscule. Future price appreciation is likely to be driven by product announcements, customer collaborations, etc.
Cohu, Inc. (COHU)
Current price: $42.29
Market Cap: $1.78 billion
Chart: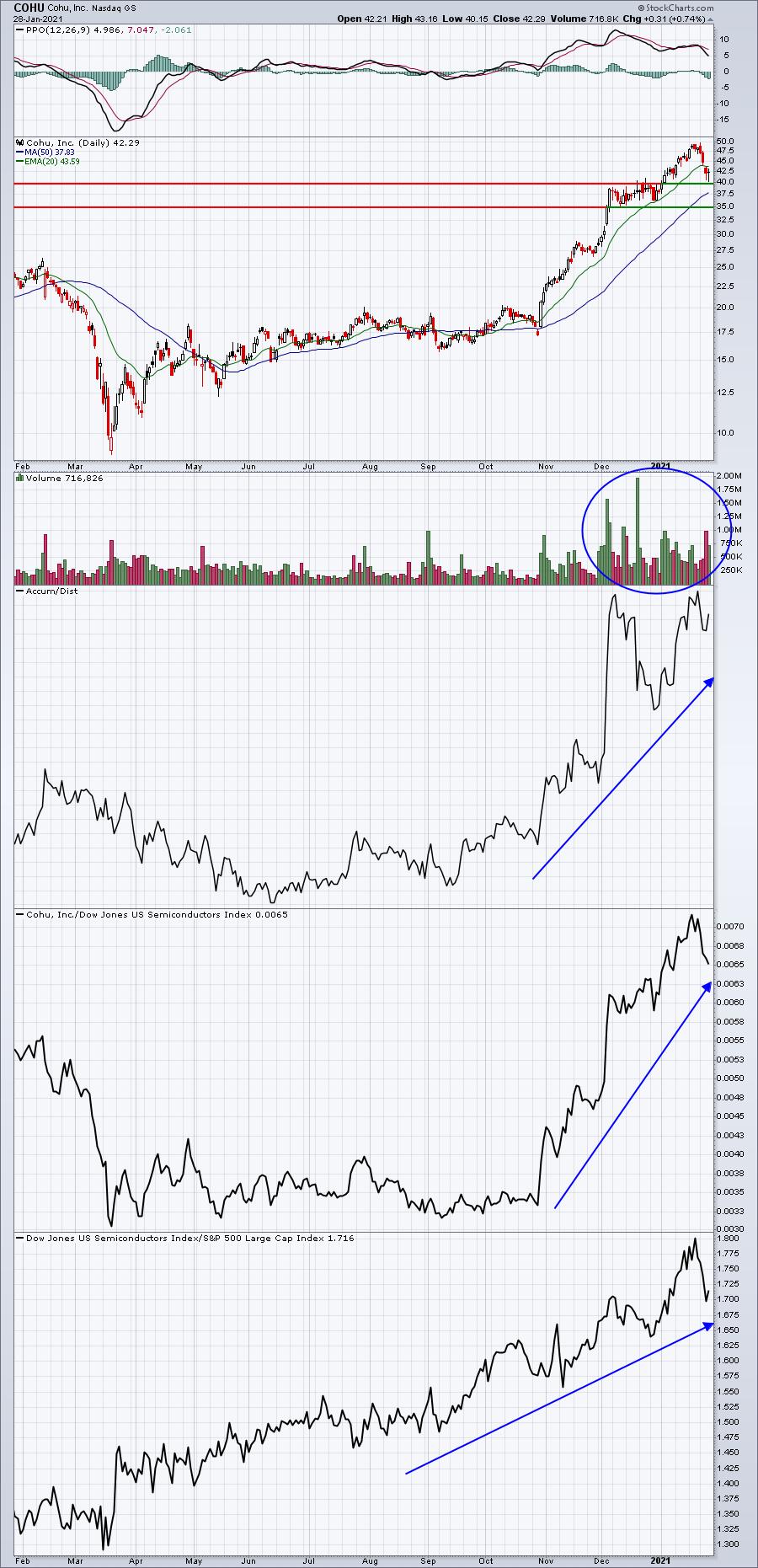 COHU provides semiconductor test and inspection handlers, micro-electro mechanical system test modules, test contractors, thermal sub-systems, semiconductor automated test equipment, and bare-board printed circuit board test systems for both semiconductor and electronics manufacturers internationally. Volume exploded in December as COHU reported results that easily exceeded Wall Street forecasts. That momentum is building for what appears to be another likely strong quarterly earnings report. Again, strong results do not necessarily mean a strong initial reaction, but keep COHU on your radar. Pullbacks can be great opportunities for entry into small cap winners.
American Xtal Technology (AXTI)
Current price: $10.87
Market Cap: $448.93 million
Chart: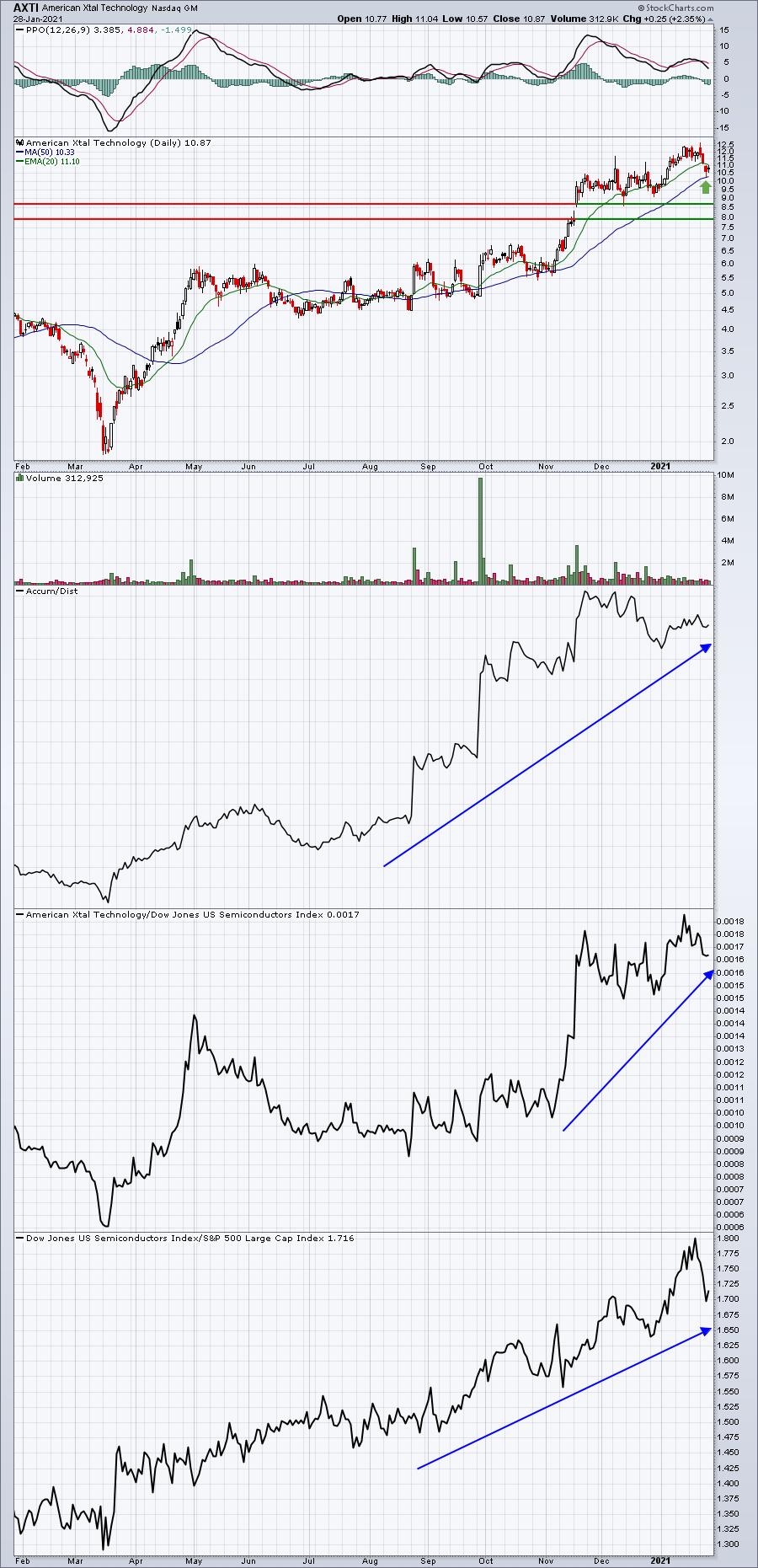 AXTI announced a strategic plan a couple months ago that it believed would help it access China's capital markets and improve its cash position. Wall Street agreed and we saw a tremendous surge in November with increasing volume. At about that same time, AXTI posted quarterly results that topped Wall Street consensus estimates, though not as significantly as both ATOM and COHU.
Conclusion
First, let me say that these 3 companies are VERY risky. They provide the possibility of extreme gains because of their relatively small size, but there's also tremendous risk because of the recent moves higher in price. Of the three, COHU provides the most stability as it's already producing substantial revenues and profits. As I pointed out earlier, there are currently 22 semiconductor companies on our Strong Future Earnings ChartList. These are just three of those and I specifically am bringing up 3 small caps because of the following outperformance of small caps ($SML) vs. the benchmark S&P 500 ($SPX) in recent months: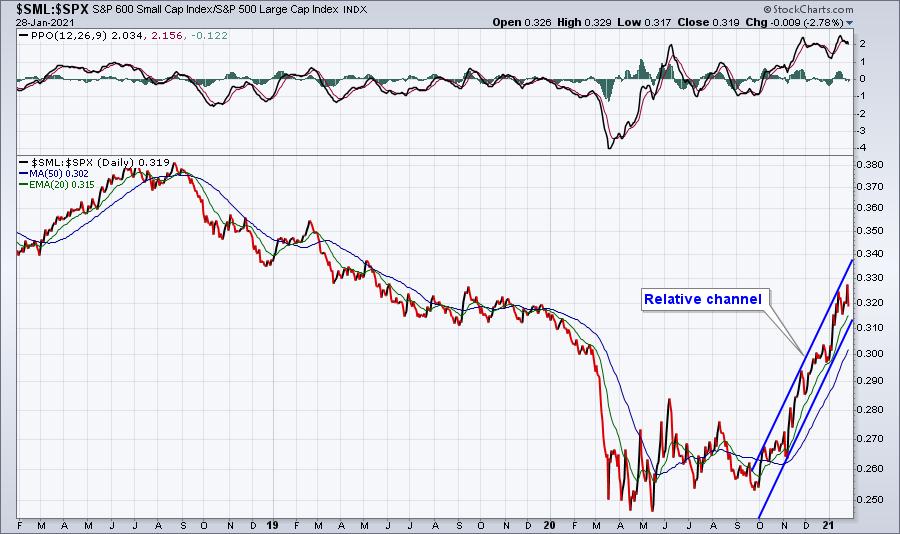 Small caps have been consolidating on a relative basis recently, but the 4 month relative channel is quite impressive.
New "Upcoming Earnings ChartList"
At EarningsBeats.com, we've just launched a great way to view all overnight and early morning earnings reports in one concise location. Interested in seeing the early movers and shakers based on earnings news? Check out our Upcoming Earnings page. It's very simple to use. After clicking on the link, click on the Upcoming Earnings ChartList that you want to download/view (there's one for every day of the week!). Here's what you do to access today's earnings summary if you're an Extra or Pro StockCharts.com member:
(1) Make sure you're signed into your StockCharts.com account
(2) Click on the link for "Thursday, 1/29-Friday, 1/29"
(3) At the password prompt, enter "EARN757"
(4) Click green "Save to ChartList" button in upper right hand corner
(5) Click on "New List" (the first time you download, you can use "Replace List" on future visits)
(6) Title your ChartList and Click on the green "Save Results" button
(If you're not currently a StockCharts.com member, or if you're a Basic member, you'll only be able to view the ChartList one stock at a time.)
Voila! You'll be able to view all companies that have just reported within one organized ChartList. Then pull up the ChartList at 9:31am ET in "Summary" form and sort by % gain. You'll see the initial Wall Street reactions to every company reporting. It's an awesome new EarningsBeats.com feature! Best of all, it's FREE! We'll send out the new links and the new passwords to all of our EB Digest community members. The EB Digest is a free newsletter that does NOT require a credit card and you may unsubscribe at any time. To start your free subscription, and to be eligible to receive these Upcoming Earnings ChartLists, CLICK HERE and enter your name and email address.
Saturday Event
Want to learn more about EarningsBeats.com? I'm hosting the following the event tomorrow, Saturday, January 30th:
Event: "A Day in the Life of EarningsBeats.com"
Time: 11:00am ET
For more information and to register (it's free), please follow this LINK.
Happy trading!
Tom