I have written countless articles on the art of buying stocks in a short squeeze or on the verge of being in a short squeeze. The results can be truly astounding. I'm going to walk you through three recent short squeezes. If you owned ANY of these three stocks in 2020, you crushed the S&P 500. That's how crazy strong they've been.
Tesla (TSLA)
One of the first articles that I wrote on the effects of a stock being heavily shorted was Tesla (TSLA) in December 2019 - in ChartWatchers. At the time, TSLA's short % of float was greater than 20% - an extremely high level - and its total dollars short was the highest in the stock market and 2nd place wasn't close. And then this breakout happened: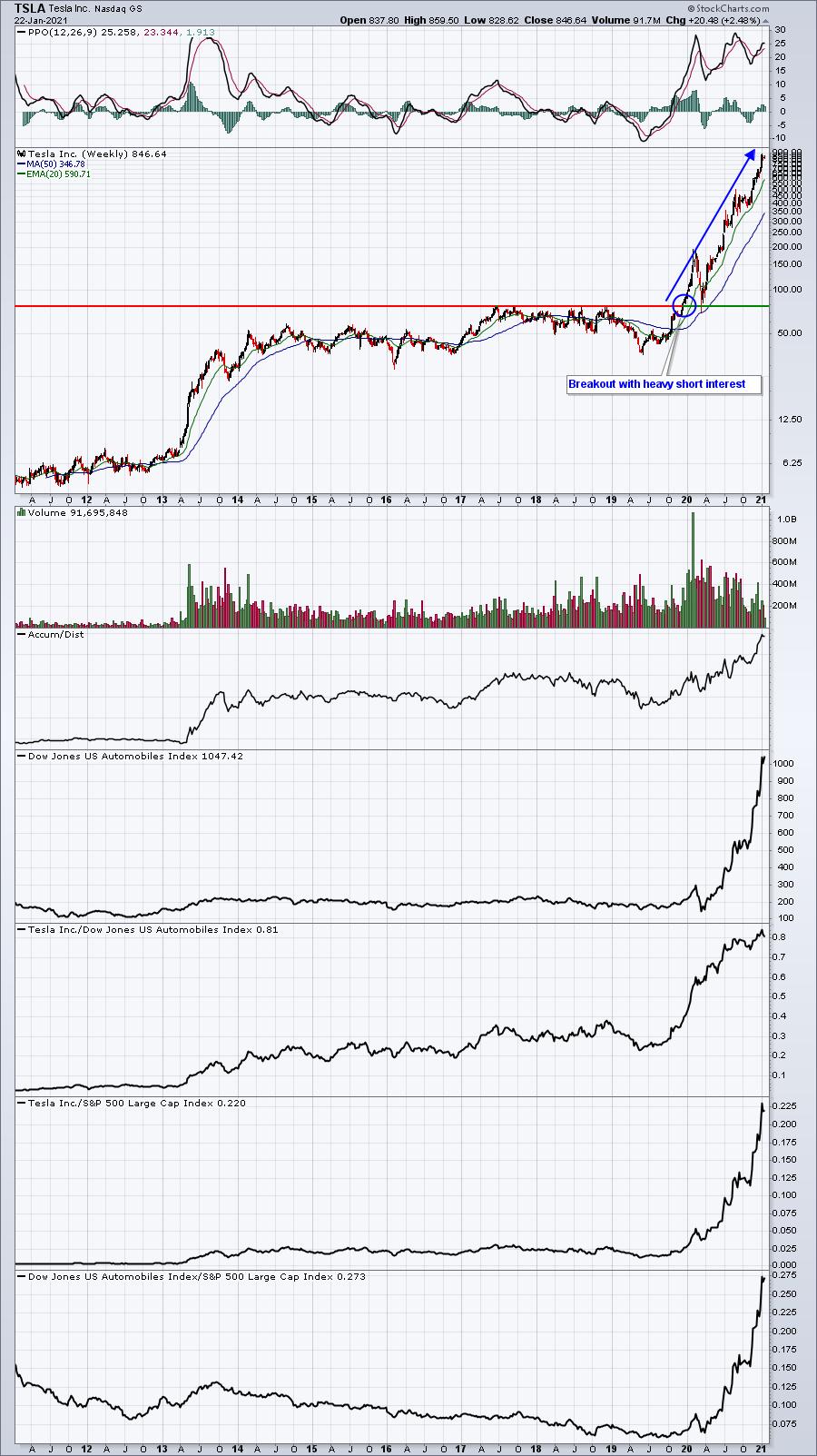 TSLA has been a staple in our portfolios at EarningsBeats.com. It's helped us to annihilate the S&P 500's 2020 return. I've been extremely bullish TSLA throughout the year, but here's the article, "Here's A Stock Breaking Out With 21% Of Its Float Short", when it all began.
Peloton Interactive (PTON)
Opportunities like PTON don't come along often. The pandemic literally sent potential customers right into their lap. Talk about great luck! Those who were forced to stay at home wanted an alternative to working out at the gym and PTON was the company to provide them that alternative. Their equipment is now in tens of thousands of homes and that isn't likely to change any time soon. In addition to seeing signs of potential accumulation via the rising Accumulation/Distribution line (AD line) back in March/April 2020, PTON had one other thing going for it - millions and millions of shares short. Those who bet against PTON paid a very hefty price.
I wrote about PTON and why I liked it back on April 1, 2020, when it traded for just 26.55. That article, "A Recent Search Study Suggests That A Paradigm Shift Favors This Company", featured a search of what consumers were looking for during the pandemic. I found that quite interesting and believe it led to consumer behavior that favored PTON throughout 2020.
At that same time, StockCharts TV started a new program, "The Pitch", which initially aired back on April 1, 2020, and I was fortunate enough to join Grayson Roze and Mary Ellen McGonagle on the very first episode. Below is a link to the YouTube video. You can scrub to the 5:30 mark and listen to my comments on PTON, especially the part about the very heavy short interest. Check this out:
Following my article and the show, PTON gained ground and cleared overhead price resistance in early May. That set off a buying stampede that has seen PTON gain 500% in the past 9-10 months. Again, one stock like this can carry an entire portfolio on its shoulders. We know, because it's been part of our Strong AD Portfolio every quarter since this portfolio was started on May 19, 2020. In just over 8 months, our Strong AD Portfolio has gained 98.77%, thanks in part to the inclusion of PTON. This is what another short squeeze looks like: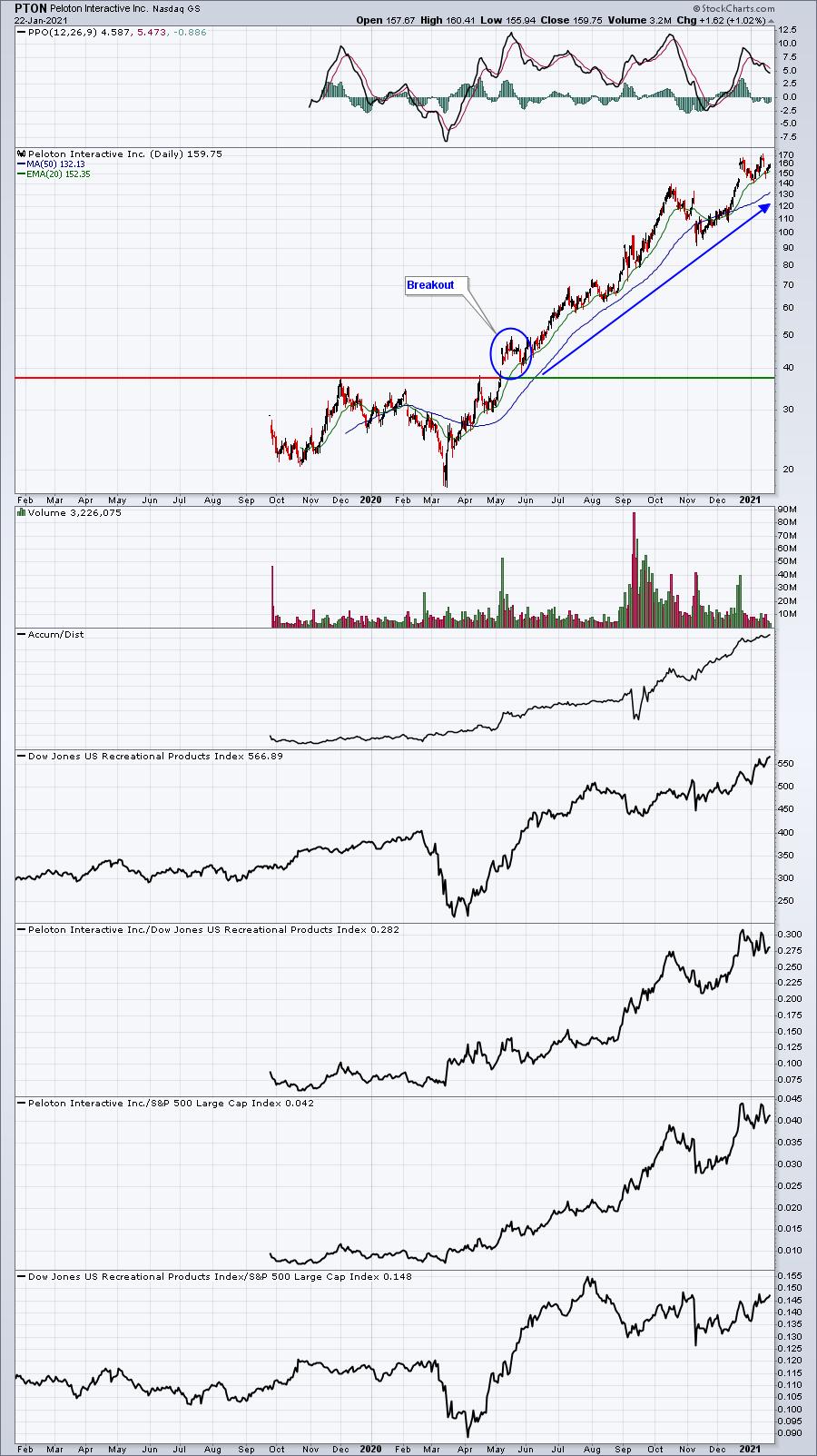 Gamestop Corp (GME)
You probably saw the 51% surge in GME on Friday. If you didn't, let me tell you it was spectacular, hitting a high of 76.76 intraday! Before I talk short selling stats, let me first say that I nailed this one. On September 2, 2020, in our free EB Digest newsletter, here is a screen shot of how I felt about GME: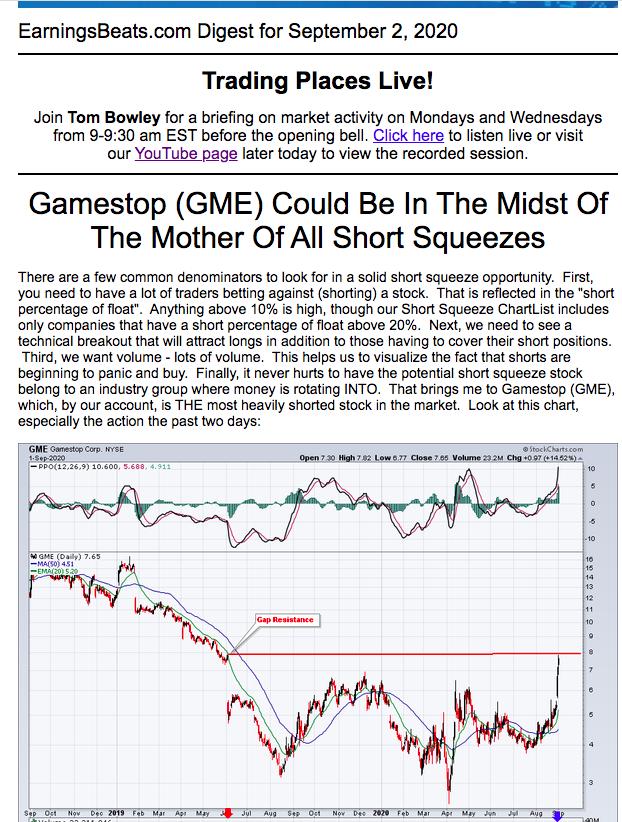 On September 2nd, GME was trading at 7.65. It closed yesterday at 65. At the intraday high, GME was a 10-bagger - in just 4 months! It's tripled in the past 7 days. If you're a short-term trader and you've never experienced riding a short squeeze higher, let me just say it's exhilarating. There is nothing quite like it. There are some stats that I want to share with you. First, my source reported that GME's short % of float was 136% as of one month ago. If I hadn't seen similar numbers reported by other sources, I'd have sworn it was an error. I've NEVER seen a short % of float above 100%. How can more shares be borrowed than are even available? I honestly don't understand how this is even possible. Again, I've seen multiple sources reporting this ridiculous level of short interest. Here's what Yahoo Finance currently shows: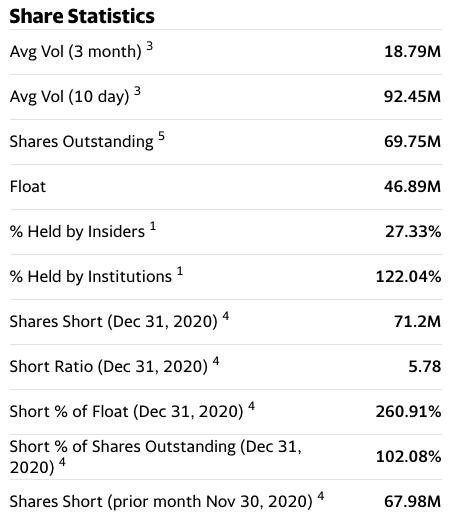 They're reporting a short % of float of 260.91%. These numbers are absolutely astounding. I don't know which one is the most astounding. The total shares outstanding represents ALL shares, even those that are closely-held or have other restrictions. The "float" is the number of outstanding shares that are readily available to trade. The number of shares short at December 31st, according to Yahoo, was 71.2 million - more than the total outstanding! How can you borrow something that's not even available?
The next stat that's utterly amazing is the average daily volume of shares traded over 10 days. It's over 92 million shares per day! There are only 46 million shares available in the float. Can you imagine what short sellers are feeling right now? Let's say you shorted 1000 shares of GME at 10.00 a few months ago, netting proceeds of $10,000. At Friday's close, you now owe over $65,000 to cover those 1000 shares.
Now, you're probably thinking, "There's no way that GME is worth $65 per share." And you're probably right. But should you short it?
NO WAY!!!!!!!!!
Let me explain to you what's happening right now. Imagine you're at the bottom of a very steep hill. There is a runaway 18-wheeler coming right at you with no brakes. Do you:
(a) Put your hand up to stop the 18-wheeler? (equivalent of trying to short)
(b) Hop on the truck? (ride the short squeeze)
(c) Move to the side, avoiding the truck altogether? (realizing the volatility and speed of the truck will make you nauseous)
I can guarantee you I'm not picking (a).
If you want to see what the "Mother of All Short Squeezes" looks like, here's the GME chart:
GME was a bubbling volcano for the past few months. Check out its improving relative strength vs. its peers. Of course, the most impressive part of this January rally has been the accompanying volume. A short squeeze requires heavy volume, because it's indicative of the panic that's taking place to the upside. And do you think market makers were sitting idly by? They know how many shares are short. They've been buying, EB.com members have been buying, those ridiculous number of short sellers have been buying (to cover their shorts and make the pain go away), and it's honestly difficult to say how far the stock rises before the tsunami finally comes to an end.
These are three varying levels of short squeezes, but all equally pleasurable if you're riding them on the long side.
We have a rapidly-growing community of traders and investors at EarningsBeats.com, all adding to their investing arsenal. If you'd like to join our FREE EB Digest newsletter, CLICK HERE to enter your name and email address. There is no credit card required and you may unsubscribe at any time.
If you'd like to check out our entire Short Squeeze ChartList (SSCL), we have a fully-refundable $7 30-day trial to our service. If you're also an Extra or Pro member at StockCharts, you can download all of our ChartLists directly into your StockCharts.com account. We'll do the research for you!
Happy trading!
Tom