I know the Gamestop (GME) craze has slowed down considerably, but short squeezes will always be in play. When a stock's float has been heavily borrowed against and borrowed shares sold, those short sellers must buy those borrowed shares back at some point down the road. And when a stock breaks out with increasing volume, the pressure begins to mount as short sellers have unlimited risk to the upside. That's what created those massive gains in GME in what I've termed the "mother of all short squeezes."
We maintain a Short Squeeze ChartList (currently 66 heavily shorted stocks are on it) that our EarningsBeats.com members can download (assuming they're Extra or Pro members at StockCharts.com) into their StockCharts.com account. If they're not a member of StockCharts.com, they can still view the charts in our ChartList. One of the stocks currently on this list is CarParts.com (PRTS), which closed at an all-time high on Monday. Volume has really been increasing the past 2-3 weeks and, now that PRTS is in "blue sky territory", what will the shorts do? The short % of float is at 40.19% and that's a very high number. Let's look at the chart: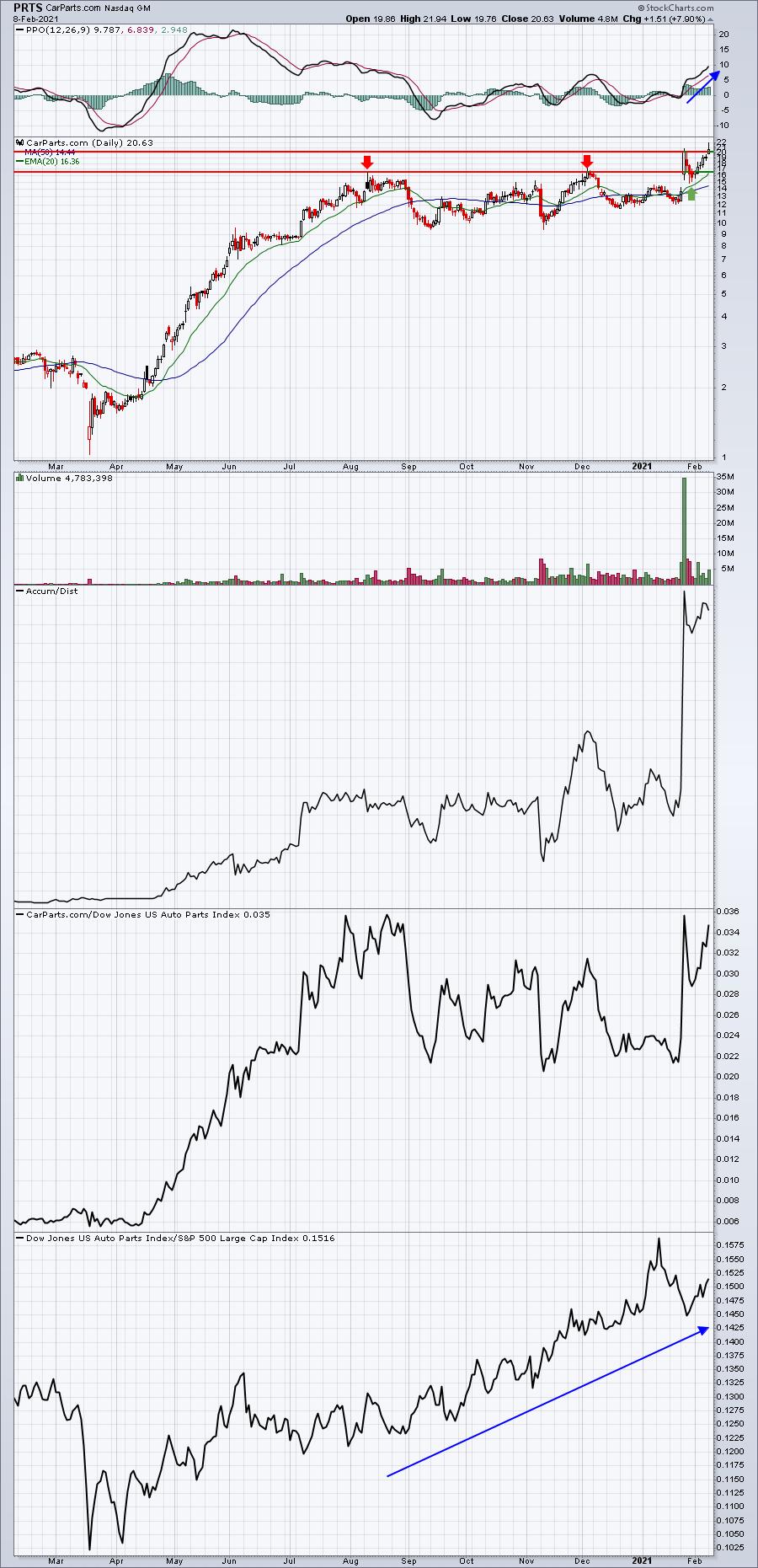 I can say this without hesitation. Looking at this chart, I would not want to be in a position where I have unlimited risk to the upside in PRTS - especially given what just transpired in GME, AMC, and other stocks. Given that PRTS is in the red-hot auto parts industry ($DJUSAT), don't be surprised to see PRTS hit that accelerator pedal. Please be aware, however, that these types of stocks can carry tremendous volatility. Make sure that you understand the increased risks of trading volatile stocks before considering a position.
If you'd like to see the rest of our Short Squeeze ChartList, CLICK HERE to start your no cost 30-day trial.
I will also include another short squeeze stock in our next EB Digest newsletter article that will be published on Wednesday morning. Our EB Digest is a free newsletter distributed to tens of thousands of community members and it's completely free, no credit card required. Sign up HERE!
Happy trading!
Tom