Listen, NVDA has been one of the strongest market performers in 2021 and I believe there's a very good chance it goes much higher. But if I wanted to buy it, I'd likely wait a week or so. There are never any guarantees, but the number of open in-the-money call options for June is staggering. And there's almost zero in-the-money put options. That's an imbalance worth considering as you approach a stock to buy or sell during options expiration week. Before I provide you some options-related numbers, let's look at the NVDA chart from a daily and weekly perspective:
NVDA - daily: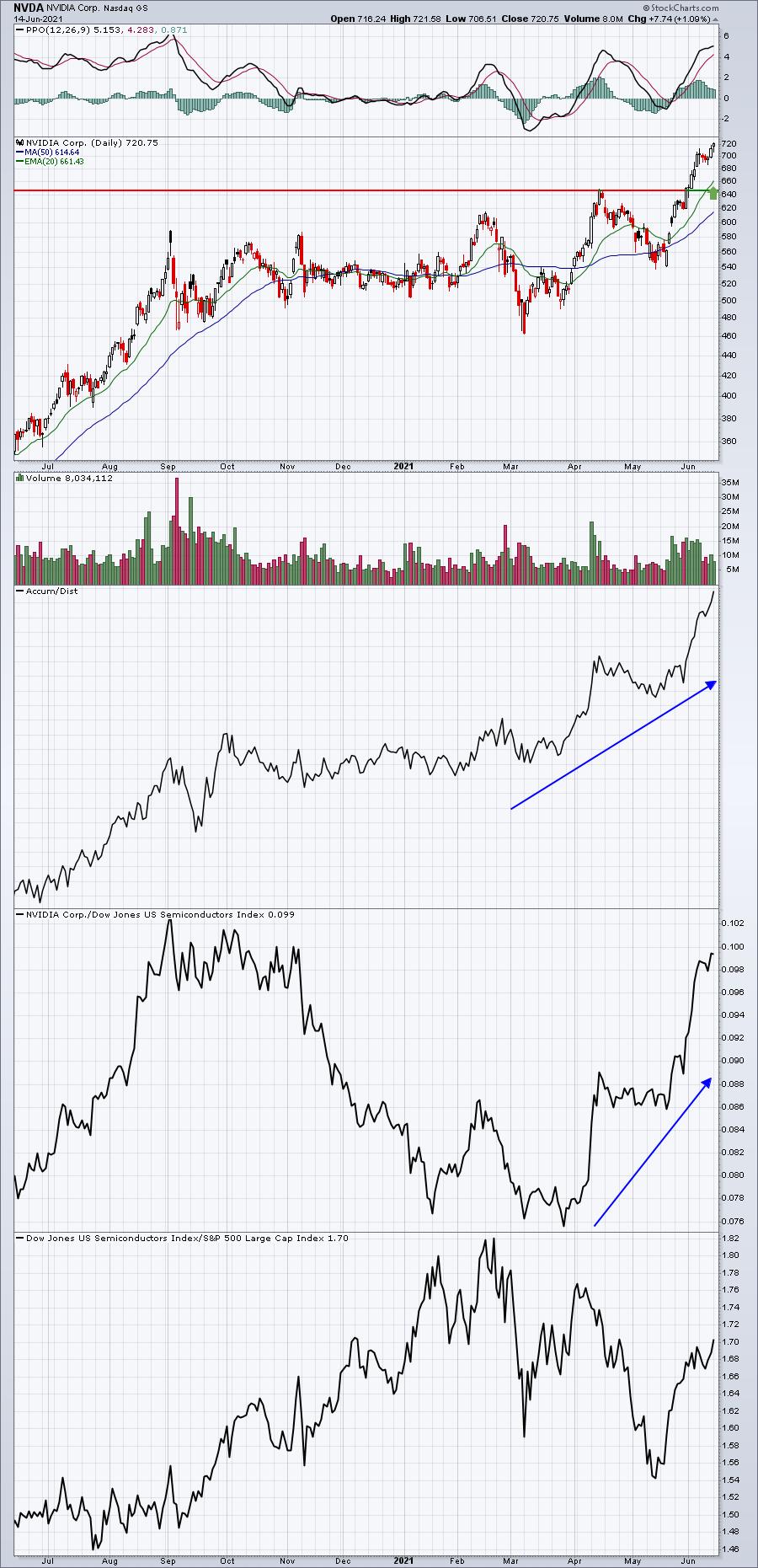 It's been straight up, but supported by heavy volume and the rapidly-rising accumulation/distribution line (AD line). It's clear to me that institutions are loading up.
NVDA - weekly: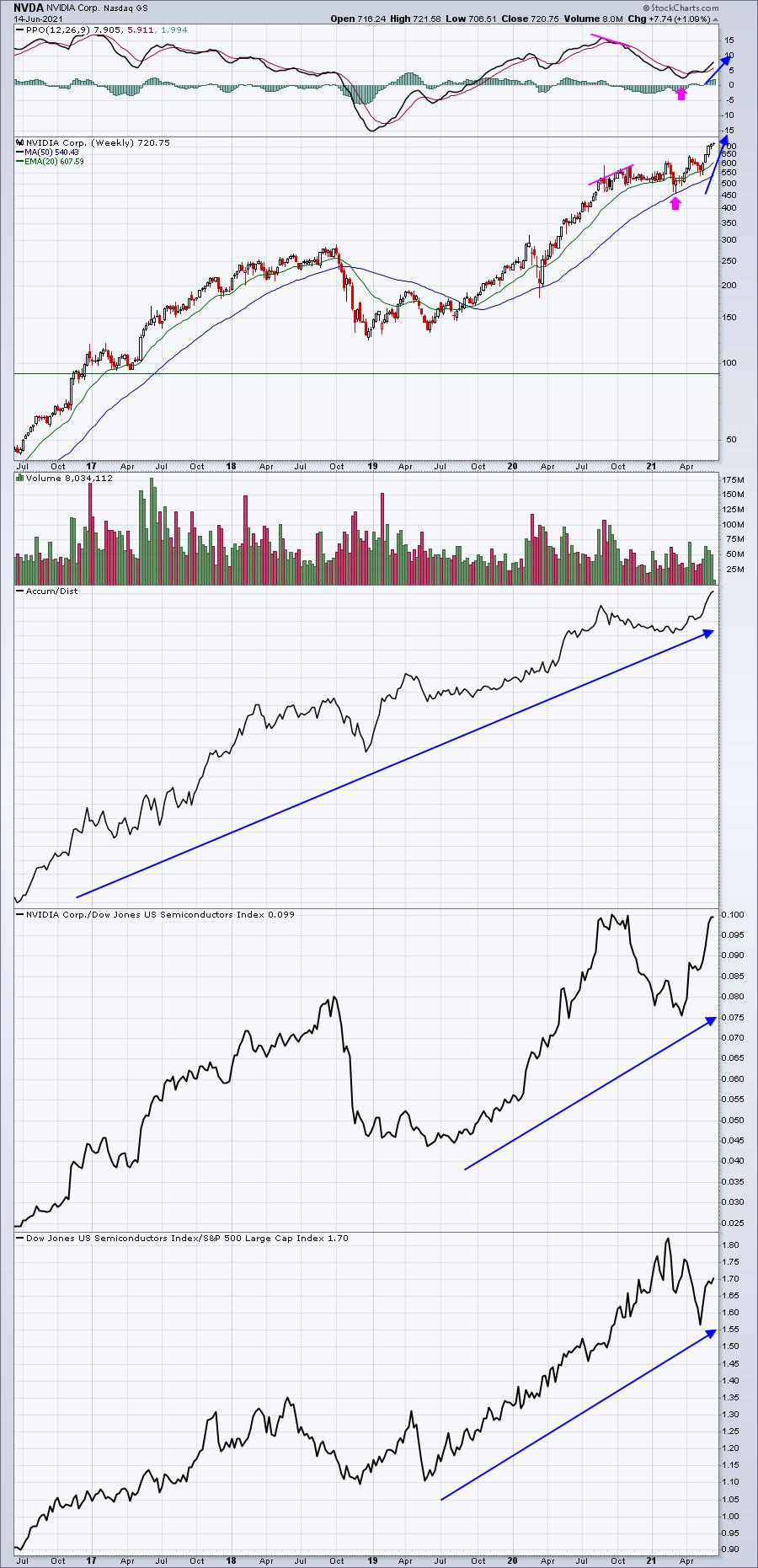 On a weekly chart, NVDA has shown tremendous leadership over the years. It paused for a bit following a negative divergence printing in Q4 2020, but after testing its 50-week SMA and approaching its PPO centerline (pink arrows) for a "reset", NVDA has taken off again. What's not to like, right? Honestly, there's only one thing that worries me about NVDA.
Option expiration Friday. Before I talk specifically about NVDA options, let me remind you of a stock last month that was soaring into options expiration week. AMC Entertainment Holdings (AMC). We identified it as a short candidate heading into options expiration and it dropped from 14.01 to 12.08 in 3 days, saving market makers MILLIONS in terms of payouts. Once options expiration was over, AMC soared again. It was a short-term market inefficiency that I pointed out.
Looking at NVDA, I see similar warning signs. Here are key numbers to be aware of on NVDA:
More than $520 million in in-the-money call premium
A little over $3 million of in-the-money put premium
Max pain (point where in-the money puts and calls equal) is 636
Max pain is nearly 12% below current price
None of this suggests that NVDA will drop by Friday and I certainly don't interpret this data as evidence that NVDA will close at 636 on Friday. Instead, I use max pain as a directional indicator. I simply believe it's more likely that NVDA will hit a couple speed bumps over the next few days.
I also want to be clear that market makers do not necessarily lose money if NVDA continues pushing higher into Friday. If traders are buying calls, market makers sell those calls and can turn around and buy the stock. It's a covered call strategy that nets them a profit. Max pain is simply a once per month opportunity for market makers to "knock it out of the park". Imagine if market makers have been buying NVDA stock and selling calls up to this point. Then, in a complete reversal, begin selling their long shares and shorting additional shares short-term to drive NVDA's price lower, erasing MILLIONS of dollars of net in-the-money call premium. Don't think it happens? I've watched very strange market behavior over the years and nothing is stranger than watching options-related manipulation as options expiration Friday (3rd Friday of every calendar month) approaches.
Later today at 4:30pm ET, I'm hosting a FREE event to the public, "June Max Pain". It's a regular monthly event for our members that we're opening up one-time to the public. We're sending out room instructions via our free EB Digest newsletter. That will be sent out later this afternoon. If you'd like to attend this event, simply provide us your name and email address in the boxes provided on our home page. CLICK HERE to register and we'll get you the room link later today.
The room will open at 4:00pm ET. If you're reading this after 4:00pm ET, you can sign directly into the room and we'll add you as a free subscriber to our EB Digest newsletter. There is no credit card required and you can unsubscribe at any time. Here's the direct room link (remember, the room will not be open until after 4pm).
https://earningsbeats.zoom.us/j/81522759201
Happy trading!
Tom