The latest FOMC meeting has come and gone. Fed Chair Jay Powell capped it off by recognizing that inflation was hotter than expected and even signaling that the Fed is ready to hike rates by the end of 2023, stepping up its earlier April guidance of "no rates hikes before 2024." So does that mean inflation is problematic? No. Far from it actually. I definitely pay attention to what the Fed says, but I look to Wall Street for the proper interpretation. The bond market's reaction was quite predictable as the 10-year treasury yield spiked very quickly following the news: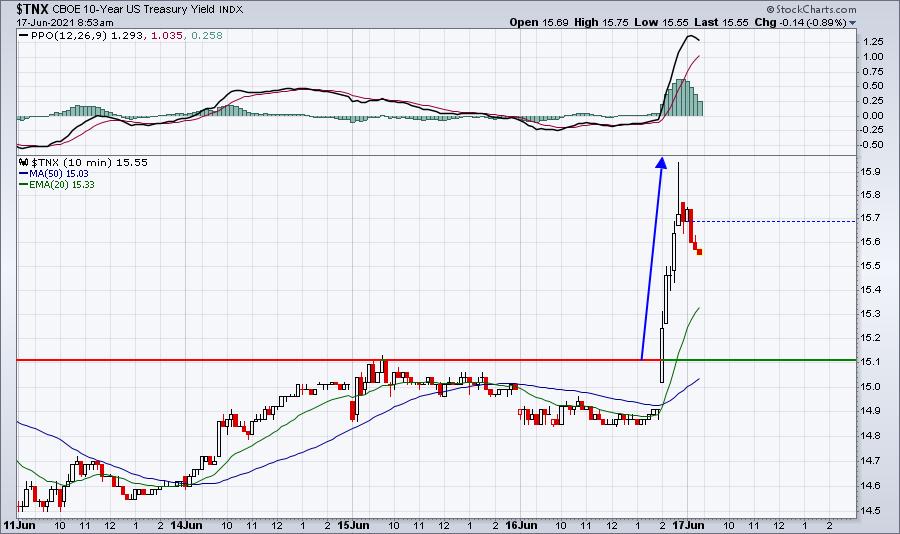 That was a 10 basis point spike in less than an hour. Clearly, there were plenty of sellers of treasuries after the Fed announcement.
And then there was the equity market reaction.
The initial knee-jerk reaction was to sell equities. The NASDAQ lost over 100 points in the first couple minutes after the policy statement was released. After further back and forth action, the NASDAQ then caught a bid and rallied strongly - back above where it had been at the time of the release - before another small bout of selling into the close: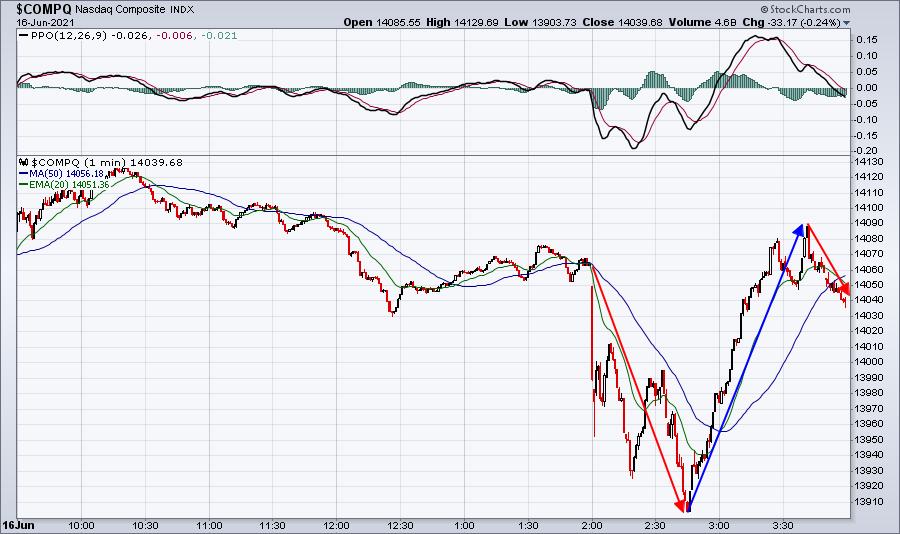 That's a minute-by-minute look at yesterday's NASDAQ action. Volatility was apparent throughout the final two hours. There wasn't a whole lot of change, on a net basis, from the announcement to the close - at least not on our major indices.
But then there's the rotation.
We should be getting used to this by now. Nothing lasts forever in this market as the rotation has been constant. The good news is rotation is the hallmark of a secular bull market. Money doesn't leave U.S. equities for very long, it simply finds a new home in a different neighborhood. Here were the new neighborhoods after 2pm ET yesterday:
Banks ($DJUSBK)
Investment Services ($DJUSSB)
Asset Managers ($DJUSAG)
Check out the reaction in these 3 industries: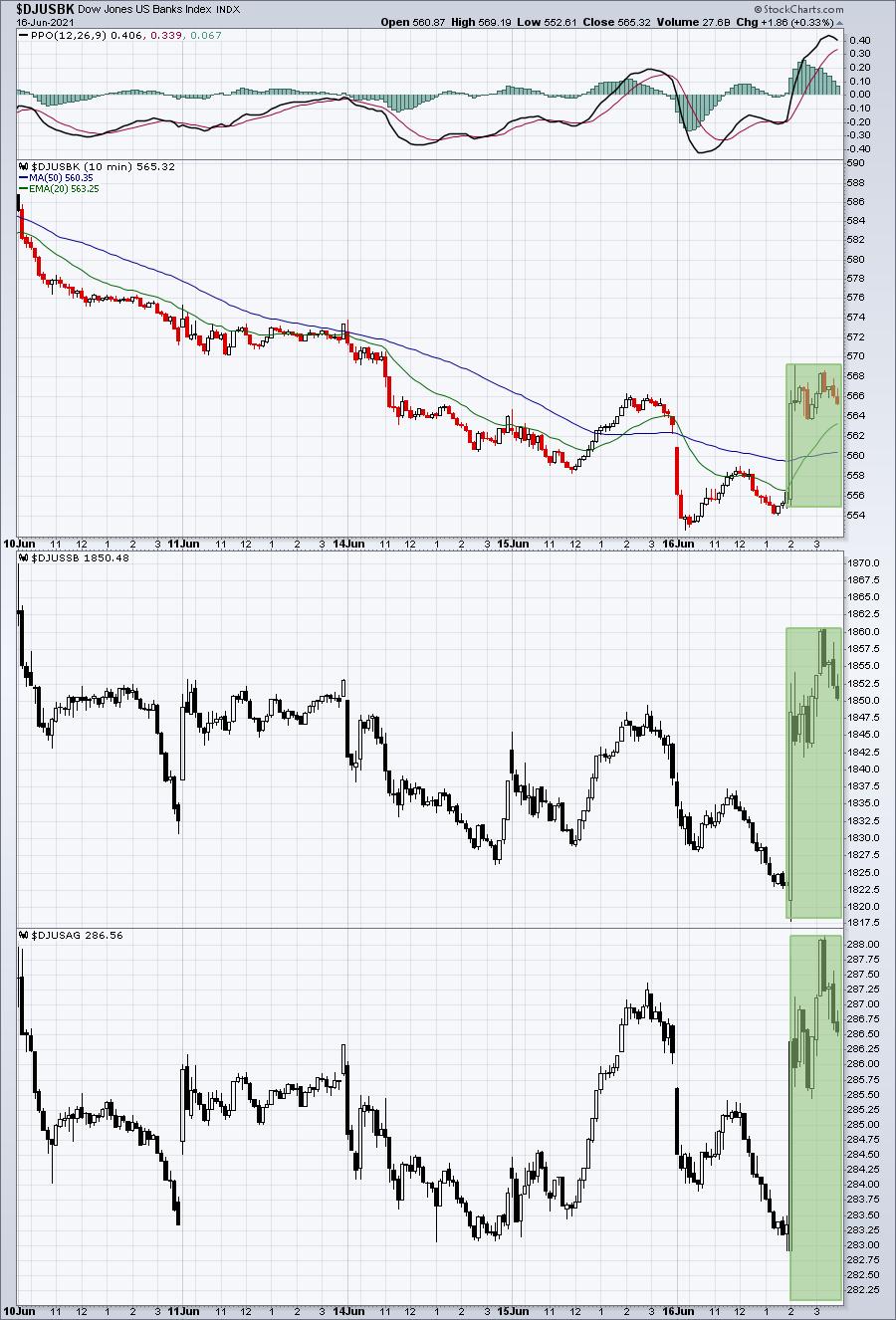 I reviewed all 104 industry groups, comparing their index values at 2pm ET to their respective values at the closing bell. The three financial industry groups above were the areas that Wall Street couldn't get enough of. The prospects of higher interest rates normally attracts buyers in the financial area and yesterday was no different.
But what was the reason for the expectation of higher rates? Is it the fear of inflation? I don't believe it is. If so, why would the Fed announce it'll wait nearly 2 1/2 years to raise rates? That makes no sense whatsoever. There's also one other HUGE indication that inflation is NOT a fear of Wall Street and I'll get to that in a minute. But first, let's look at the areas that were weak after yesterday's announcement. They were almost all defensive areas. In order of worst sector performance from 2pm ET to 4pm ET:
Real estate (XLRE): -1.06%
Utilities (XLU): -1.01%
Consumer Staples (XLP): -0.74%
Health Care (XLV): -0.54%
The S&P 500 lost 0.24% in those final two hours to provide you a bit of perspective. Initial reactions are just that and it'll likely take more time to fully assess exactly who the relative winners and losers will be, but Wall Street has placed its initial bets and we can view who won and who lost. The theme behind the losers is (a) defensive stocks and (b) dividend-paying stocks.
Now let's get back to that inflation issue that I discussed. Historically, what's one of the best hedges against inflation? Gold (GLD). So surely, if the Fed and Wall Street were truly worried about the rising risk of inflation, the GLD would have been a great afternoon performer, correct? Here's the chart, you be the judge: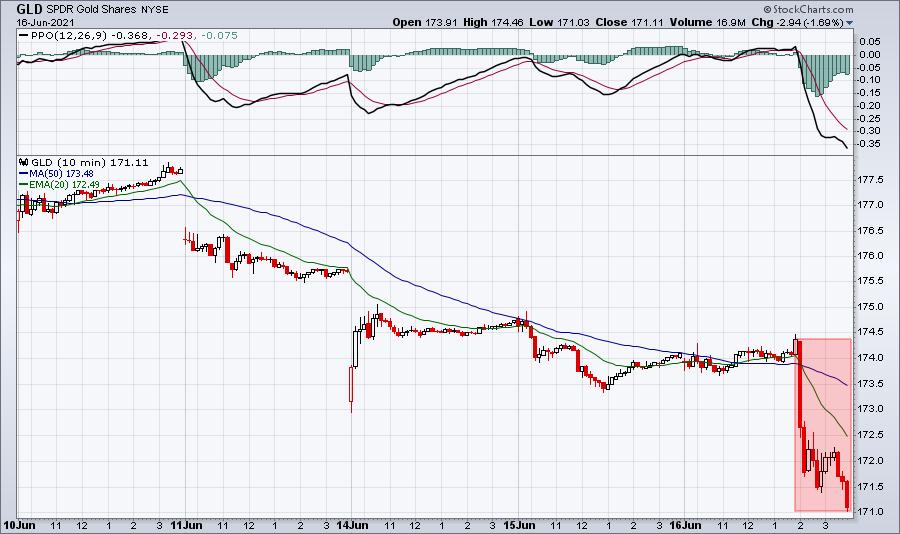 During those final two hours, the GLD lost 1.86%, performing worse than 103 out of 104 industry groups. Is Wall Street worried about inflation?
In tomorrow's free EB Digest newsletter, I'll be dissecting Thursday's continuing post-Fed action and will publish an article that discusses a stock that's benefiting from this latest FOMC policy statement. If you're not already a free EB Digest subscriber, it's completely free with no credit card required. You may unsubscribe at any time. To join our community, simply CLICK HERE and type in your name and email address in the boxes provided.
Also, please scroll down and subscribe to this Trading Places blog. There's no cost and the benefit is that you'll be notified via email whenever I publish an article here.
Happy trading!
Tom