Non-StockCharts.com Members
EarningsBeats.com members that DO NOT also have a StockCharts.com membership have asked for Excel downloads for use on platforms other than StockCharts.com. Within 24 hours, we will have all of our ChartLists available for Excel download.
Executive Market Summary
Futures were bifurcated overnight and we've seen that bifurcation continue throughout the session
NASDAQ stocks are leading as this tech-laden index sets another all-time high
The NASDAQ's ascending triangle breakout measures to 16000 in time
Technology (XLK, +0.90%) is today's top performing sector, while energy (XLE, -3.43%) trails
Crude oil ($WTIC, -1.84%) is back below $73 per barrel, aiding the XLE selloff
Cryptocurrencies are strong today, especially etherium (ETHE); more on cryptos below
There was little in the way of earnings and economic news today, although Carnival Corp (CCL, -7.45%) is down sharply after missing its EPS estimate
The Dow Jones is under selling pressure as Boeing (BA, -3.45%) and Chevron (CVX, -3.03%) lead the index lower
Market Outlook
We have a bifurcated market today as money completely shifts away from value stocks and moves back into growth. The IWF:IWD ratio that I like to follow is back up to 1.71, trying to clear the high established last Thursday. Here's the latest hourly chart: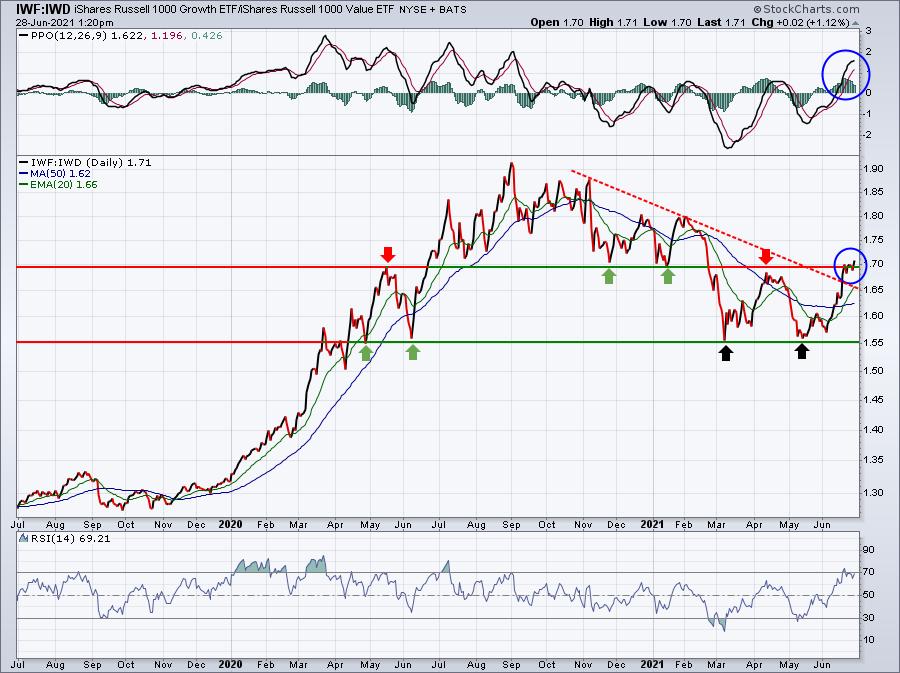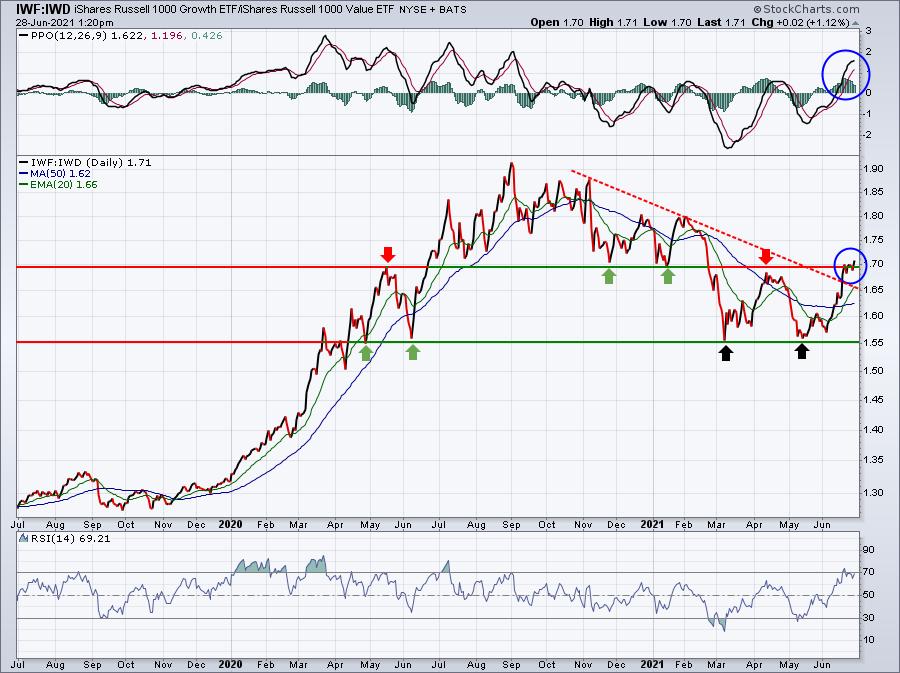 Another way to look at the shift taking place currently, we can review the QQQ:SPY. After months of trending lower, the QQQ has begun to show the upper hand again: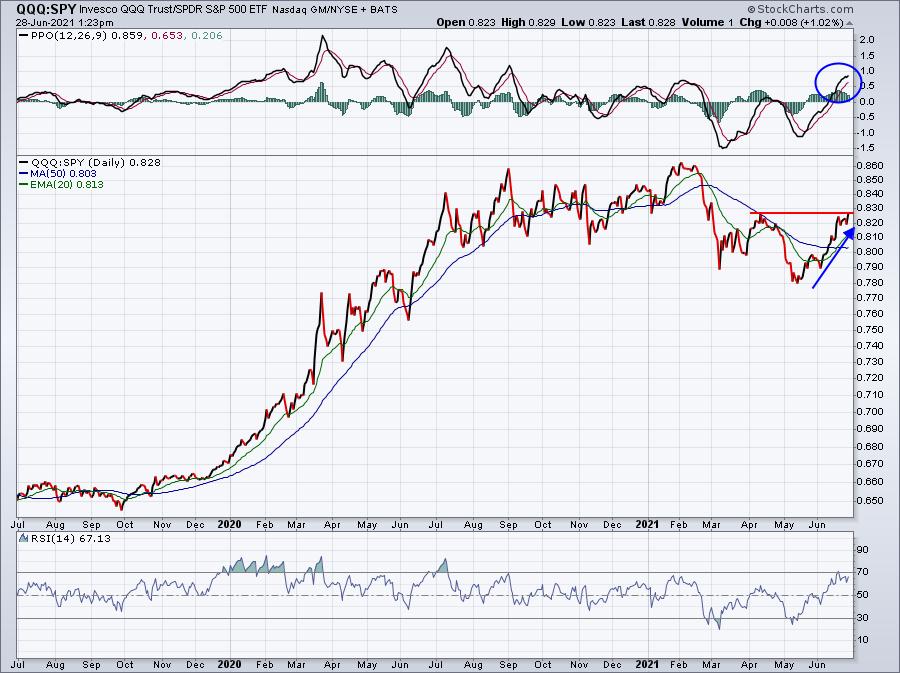 Sector/Industry Focus
A member wrote in and asked if I could provide my technical outlook for bitcoin (GBTC) and etherium (ETHE). Below are the two charts and what I'd look for:
GBTC: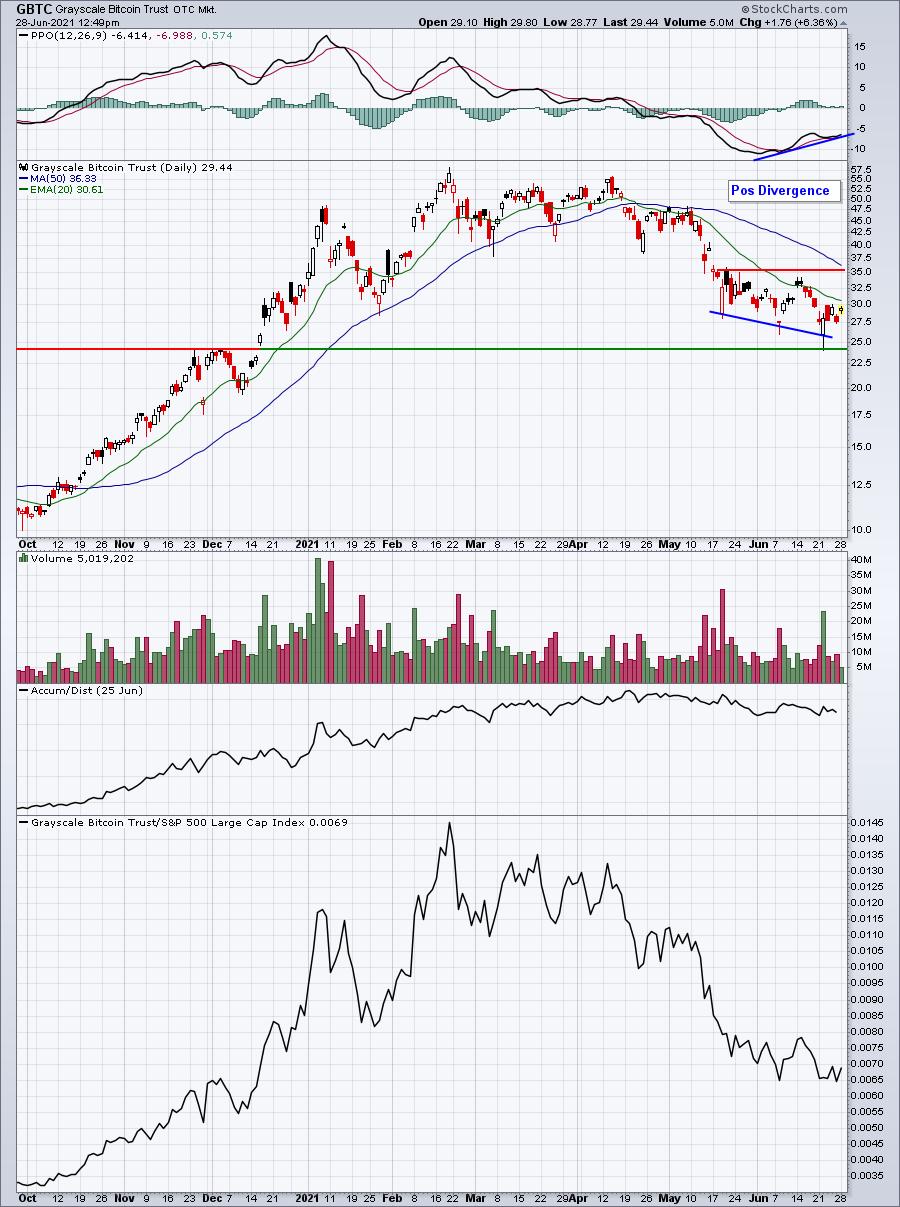 ETHE: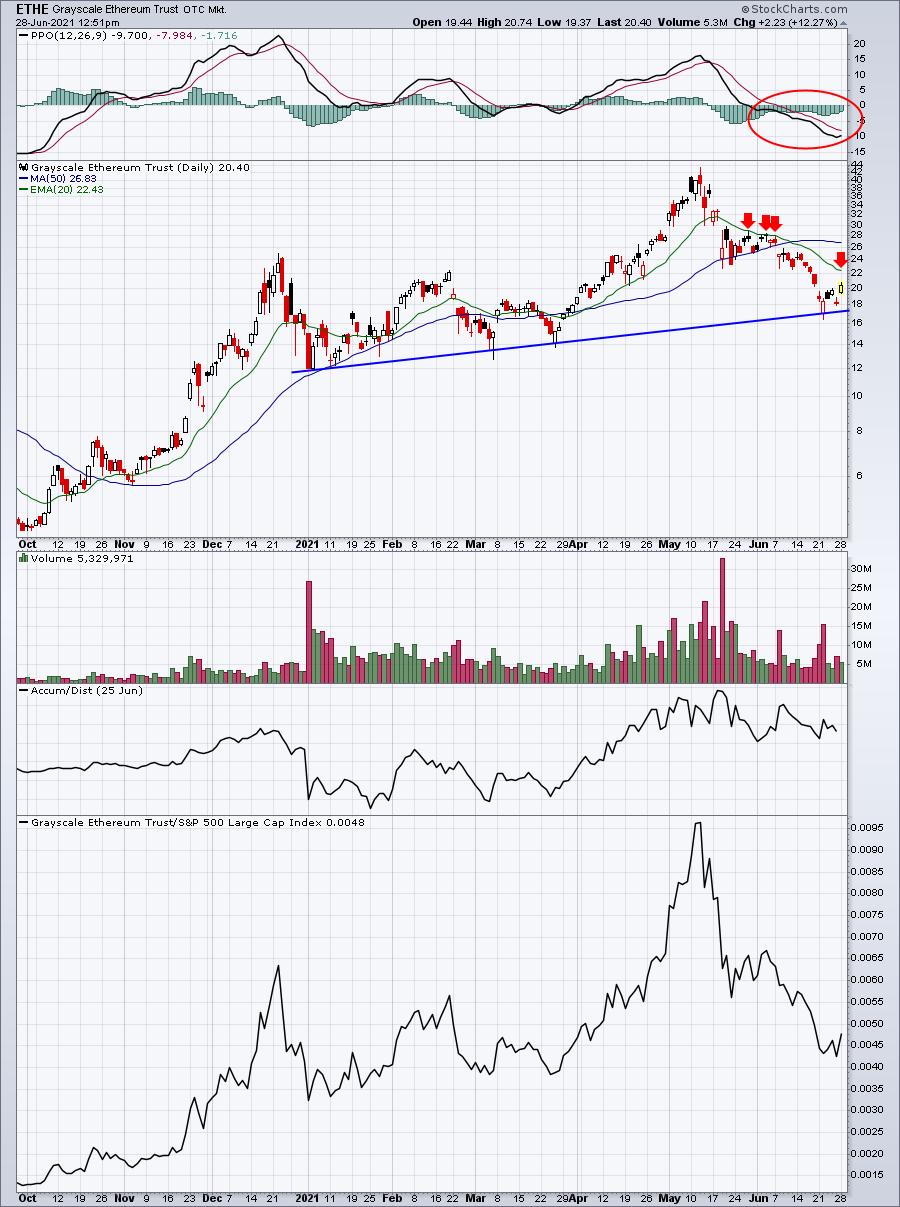 I evaluate most investments relative to the S&P 500. If a stock, an industry group, or, in this case, a cryptocurrency, is outperforming the benchmark index, then I'm likely to be more inclined to invest in it. When it's downtrending relative to the S&P 500 and out of favor, I'd only consider being long in certain situations and I'd want to keep my stop tight in the event I'm wrong about a possible reversal.
I like the positive divergence in bitcoin. I view the current trading range as 24 (price support) to 36 (50-day SMA). The GBTC is currently trading at 29 and change. I believe there's a reasonable chance that GBTC will move up to test its 50-day SMA given the positive divergence, but the question that you must always ask is "how much risk am I willing to take to see if we get that 50-day SMA test?" Are you willing to risk 5.50 to make 6.50? I typically prefer at least a 2 to 1 reward-to-risk ratio. So if I were to trade GBTC on the long side, I'd only enter a portion at the current price and build my position as it moves toward 24. A more conservative approach would be to simply do nothing now and wait and see if you can buy it cheaper to lessen the downside risk of the trade.
On etherium (ETHE), there have been 5 successful tests of its current uptrend line. Therefore, I like ETHE the closer it moves to its trendline support. But if either of these lose support levels identified, I'd exit. Just my opinion.
ChartLists/Strategies
There are so many breakouts among growth stocks, some I've identified in recent trading sessions. Here are 3 that caught my eye today:
GRWG: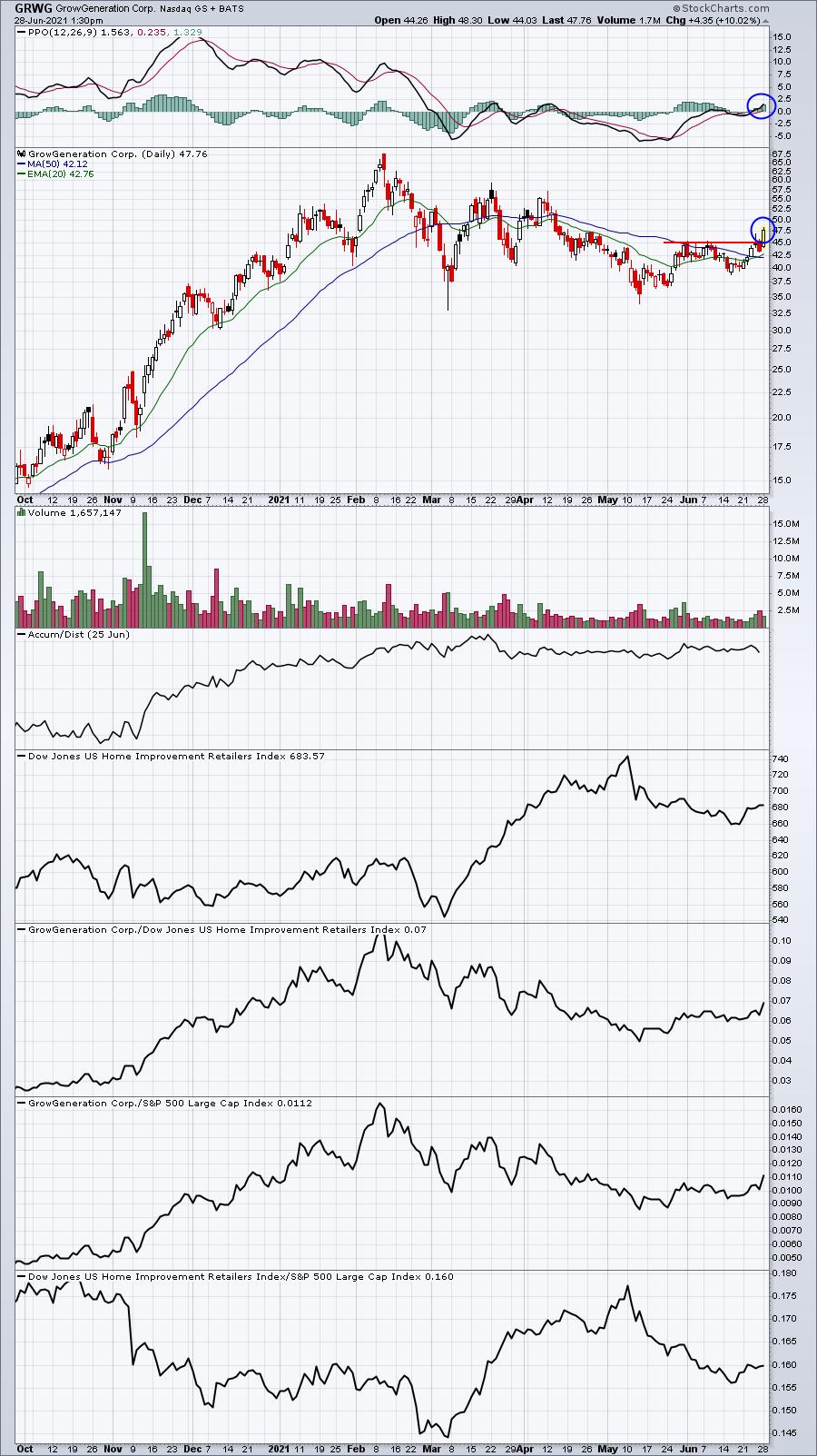 FLGT: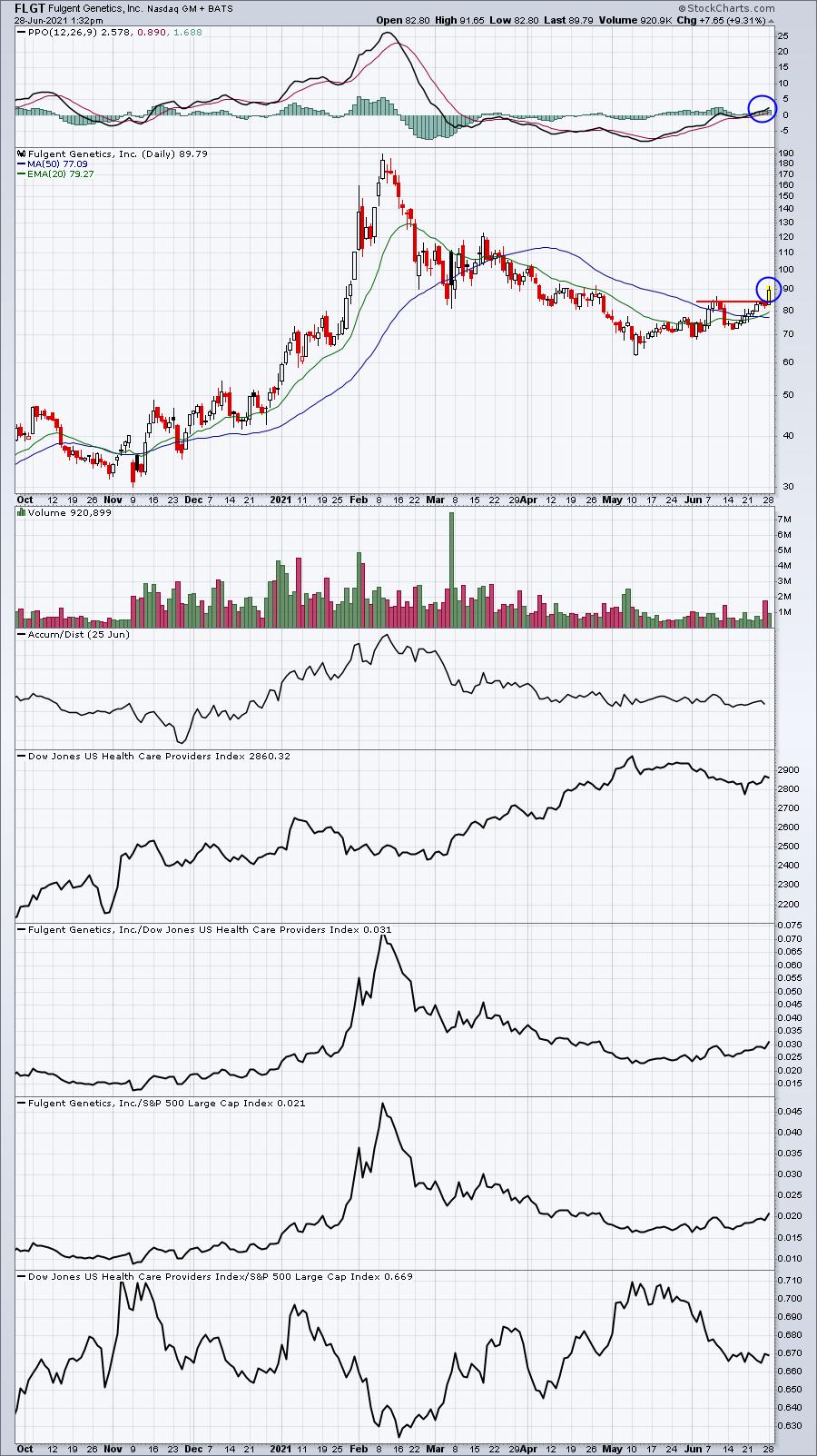 BAND: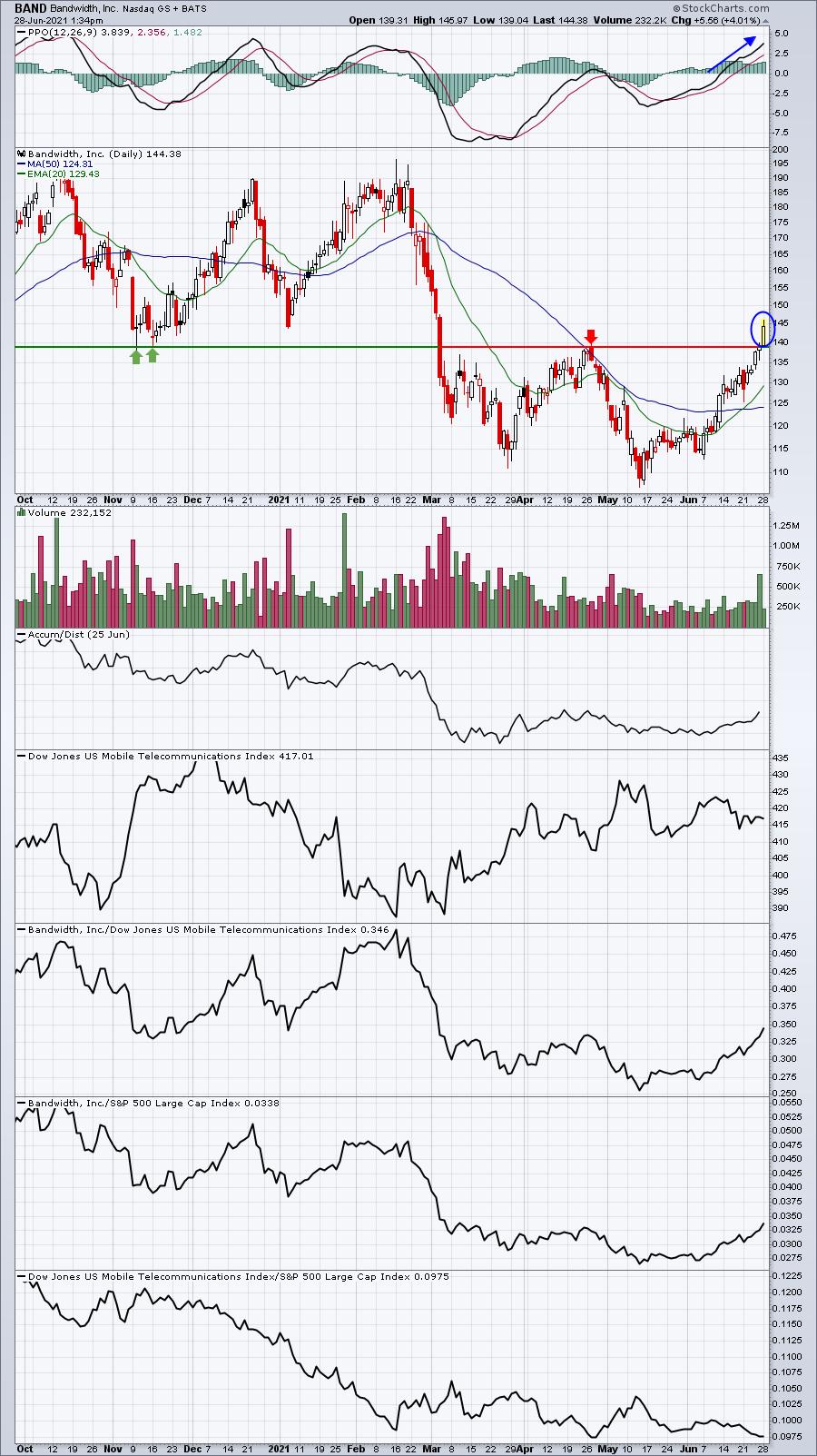 These charts are showing definitive improvement and, in my opinion, are now trending higher. That means that 20-day EMA tests in future days/weeks become buyable and with minimal risk.
Earnings Reports
Here are the key earnings reports for the next two days, featuring stocks with market caps of more than $10 billion. I also include a few select companies with market caps below $10 billion. Finally, any portfolio stocks that will be reporting results are highlighted in BOLD. If you decide to hold a stock into earnings, please understand the significant short-term risk that you are taking. Please be sure to check for earnings dates for any companies you own or are considering owning.
Monday, June 28:
CCL
Tuesday, June 29:
FDS, AVAV, NG, POWW
Economic Reports
None
Happy trading!
Tom