I'm a big believer in patterns. I follow continuation patterns primarily, because I'm a momentum trader. So as stocks consolidate, I try to identify the pattern that shapes in order to gain insight into a possible measurement. That's what technical patterns offer - measurements/targets. Occasionally, however, a downtrending stock will begin to offer clues as to a potential bottom and these can be the most lucrative as the early stages of an advance can be the most powerful.
The following chart of Butterfly Network, Inc. (BFLY) is exhibiting characteristics of a textbook bottoming head & shoulders pattern: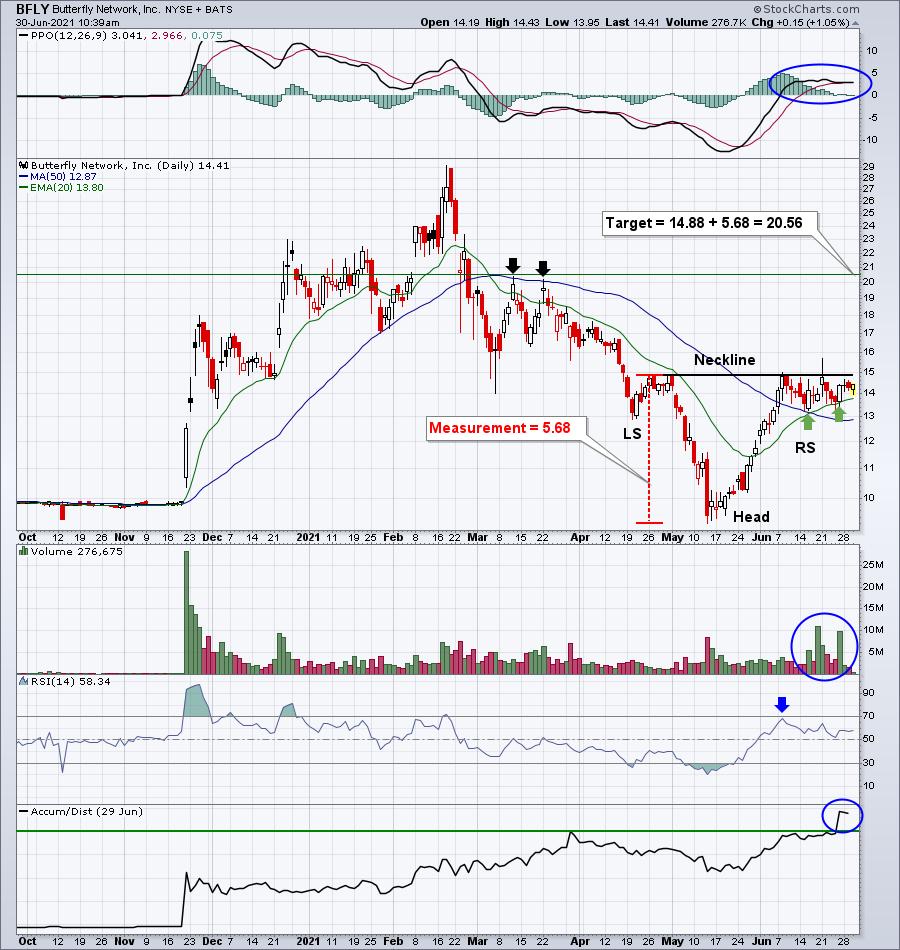 This bottoming head & shoulders pattern has several bullish characteristics, in my opinion:
High volume in right shoulder accompanying hollow candles - indicative of accumulation
Accumulation/distribution line (AD line) rising throughout selloff - another sign of accumulation
RSI recently approaching 70 - downtrending stocks typically fail to break above 50-60 range
The false breakout a couple weeks ago demonstrated the strength of buyers to clear the left side of neckline
The daily PPO has not pulled back, signaling that momentum remains strong during this consolidation
If we narrow our view to just the past couple months, the hourly chart shows a potential topping head & shoulders pattern, so a break below 13.25 would be a reason to exit the position: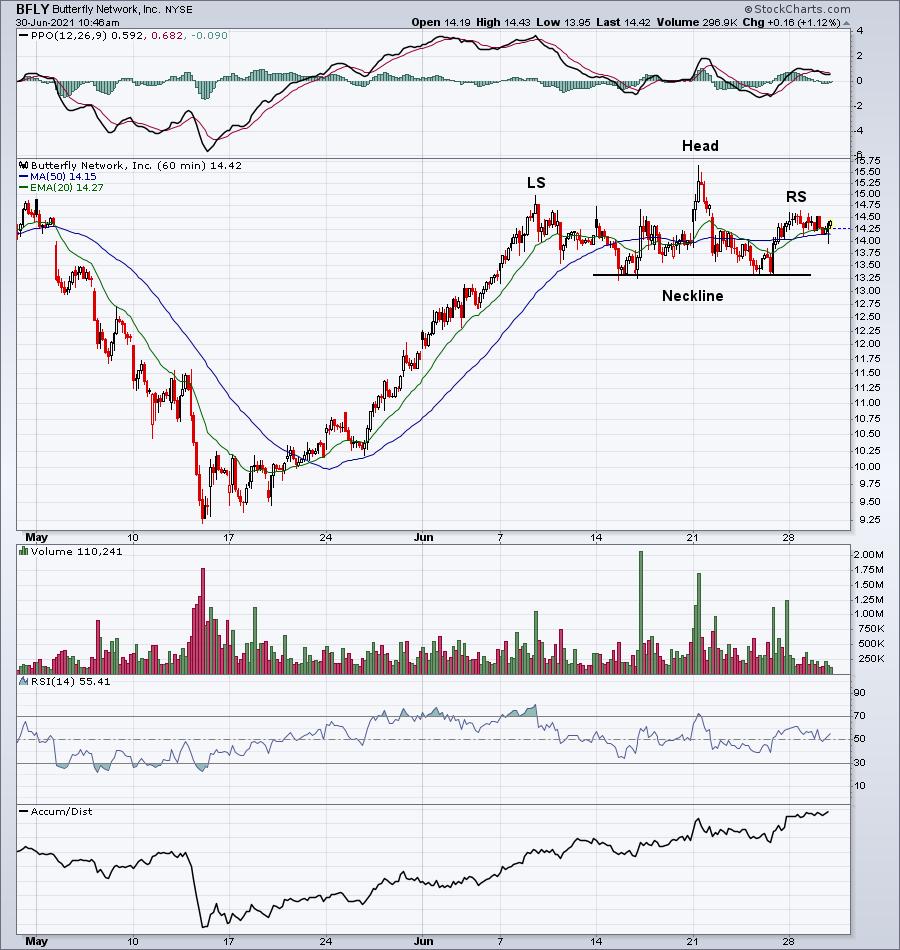 I'm believing the daily bottoming pattern more than the hourly topping pattern. We're in a secular bull market, so more bullish patterns will confirm than bearish patterns. Also, the AD line on the hourly chart shows that accumulation continues to take place.
For me, the mountain of evidence supports an upcoming breakout above 14.88. High volume on that breakout would measure to 20.56, more than 40% higher than BFLY's current price. I like the odds here.
(Disclosure: I own shares of BFLY)
Don't miss a single Trading Places article. Please scroll down and be sure to type in your name and email address so that every TP blog article, once published, will be immediately sent to the email address you provide.
Also, if you'd like to receive our FREE EB Digest newsletter, CLICK HERE and enter your name and email address in the boxes provided. There's no credit card required and you may unsubscribe at any time.
Happy trading!
Tom