I can't help it. I love analyzing quarterly earnings reactions and how the entire stock market is being impacted. So, as of Friday, August 6th, we have an Excel spreadsheet at EarningsBeats.com that incorporates nearly 1700 lines of earnings data that includes:
Quarterly earnings, both actual and estimate
Gain (loss) during the 3 weeks leading up to earnings
Gain (loss) during the 1 week following earnings
Initial reaction (% change from close before earnings to open after earnings)
Day 1 accumulation/distribution (% change from open after earnings to close after earnings)
and other info....
Key Highlights
There's a TON gleaned from this spreadsheet, but let me give you a few of the key highlights:
Most heavily-accumulated stock
SiTime Corp (SITM):
You probably have never heard of this stock. It's a $3.63 billion semiconductor company that provides silicon timing systems in Taiwan, Hong Kong, the United States, and internationally. Its solutions are used in enterprise and telecommunications infrastructure, automotive, industrial, internet, mobile, and aerospace and defense. The company was incorporated in 2003. From a technical perspective, here's what that earnings candle looks like: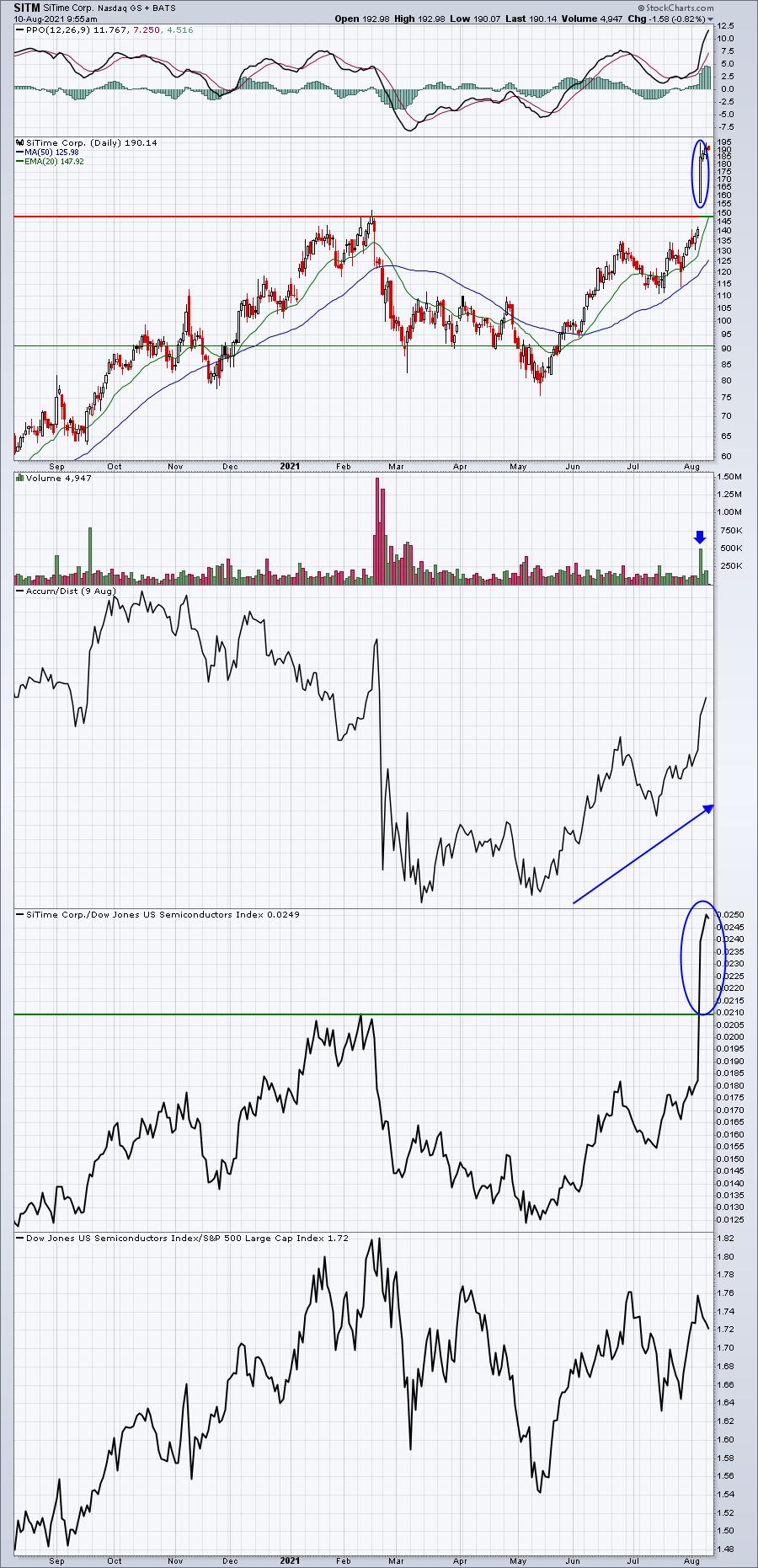 That's a very solid earnings reaction and the stock price has continued rising. Earnings doubled expectations, $.46 vs. $.23, and investors clearly cheered the report. It's also worth noting that SITM was one of the best performers over the 3 weeks leading up to earnings, gaining more than 22%. It's made a very impressive run since mid-July. It's turned out to be that rare "buy on rumor", "BUY on news" stock.
Most heavily-distributed stock
Groupon Inc. (GRPN):
GRPN was trending lower heading into its earnings report. It was very weak on a relative basis, its peer group (specialized consumer services) was a major underperformer, and its AD line had been in decline for a few months. I would not have been expecting a very good report or a positive reaction. Well, traders reacted negatively big time, despite an earnings beat. They reported a profit of $.33 when Wall Street was expecting a loss of $.34. After an initial "buy on news" that sent GRPN up at the opening bell after earnings, it was a steep fall and the selling has now continued into its third day:
There's the good, the bad, and the ugly. There's no doubt which category GRPN falls into.
Sector Theme
I like to summarize how the stock market reacts to earnings by sector. Which sectors tend to see the biggest gaps higher/lower, which tend to trend higher or lower during the trading day after earnings, etc? Here are a few notes worth passing along:
Real estate (XLRE) has the best pre-earnings runs (61 of 75 stocks ran higher in the 3 weeks prior to earnings)
Energy (XLE) has the worst pre-earnings runs (36 of 42 stocks moved lower in those 3 weeks prior)
Consumer discretionary (XLY) has averaged gapping higher by 0.71% and is the best sector
Materials (XLB) has averaged gapping lower by 0.89% and is the worst sector
Consumer discretionary (XLY) and communication services (XLC) are the two best sectors in terms of accumulation the day after earnings
The only sectors showing distribution the day after earnings are materials (XLB) and energy (XLE)
The post-earnings sector leaders (performance the 5 days after earnings released) are materials (XLB) and industrials (XLI)
There is so much more information to share and we'll be making our entire earnings spreadsheet available to all annual EB.com members.
Today's FREE Event, "Earnings Season Update"
At 4:30pm ET today, I'll be hosting our "Earnings Season Update" webinar, designed to bring you up-to-date on the latest earnings information and stories. In addition to revealing our Earnings Reactions Spreadsheet for the first time this earnings season, I'll also provide you my Best 10 Trading Ideas based on the fundamental and technical analysis I've performed. It's a must-see webinar that will impact how you view the stock market during the remainder of 2021.
To join the webinar, you can click on the following room link any time after 4:00pm ET:
https://earningsbeats.zoom.us/j/82086195111
If you're not already an EB Digest subscriber (free, no credit card required, unsubscribe at any time), we'll add you to this community.
We'll also be sending a link to our EB Digest community. To join our free EB Digest newsletter directly, CLICK HERE and enter your name and email address in the areas provided.
Happy trading!
Tom