It's not at all unusual for a company to see a huge uptrend followed by a lengthy consolidation period. Many traders with short-term time frames will grow increasingly impatient and sell long before they should. But properly-employed capital is vital to a trader, so it makes sense to wait for the dam to break and then ride the bullish wave. One of the best industry groups throughout this secular bull market has been semiconductors ($DJUSSC), so such a consolidating stock is well worth watching.
Enter Entegris, Inc. (ENTG), which crushed quarterly revenue estimates on July 27th, $571.4 million vs. $537.6. Its EPS also skated past Wall Street's best guess, $.85 vs. $.80. After posting these better-than-expected numbers, they then offered up guidance that exceeded Wall Street estimates as to both revenues and EPS. Here's the current technical picture for ENTG: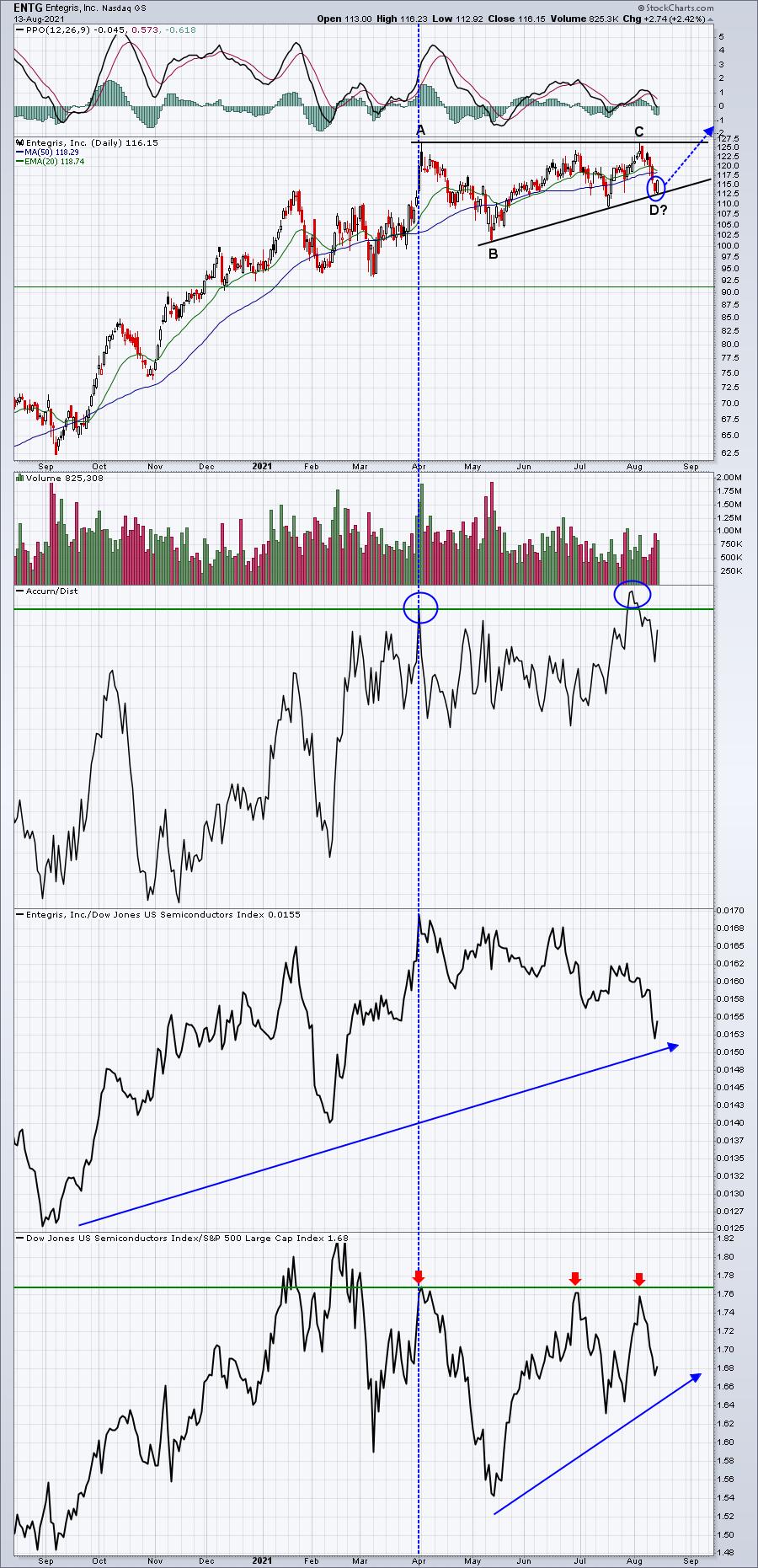 So what happened? Why didn't ENTG break out with such positive news and the improved outlook? Well, just as ENTG hit key price resistance (Point C in the ascending triangle pattern above), the DJUSSC fell for 6 straight days. Money rotated out of the group. It just wasn't time. However, it's quite possible that Friday's bullish engulfing candle marked the final bottom (Point D) before ENTG rises to make this breakout. The most exciting part is that ENTG's bullish ascending triangle pattern measures (distance from Point A to Point B) up 25 bucks above its 126 breakout level, or 151. From the current 116 level, that represents roughly 30% upside based on the breakout's price objective.
Semiconductors are a group that you generally want to have representation in, especially during a secular bull market. But is ENTG the best stock in the group? Which are the others? I'll be answering these questions and others during my "Sneak Preview: Top 10 Stocks" webinar on Monday at 4:30pm ET. The idea of this webinar is to discuss our strategy in selecting the 10 equal-weighted stocks in each of our 4 portfolios. Our flagship Model Portfolio has gained 226% from its inception on August 19, 2018 through Friday's close. For perspective, the S&P 500 has gained 66% over the same time period. It's important to invest in leading stocks in leading industry groups and I'll be describing how we do that at EarningsBeats.com. It's a FREE event for our entire EarningsBeats.com community, which includes our free EB Digest subscribers. CLICK HERE to enter your name and email address in the areas provided to subscribe to our EB Digest, which will reserve your seat to Monday's event.
Happy trading!
Tom