I'm partial to the formation of long bases, followed by breakouts, and breakouts of bullish continuation patterns. Well, I have two of these to share with you. Let me first start with CNH Industrial (CNHI), a $25.3 billion commercial vehicles & trucks company ($DJUSHR). They absolutely crushed Wall Street consensus estimates in their quarterly report released 10 days ago. Here were their numbers:
Revenues: $7.97 bil vs. $6.40 bil
EPS: $.36 vs. $.19
While the initial Wall Street reaction was lower, it turned out to be a head fake as CNHI has just broken out on both an absolute and relative basis:
My only real concern on this chart is the relative weakness of its peer group of commercial vehicles & trucks' companies. It's been downtrending since March. However, check out the seasonal performance of the DJUSHR over the past 13 years - since the 2009 low: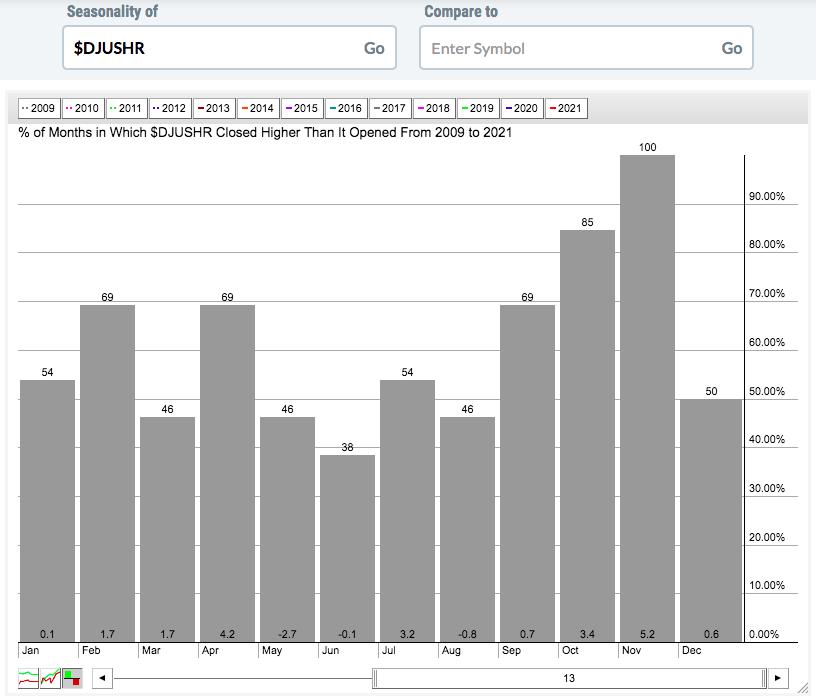 First, November has been the best month of the year for this group since 2009. Second, if we add up the average monthly returns, we'll see that the DJUSHR is now in a very bullish period of the year and just ended its worst period. Consider this breakdown of DJUSHR performance:
Average performance, October through April (7 months): +16.9%
Average performance, May through September (5 months): +0.3%
Technical, fundamental, and seasonal factors all point to further strength ahead.
Next up is a favorite of mine - Shopify (SHOP), a $209.0 billion software company ($DJUSSW). Unfortunately, the recent fundamental information hasn't been nearly as bullish here. SHOP actually fell short of its estimates, but Wall Street has given the stock a pass. Look at these numbers:
Revenues: $1.12 bil vs. $1.39 bil
EPS: $.81 vs. $1.32
Despite these big misses, SHOP has held up well technically. In fact, a very bullish inverse head & shoulders continuation pattern executed on Friday: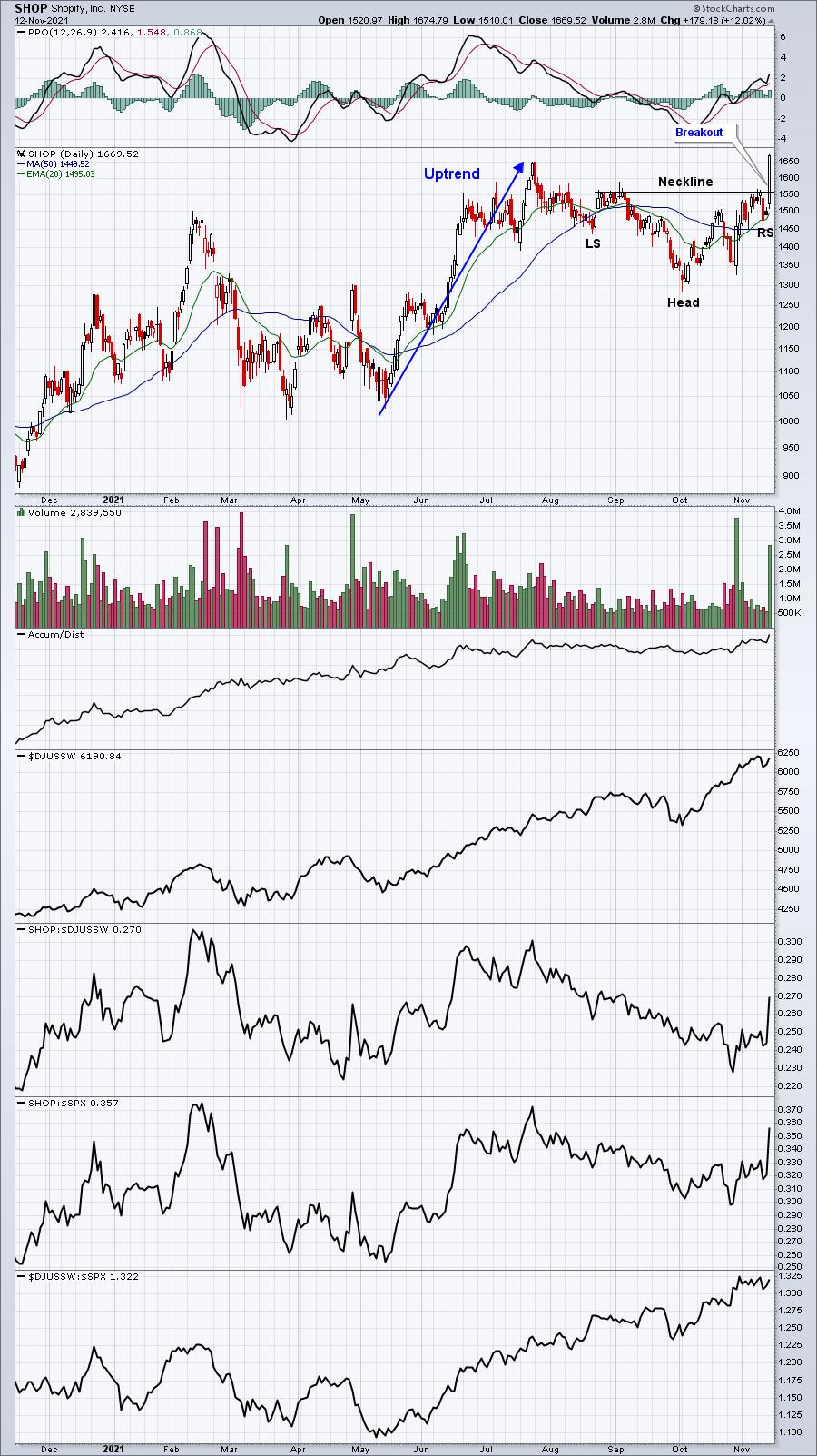 After underperforming its software peers for months, SHOP exploded on Friday on extremely heavy, confirming volume. If you're a believer of technical action and technical patterns, it's difficult not to like SHOP right now. The measurement of its inverse head & shoulders pattern is the 1800-1850 range. I'm looking for SHOP to get there by year end.
Will these two stocks be part of our portfolios next quarter? That's a great question. I'll certainly be considering both. On Thursday, November 18th, I'll be announcing the 10 equal-weighted stocks that will comprise each of our four portfolios, 40 stocks in all. We've had another stellar quarter with our Aggressive Portfolio leading the way. Since our last "draft" of portfolio stocks on August 19th, the Aggressive Portfolio has gained 21.85%, more than 15 percentage points higher than the S&P 500's gain of 6.29% over the same period.
If you'd like to attend this Thursday's "Draft", you only need to be a 30-day FREE trial member of EarningsBeats.com. To start your trial, CLICK HERE.
We also just announced a membership special, by far the best membership deal we've ever offered. If you're interested in coming on board, take a minute and check out our Fall Special!
Happy trading!
Tom