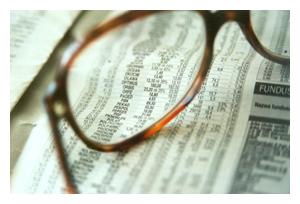 After running some scans, scrolling through the charts and filtering the setups, I came up with a dozen stocks to watch for next week, and perhaps beyond. All are above their rising 200-day SMAs and in uptrends of some sort.
These stocks are also showing short-term relative strength. Eight of the eleven were up last week and the other 3 held up much better than the S&P 500 SPDR, which was down 1%. All eleven are up over the past month with ten up more than SPY.
In short, these stocks are in uptrends, show short-term relative strength and have bullish setups on the price charts.
Note that I have not checked when these stocks report earnings. These charts are a starting point for you to apply your own due diligence. Standard disclaimers apply.
When feasible, I precede all my chart symbols with an underscore (e.g. _SPY) to chart unadjusted data, which is data without dividend adjustments. Dividend adjustments are good for seeing the total return picture, but I prefer unadjusted data for charting purposes. Dividend adjustments add the dividend back to the price. This actually changes the historical data and creates an upward skew. Looking for an example? Compare _SPY to SPY over a 20 year period.
------------------------------------------------------------
2 Stocks in the Finance Sector
The Finance SPDR (XLF), Bank SPDR (KBE) and Regional Bank ETF (KRE) held up relatively well last week. They did not close higher, but their declines were much smaller than the decline in the S&P 500 SPDR and they showed some relative strength.
The first chart shows US Bancorp (USB) with a zigzag uptrend since January and a recent surge-breakout in early September. A high and tight pennant formed, and this is a bullish continuation pattern. Watch 56 for a breakout.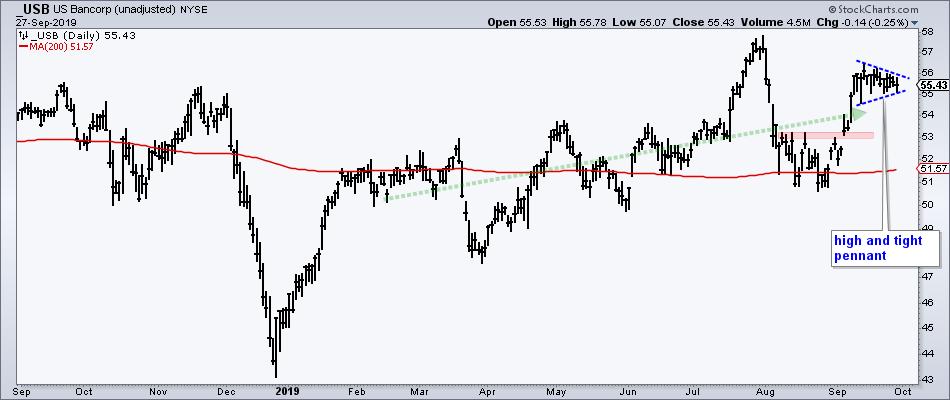 The second chart shows Principal Financial Group (PFG) establishing support in the 51-52 area in early June and August with two bounces. PFG broke short-term resistance with the September surge and then formed a falling flag, which is a bullish continuation pattern. The stock is attempting a breakout with a 1.15% gain on Friday.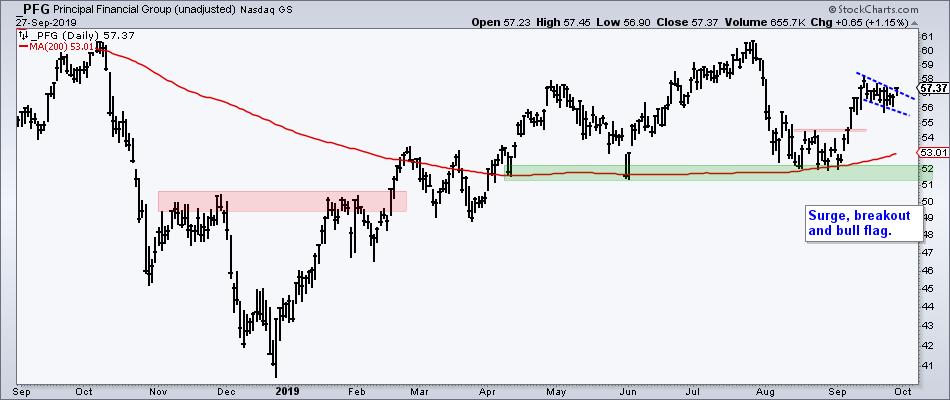 ------------------------------------------------------------
2 Stocks in Hot Housing Group
Next up we have two stocks within the housing group, which is one of the strongest groups right now. The Home Construction ETF (ITB), DR Horton (DHI), Lennar (LEN) and Pulte (PHM) all hit new highs in September and are leading the market. The first chart shows Fortune Brands (FBHS) with support in the 48 area and a channel breakout with the early September surge. This breakout is largely holding and the stock even closed higher last week.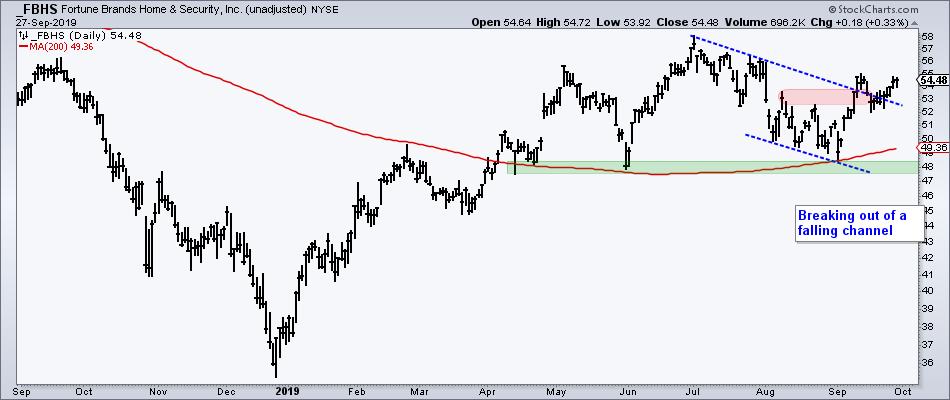 The next chart shows Masco (MAS) breaking out of a wedge with a surge in August and hitting a new high in September. The stock fell back to this breakout zone in late September and managed to firm in the 40 area. In addition to the overall uptrend, I am impressed with the ability of the stock to bounce last week when the broader market was under pressure.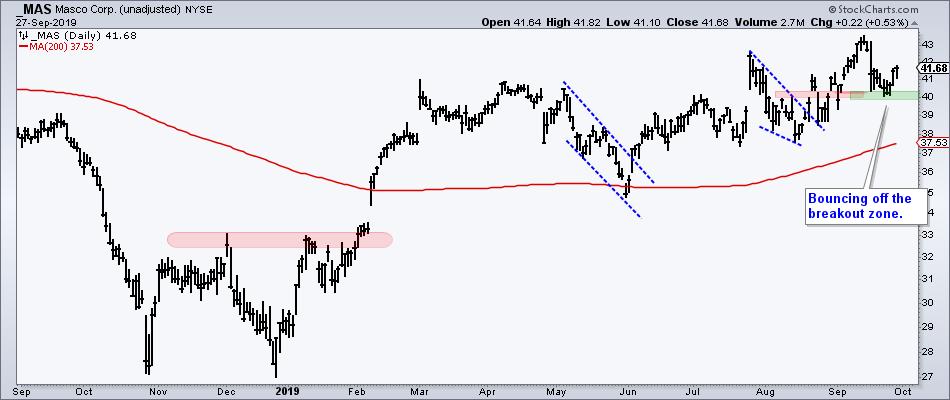 ------------------------------------------------------------
2 Industrials Perking Up
The Industrials SPDR (XLI) fell back with the broader market last week, but not before exceeding its July high. Note that the S&P 500 SPDR did not exceed its July high and this means XLI shows a bit of chart strength the last few weeks.
The first chart shows Fastenal (FAST) breaking out of a falling wedge and falling back towards the breakout zone. This is a classic throwback with broken resistance turning first support. The breakout is holding as FAST shows signs of firming above the breakout zone. Note that the stock closed up when SPY closed down on Friday.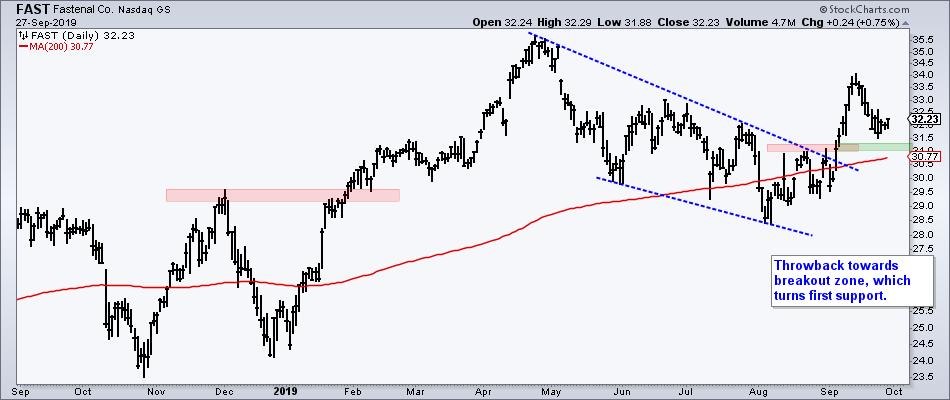 Next up we have Honeywell (HON) with a surge and wedge breakout in early September. The stock became overbought after the move from 155 to 173 and worked off this condition with a falling wedge of sorts. HON advanced on Friday and broke the upper line of the wedge. Further strength above 169 would be bullish.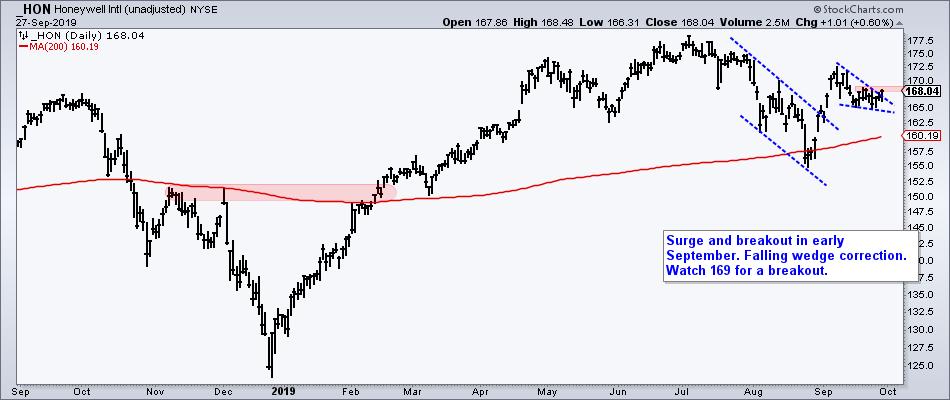 ------------------------------------------------------------
2 Healthcare Stocks
Cerner (CERN) had a great run with an island reversal and surge from 50 to 75 in around 6 months. The stock then retraced around 38% of the prior advance with a falling channel back to the 66 area. This looks like a correction, but the immediate trend is still down because the channel is falling. A break above 70 would reverse this downtrend and signal a continuation of the prior advance.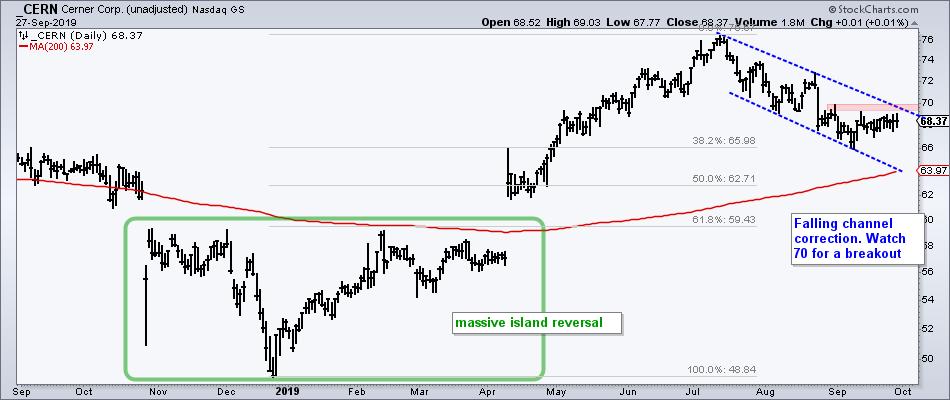 Horizon Therapeutics (HZNP) is holding up pretty good considering it is in the weakest sector (Healthcare). The stock broke out with a surge in early August and this breakout is holding throughout September. Purist may not like the falling wedge I drew because it cuts through the mid September spike low. However, I think the essence of the pattern is there: a correction after the August surge. Also note that HZNP closed higher on Friday and last week.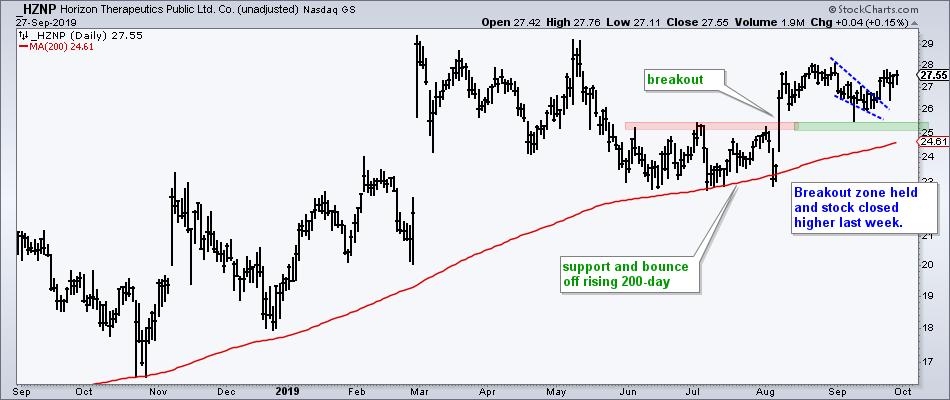 ------------------------------------------------------------
3 Wild Cards
Carmax (KMX) hit a new high in July and then corrected with a falling wedge into August. The stock broke out in August and this breakout held as KMX consolidated above the breakout. Notice that the stock closed higher on Friday and last week.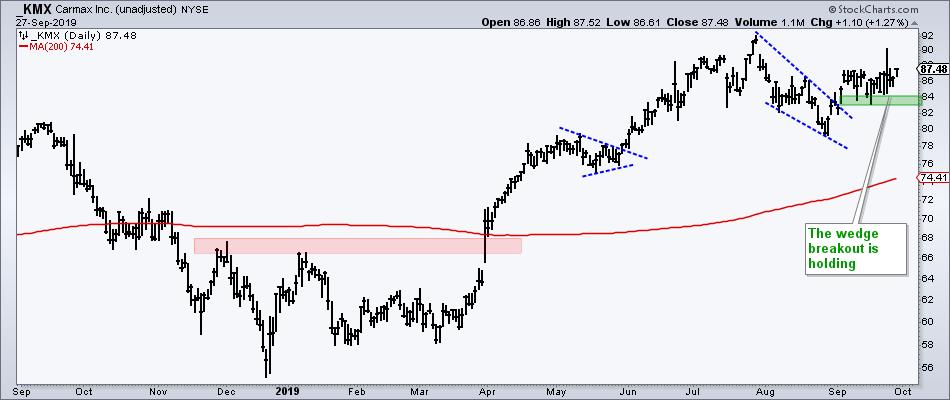 Oracle (ORCL) is part of the software group, which has been hit hard the last few weeks. ORCL hit a 52-week high in early July and then fell back to support in August. There is a lot of support in the 50-52 area and the stock held up quite well last week. ORCL was up 1.16% for the week and up .24% on Friday.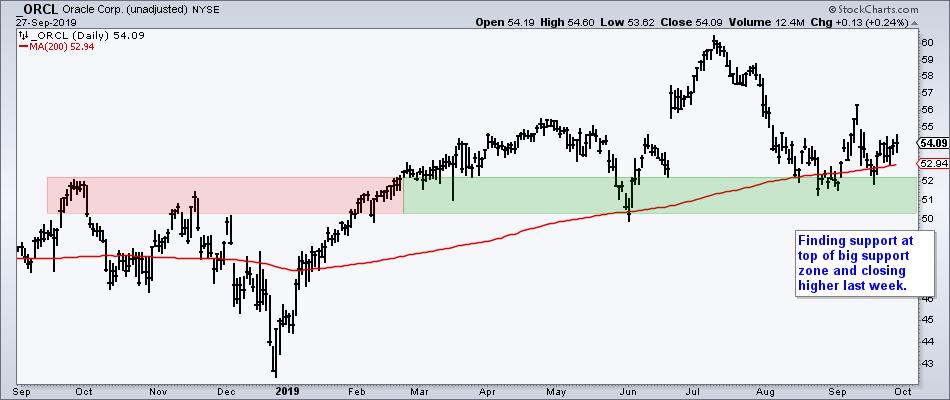 Packaging Corp of America (PKG) is in the Materials sector. The stock broke out of a falling channel in June and also moved above its 200-day SMA, which it has held above since early July. A falling flag of sorts formed in August and the stock broke out with a surge in mid September. PKG fell back to the breakout zone with a throwback, and bounced last week. Looks like the breakout is holding.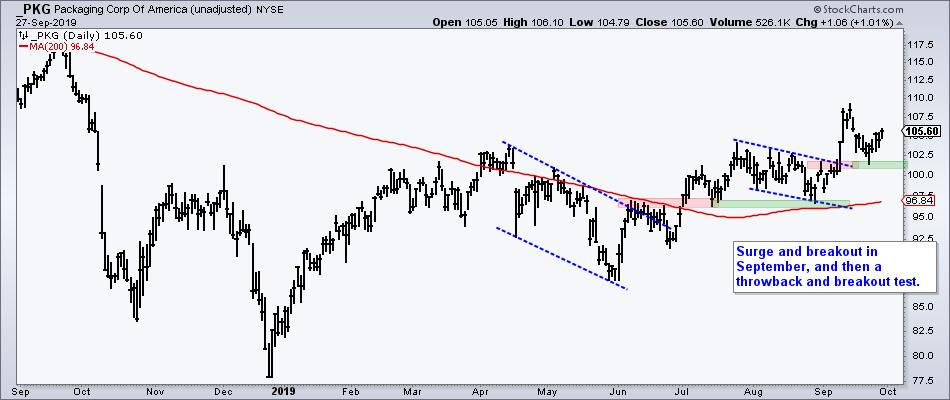 Enjoy your Sunday and have a great week trading!
------------------------------------------------------------
This Week on Art's Charts
Saturday - 28-Sept: 3 Breadth Indicators to Watch Next Week - SOXX Holds up Tech
Friday - 27-Sept: The State of the Stock Market - It is What it is
Thursday - 26-Sept: ETF Ranking and Grouping - Staples and Uts Leading, while Software and Biotech Looking Vulnderable
Wednesday - 25-Sept: There May be Trouble Ahead - SPY, QQQ and IWM Update
------------------------------------------------------------