The Swedish Krona (FXS) is a thinly traded currency with gaps all over the daily chart. However, because it is part of the dollar index it is also extremely sensitive and I like it as an early warning currency. This ETF started in 2006 so that is our maximum data range. Here is the weekly view. Here we can see the Swedish Krona has broken through a four year trend line. After tracking in a very tight range since October 2012, the stock has now declined below the lowest level in the 2 year range. Notice the 65 week moving average has turned down and we broke through the long term up trend at the same time we broke through the 65 WMA. So, while the global stimulus was intact, the Krona moved sideways. This week, it is starting to make new lows.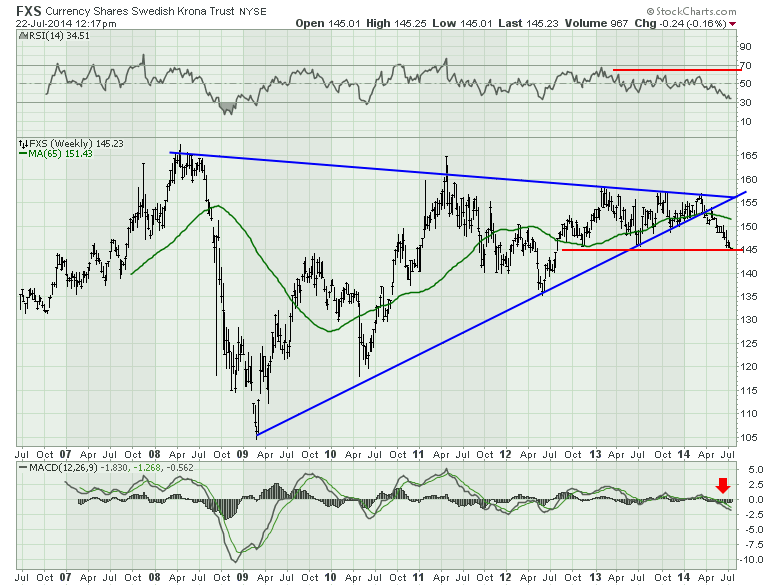 With the long term trend line breaking, It reminds me of the long term trend line in the Yen breaking in 2012 which caused a lot of the long term currency trends to change shortly after. I would expect this to affect other European currencies including the Pound and the Euro. We'll see if that is what the charts show in the review. Looking at the daily, this is a well defined downtrend with no real reversal signals showing up on the MACD or the RSI.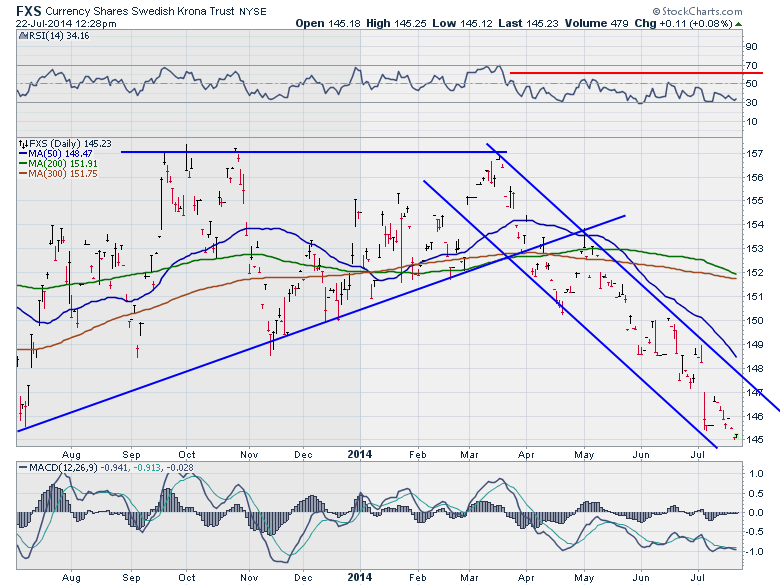 We are now below the main moving averages. You can see the blue trend line also cut through the 200 DMA at the same time as the 300 DMA. So as an advanced guide, this would suggest the Euro currency is going to break down. I know not many people watch the value of the Krona, but I've found it to be a good indicator in terms of direction.
If you missed any of the previous currency articles from yesterday. here are the links. The Japanese Yen, The Australian Dollar, The Canadian Dollar.
Arthur Hill does a great job of covering the major moves in the Euro. He will be presenting at Chartcon 2014. If you watch Art's Charts or his great work on the Market Message, you'll be able to see him live as he hits the stage. If you want to see some of Arthur's unique charts that he looks at to examine the market, make sure you take the time to enrol in one of the few remaining seats for Chartcon 2014 on August 8th & 9th. He is doing a special presentation on StockCharts.com Hidden Gems. That will be a massive reveal for everyone. Chartcon 2014. We are so close to a packed house.
Next we'll roll through the British Pound which just keeps pushing higher. There is a significant clue on that chart as well.
Good trading,
Greg Schnell, CMT