In reviewing my charts this weekend, I noticed that one of my annotations was about to slip off the charts. You can see it on the chart below. The Healthcare Bill passed over 4 years ago and it was about to scroll off my Healthcare Bullish Percent Index. ($BPHEAL).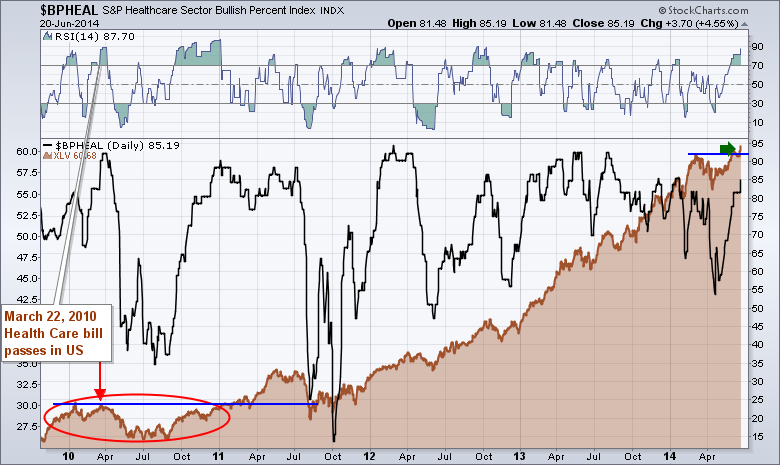 March 22, 2010 was the date the Healthcare bill passed. 42 weeks later, the Healthcare Sector SPDR (XLV) broke out to new highs above the March 22, 2010 high of $30.15. This was the birth of a new bull market for Healthcare stocks. Looking at the Healthcare Bullish Percent Index ($BPHEAL) since the announcement,
---
The majority of stocks in the group have been on bullish chart patterns since then with 2 exceptions. There was a pullback with the initial reaction to the bill. There was also a big pullback in 2011 that correlated with the overall SP500 ($SPX) dropping in July 2011 on European issues. Other than those two reactions, the majority of stocks in the sector have been bullish ever since. Recently, the sector broke out to new highs as discussed by Arthur Hills Market Message on Friday. This is a huge bullish trend for the Healthcare Sector as shown by the Healthcare Sector SPDR (XLV).
So how does that compare with other sectors? Excellent in fact. Starting at the date of March 22, 2010 only Consumer Cyclicals have outperformed Healthcare. Healthcare has outperformed the SP500 ($SPX) by 34% over the 1071 trading days since the Bill passed. This chart shows how much it outperformed the $SPX.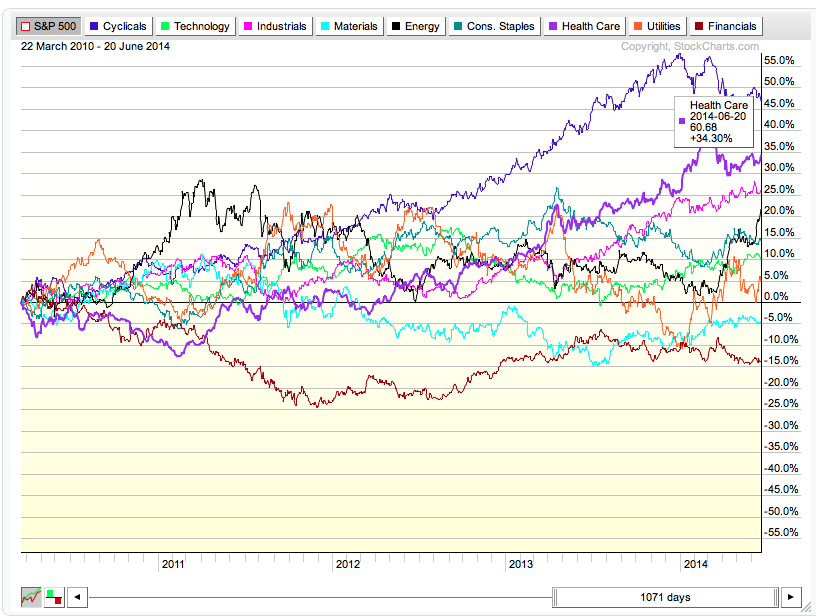 If we use histograms to present the absolute change since the bill passed, the chart sector comparison looks like this. This chart shows the absolute gains in each sector rather than comparing it to the $SPX.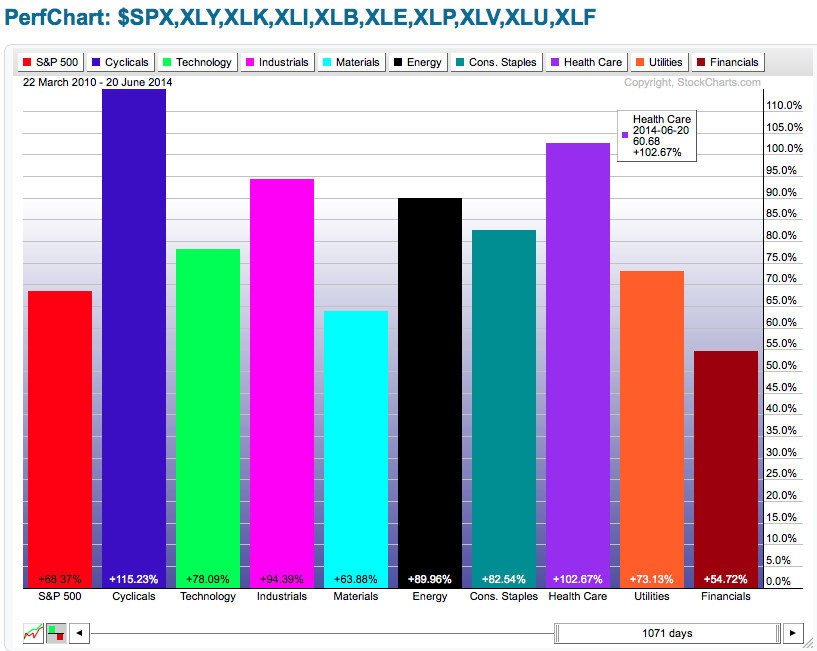 The aging demographic of the baby boomers is definitely a strong factor for the sector. Investors looking to find strong macro trends may want to consider a larger percentage in Healthcare. Financials have been the worst performing sector over the same time period which is important information for investors with a traditionally large financial weighting in their portfolios. The Healthcare Sector SPDR XLV was almost a complete double over the Financial Sector SPDR (XLF). While history may not represent the future accurately, the demographic trend of an aging baby boomer population may be stronger force for the Healthcare sector than any current macro factor for financials. I think it is something worth considering after looking at these charts.
Good trading,
Greg Schnell, CMT