The Commodity Research Bureau Index ($CRB) has had a very volatile year. Just when the trend looked to be accelerating, it rolled over. Lately, the US Dollar ($USD) started to accelerate on July 1 as pointed to by the long green arrow. The $CRB rolled over since then as denoted by the red arrow. We also saw the Russell 2000 ($RUT) top on the same day.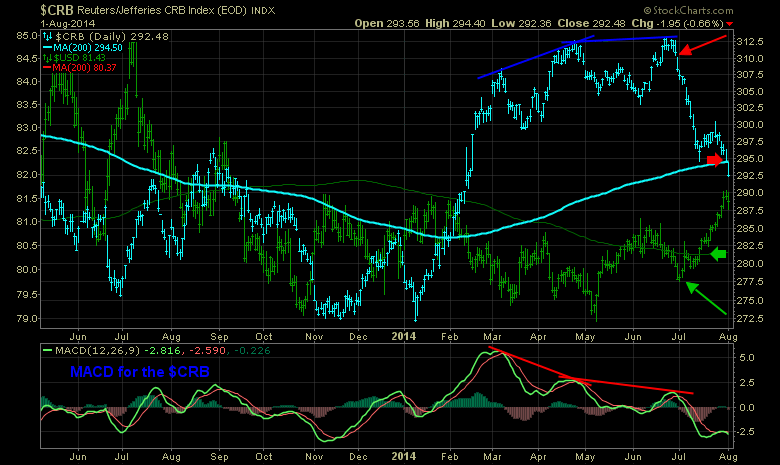 Now, when we look at the Energy SPDR (XLE) and Materials SPDR(XLB) it looks like they were just breaking down in the last few days based on Chart 2.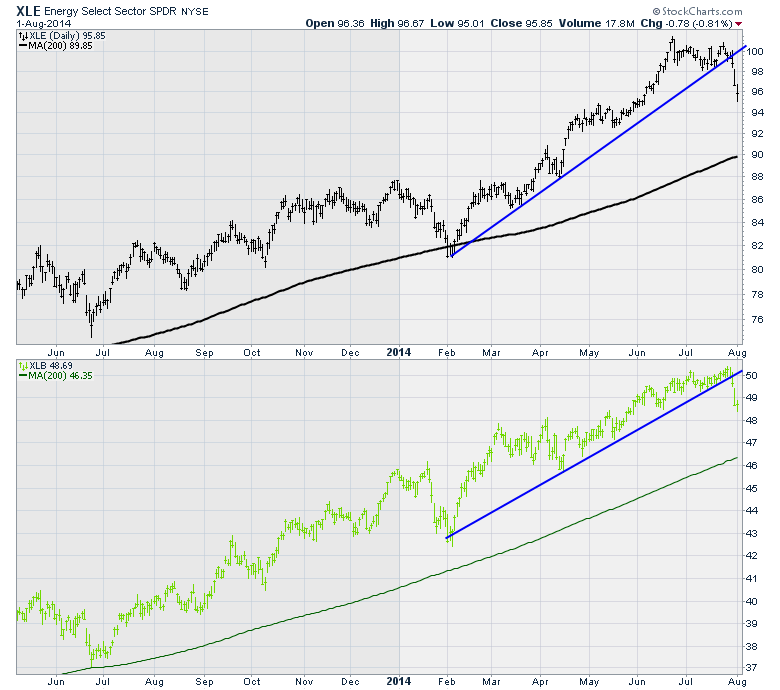 However, the weakness was building. A new tool on StockCharts.com would help us see this before the breakdown. Here is the RRG Chart tool on Chart 3 that Chip talked about in the last ChartWatchers newsletter.
Here is the link to the RRG chart for members. XLE and XLB. Notice how they have been weakening for 7 weeks. As the $USD accelerated it really put pressure on the sector for the last 4 weeks. Before the surge in the $USD, the price action was just moving sideways in price.
The bottom line is that the $USD looks to be going meaningfully higher as the rest of the currencies are all dropping in unison against the $USD right now.
This is a slippery slope for commodities. The sudden strength of the $USD would suggest that the primary direction for commodities and commodity related stocks is probably lower.
That includes Oil, Gold, Silver, Copper and Lumber related entities. We may have interim rallies, but the macro favours lower commodities and related stocks until we see some divergence on the the $USD. There is lots of resistance looking left for the $USD at 81.5 so we might get a short term breather here (left scale).
Good trading,
Greg Schnell, CMT