There are big expectations for Mario Draghi this week. He is supposed to announce some form of QE. There are a lot of interesting European charts but let's start with the Euro ($XEU). This week, the Euro took out the 2006 low. One of the major things to notice is that the MACD is at the third lowest momentum level in the history of the Euro. While that by itself does not make the low imminent, history would suggest we are near the lows unless we have a complete financial breakdown like the Global Financial Crisis.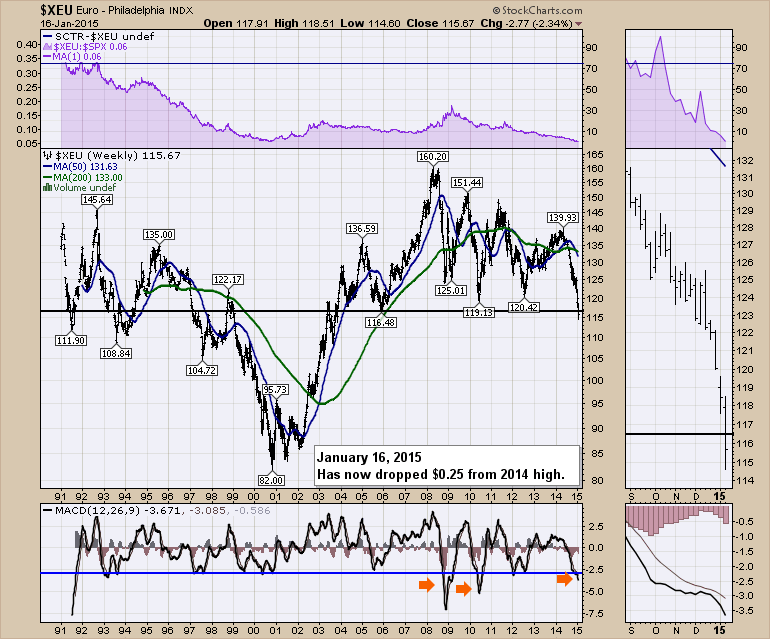 The daily chart of the Euro is interesting. For those who study candles, today was a big hammer candle.
---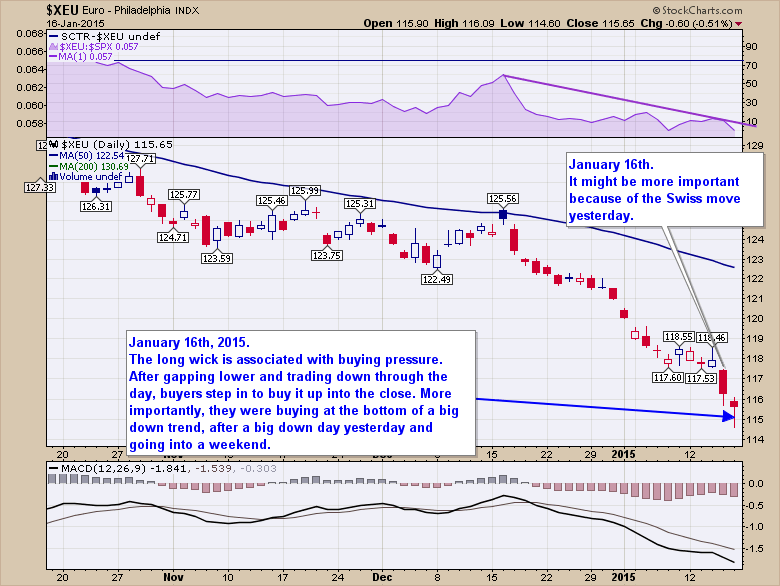 Some like to have the candle close above the open, but the most important part is that it closes near the top of a wide ranging day after a big downtrend. Germany is the strongest country in the Eurozone, but all of the charts shown for Europe seem to be turning up. Spain ($IBEX), France ($CAC), Italy ($MIB) and the UK ($FTSE) have behaved better over the last few weeks. The German Market Index ($DAX) closed at a new all time high today. It also made a new all time high in December. Higher highs and higher lows is the definition of a new uptrend. That started today!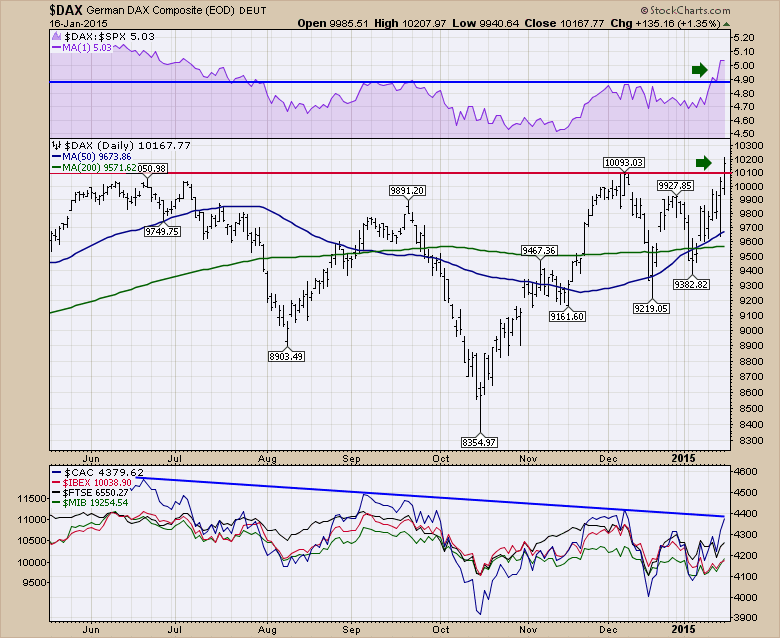 The most interesting part of the $DAX price action is the relative strength is now stronger than it has been since July 2014. Now what we need to see is confirmation. In the bottom panel, almost all the European markets have been building a small (very small) series of rising lows since the beginning of January while the US pushed lower. France ($CAC) shown in blue made one month highs today. If France can break this downward sloping trend line, that has to be considered as bullish and confirmation of the $DAX breakout. This also suggests to me that the European stocks might get a bounce with support from the hammer candle on the Euro. If the Euro and the equities start to run higher, this would encourage fund flows towards Europe. It will be an important week in Europe.
I recently published an article about the long bonds in America which discusses why fund flows may start slowing towards long term American bonds. That fits into this story line as well. That bond article can be reached by clicking here. Time To Start Thinking About A Long Bond Reversal ($USB).
Good trading,
Greg Schnell, CMT