Entertainment is all about watching something exciting.
With all the discussion of cord cutting for cable, multiple companies have discussed that they expect to make more money through direct subscription or skinny bundles. While it is still early to know, this is a hot area to watch. Scripps has a lot of the Home & Garden shows and the Scripps SCTR (not shown) is just moving above 75. Time Warner Cable has moved to a multi-platform distribution model which is an important area for all the cable companies. It also has an SCTR just moving above 75 late last month.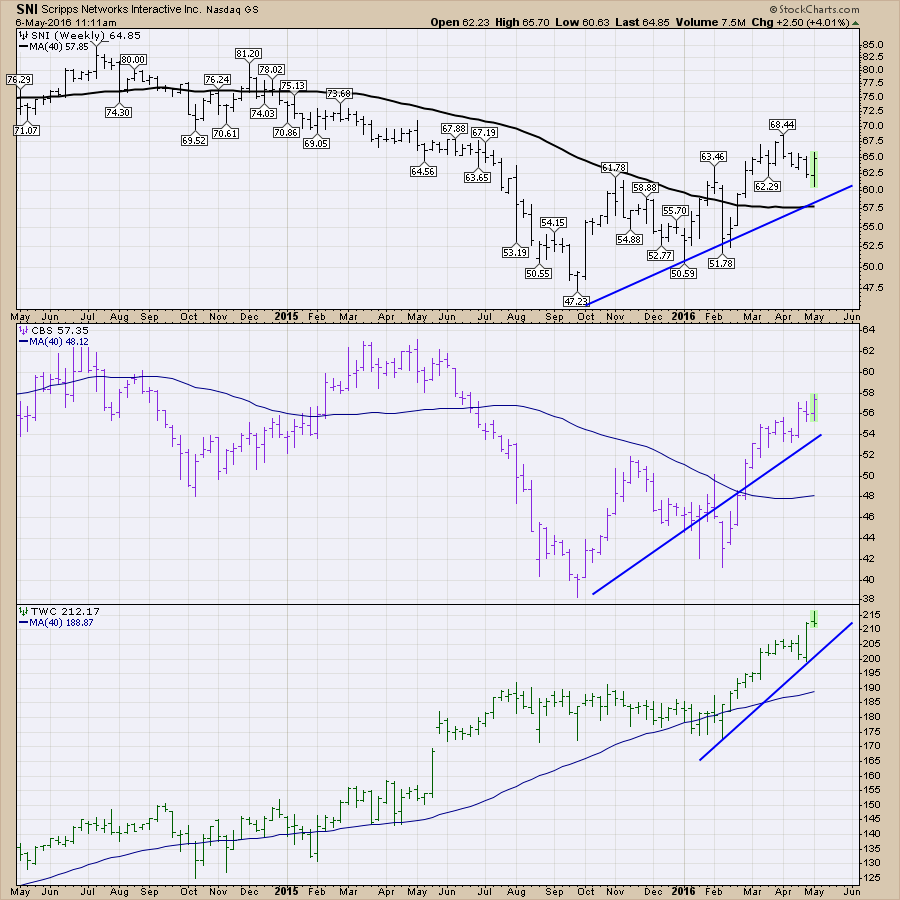 ---
The group is looking very positive as there are a lot of companies with an SCTR above my magic line of 75%. Additionally, the breadth above 50% is very bullish. Look at the three-month % change. Very few companies have underperformed the SPY which is up 9% in three months.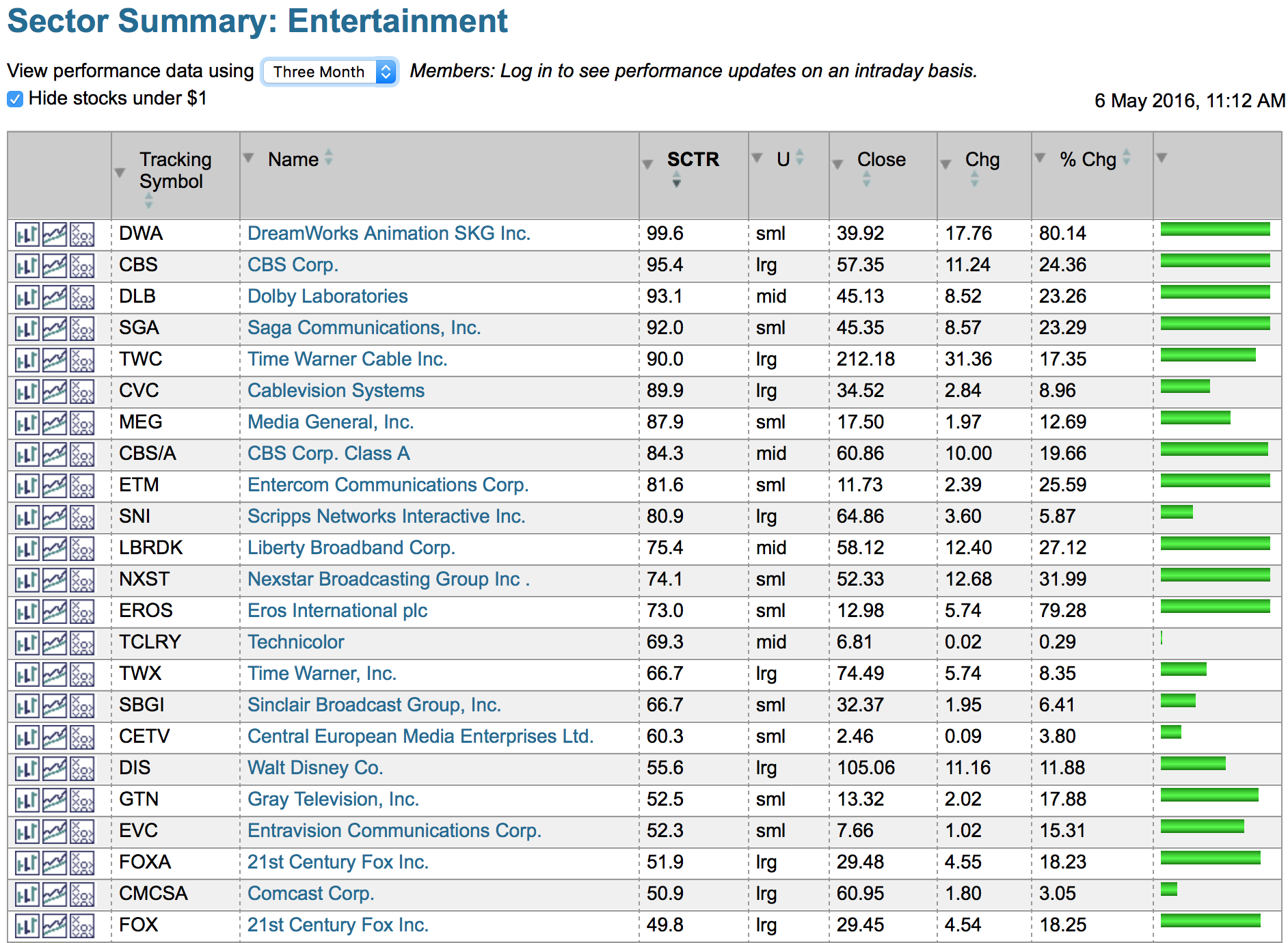 The elephant in the room is Disney (DIS). After a tremendous 2015, Disney paused (30%!) recently on a fade in subscriptions. Disney just moved above its 200-day Moving Average (200 DMA) and the SCTR has popped up above 50.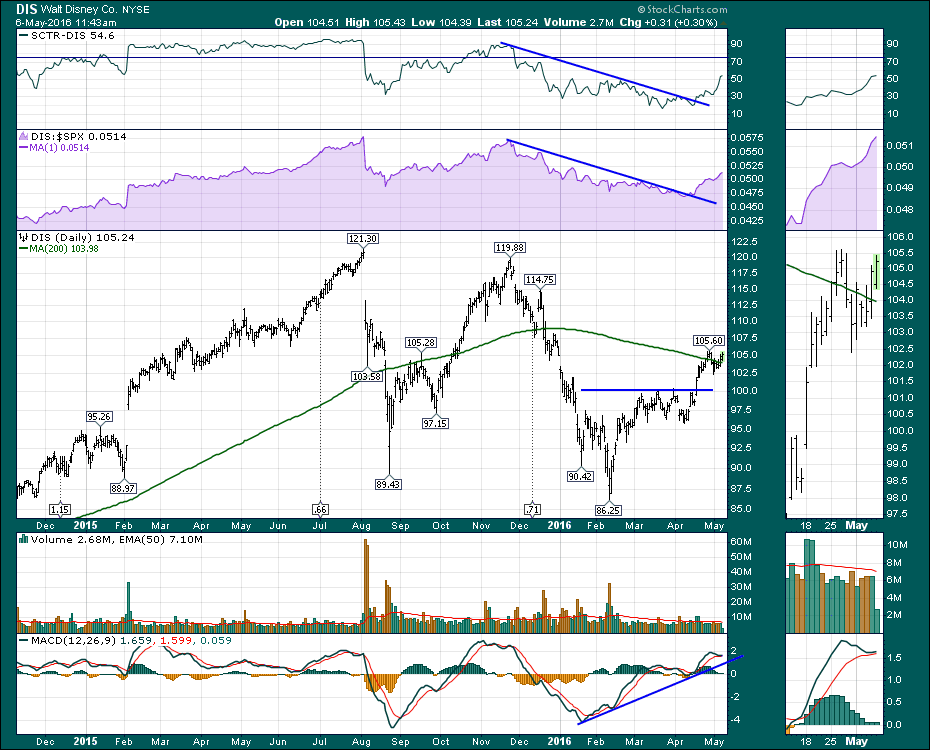 This industry group looks like a strong investment theme as these charts have pulled back very little while the $SPX is making lower lows for the last few weeks. Perhaps this group will get you entertained and prosperous with some of the outsized gains and the general acceleration in the area.
For more ideas, check my blogs and subscribe for email delivery by clicking on the Yes button below the article within each blog. The Canadian Technician and The Commodities Countdown have exclusive content using my style of analysis. As I flit around between charts, I often post on Twitter as well. @Schnellinvestor. Follow me there for lots of charts that don't make it into an article.
Good trading,
Greg Schnell, CMT, MFTA.