Commodities have been trying to rally recently, and this week they really kicked in to high gear.
Industrial Metals had a great week, led by $COPPER. I particularly like when the big global miners react, and 4 of 4 crossed above the 10 week moving average. Two of them made new 3 month highs!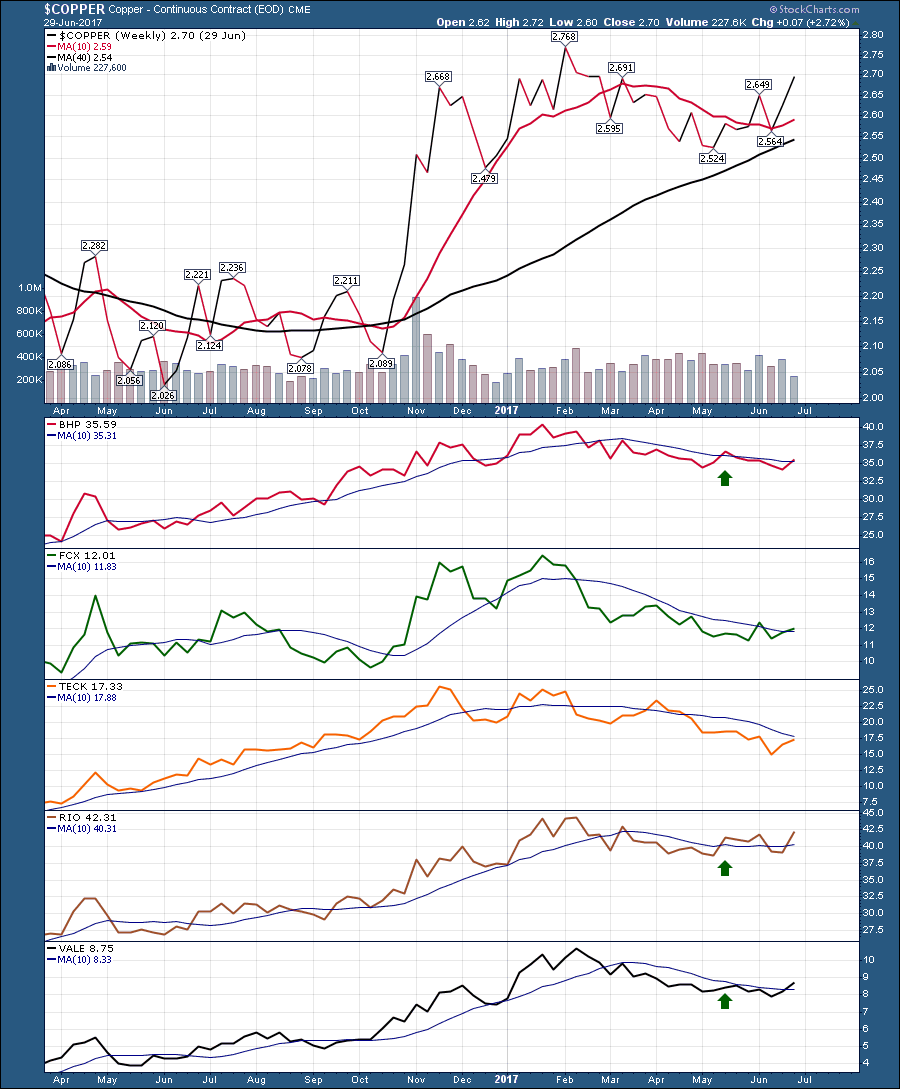 ---
But wait, there's more! $COPPER broke above a 6-year trend line and closed the week, the month and the quarter there. That is a very bullish signal for the long term charts. Looking at the suppression of the mining stocks, quite a few could be a double just to get back to where they were and for some its a 3x gain. Freeport McMoran could move up 200% just to get back to 2014.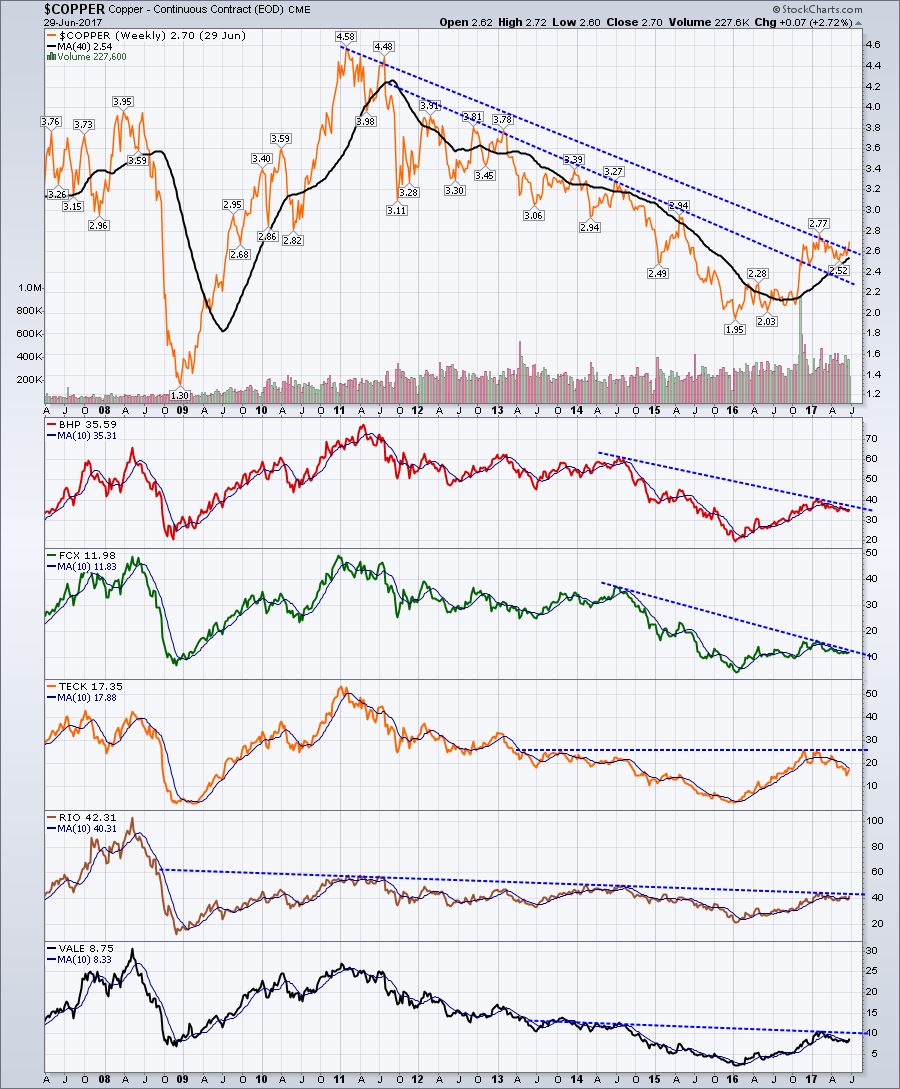 Steel improved this week. I think this is a beautiful chart of the Steel ETF, SLX. The MACD has pulled back to the zero level from the top side and looks to be turning higher from here. Very bullish setup.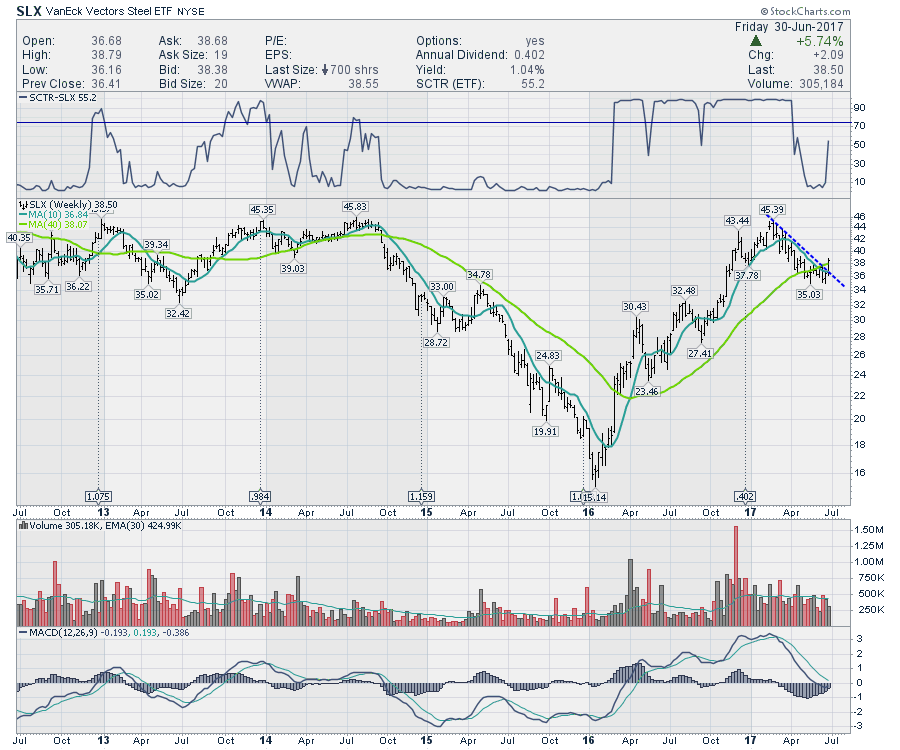 Wheat broke a massive trend line as well. The MACD has a beautiful setup of pausing and now turning higher. The price broke back above horizontal support and resistance at 460 after testing 12 year lows and building a base structure.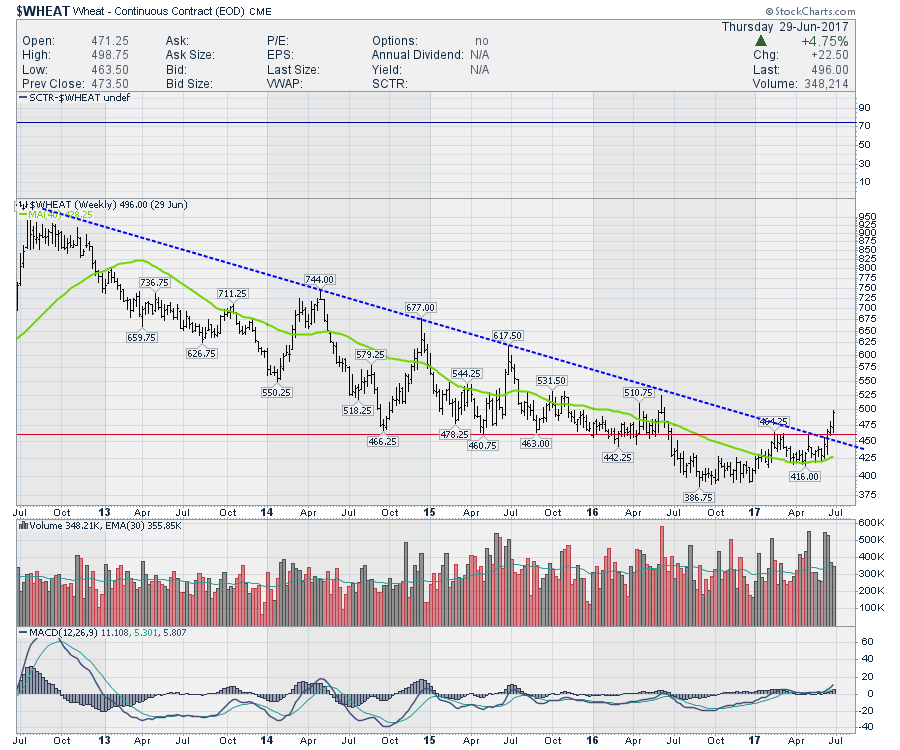 Lastly, oil bounced nicely after the business news networks declared a new bear market for crude oil as it was down 20%. In Commodities, those 20% swings happen every year so we can have bear markets and bull markets within months of each other. This looks like a great place for oil to turn higher.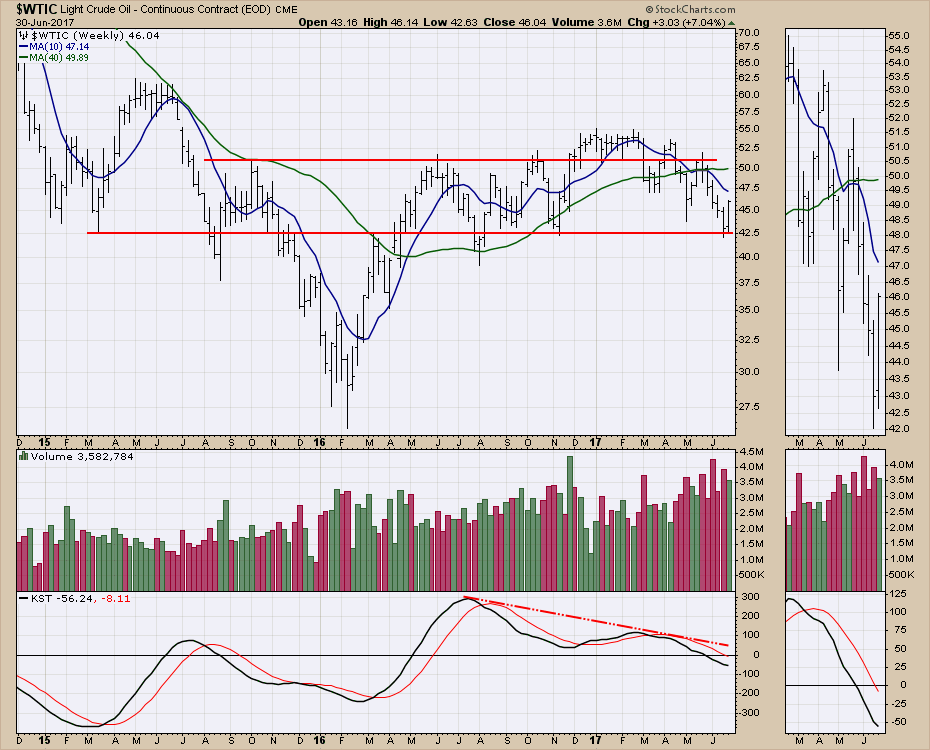 I did a big video recording on Commodities Countdown 2017-06-29 and I would encourage you to check it out. I present a very compelling reason to believe this might be the second half story of 2017. Steel, Copper, Oil, Agriculture all look very interesting. I mention Gold in the video, but it really finished the quarter softer than I might have expected based on what the other commodities were doing.
For the Canadian readers out there, Happy Canada 150 day! On The Canadian Technician Video 2017-06-27, I worked through how important the Commodities are to the big picture currently (not just Canada) and why we are standing on the edge defining where we go from here. I am optimistic about the move up based on the global thrust. If it does not transpire, I discuss that as well, and that is an ugly alternative view based on the chart layouts and momentum signals on monthly charts. Understanding how important the bullish outcome is will be very important to the USA and Canadian viewers. There is a couple of hours of discussion about this turning point.
I did update the Commodity Countdown Chartlist. 30 charts to bring you up to speed on what is happening.
For all of our readers, have a great July 4th weekend and enjoy the second half of 2017! We appreciate that you take the time to follow the articles and thank you for the feedback.
Good trading,
Greg Schnell, CMT, MFTA.