First, note that StockCharts users can chart adjusted data and unadjusted data. By default, stock and ETF symbols show adjusted data, which means the data have been adjusted for dividends, splits and other events. When a stock goes ex-dividend, the dividend amount is subtracted from the stock price. StockCharts adjusts the data by adding the dividend back into the stock price, which provides users with a picture of the total return (price change plus dividends). On a total return basis, the Utilities SPDR (XLU) is up some 87% over the last five years. Not bad for old boring utility stocks.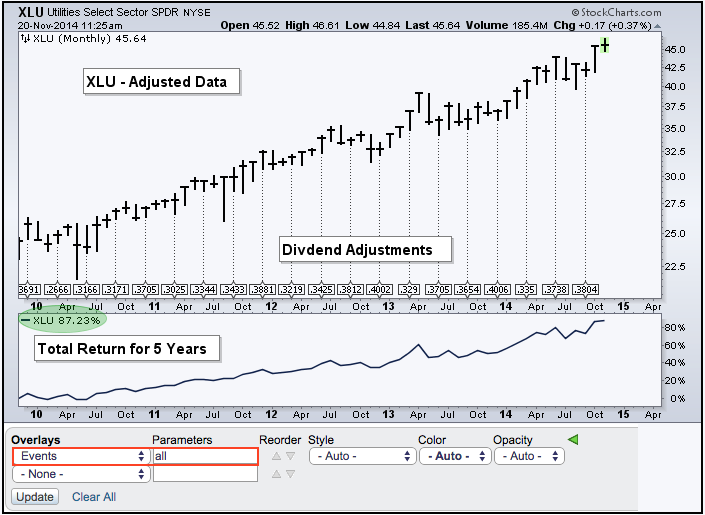 The price chart shows the dividend adjustments because I added "events" as an "overlay". Putting "all" as a parameter will show dividends, stock splits and all financial events affecting the price. This is a great way to see when a dividend is paid or when a stock split.
So just how much of a role did dividends play in the total return? Chartists can find out by plotting unadjusted data. Simply precede the symbol with an underscore (_XLU). As the chart shows, unadjusted XLU still sports a nice gain as price appreciated some 53% over the last five years. However, because utility stocks have relatively high yields, the dividend is a very important part of the picture. I would guestimate that dividends accounted for around one third of the total return for XLU over the last five years.