Too many traders focus on the wrong things when looking for a big short squeeze. It's not about how many short shares there are for a particular stock. And it's not about high short percentage of float. And, quite honestly, it's not even about a heavily shorted stock breaking out. It's really no different than trading any other stock. The key, in my humble opinion, is to find a heavily shorted stock showing relative strength.
How do you do that?
Well, we start off by doing much of the research and homework for you. We have a Short Squeeze ChartList that's updated monthly that lists every stock that has a short percentage of float above 20%. That means that for every 5 shares that are freely traded, 1 is shorted. That's a high number as currently only 92 companies meet that initial criteria. We organize those 92 companies in a ChartList (numbered 001 to 092) in order of short percentage of float, highest to lowest. That way, our EarningsBeats.com members know exactly which companies are the most heavily shorted. That can lead to tremendous gains and I've written about 4 such stocks over the past 7-8 months either in this Trading Places blog or in the ChartWatchers newsletter. The stocks - TSLA, PTON, OLLI, CHTR - were featured in the following articles:
TSLA (+266% in 7 months):
Here's A Stock Breaking Out With 21% Of Its Float Short!
PTON (+146% in 4 months):
A Recent Search Study Suggests That A Paradigm Shift Favors This Company
OLLI (+46% in 2.5 months):
Seeing A Short Squeeze Unfold Presents Huge Opportunities; Add This One To Your Watch List
CHTR (+10% in 2 months):
I provided CHTR in our free EB Digest newsletter on Friday, May 29th. While we initially saw weakness and more consolidation in June, CHTR rebounded strongly and has risen nearly 20% since its low on June 30th.
There's been one common denominator in each of the above 4 cases. Relative strength vs. its industry peers. Let me be clear about one thing. Most stocks being heavily shorted are not great trading candidates on the long side. Many of those stocks are being shorted for very good reason. But shorts don't always get it right and when they're wrong, the opportunities can be quite rewarding.
Currently, only 33 of the 92 stocks on our Short Squeeze ChartList are in what I'd consider to be solid relative uptrends vs. their industry peers. One of the best performing stocks since the pandemic hit - Wayfair (W) - is on this ChartList. I wouldn't want to be shorting this stock: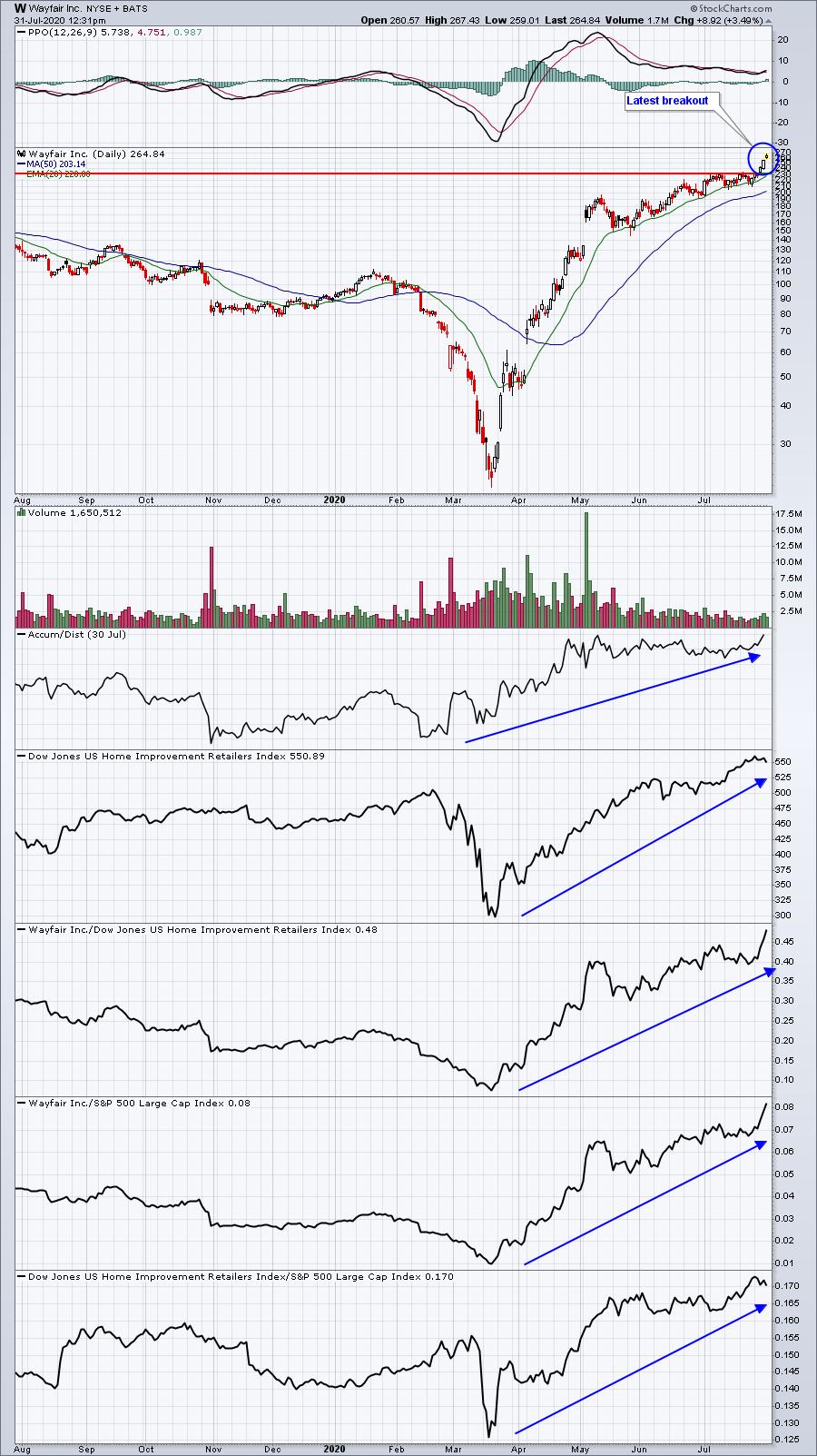 El Pollo Loco Holdings (LOCO) is another stock on this ChartList that's likely driving the shorts LOCO: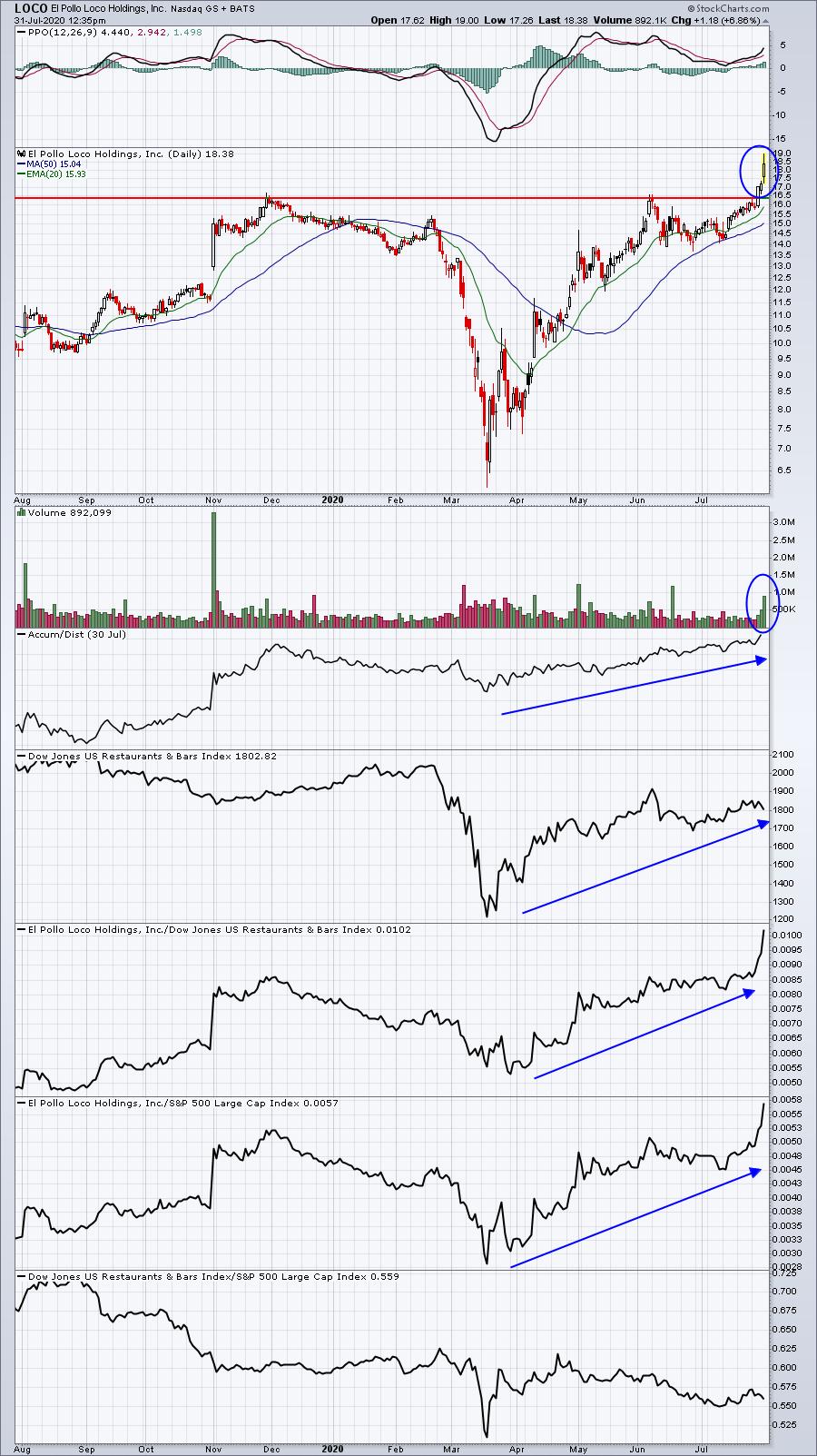 Once members join EarningsBeats.com, they can go to our ChartLists page and find our Short Squeeze ChartList. Downloading it into your StockCharts.com account is as simple as clicking on the link on our website and then typing in the password that we provide. This is what you'll see:

You only need to be a $7 30-day trial member at EarningsBeats.com to gain access to our Short Squeeze ChartList, along with 9 other ChartLists. We've done the homework for you! If you'd like to access our ChartLists and enjoy all the benefits of being an EarningsBeats.com member, CLICK HERE to get started!
Happy trading!
Tom