Expert Technical Commentary Delivered Straight To Your Inbox
July 7, 2018
Hello Fellow ChartWatchers!
Maybe it's just me, but there's nothing like a short week to make things feel busy. Even with a holiday in the middle to space things out, trying to pack a full week into just four days of trading always makes for some pretty interesting moves in the market. Thankfully, this week's ChartWatchers articles are here to help you catch up on the action.
By the way, can you believe that ChartCon is only one month away? Here at StockCharts HQ, our team is working around the clock to get everything prepared, and I can safely say that this will be our biggest and best conference yet. For those of you who have already registered, keep an eye out next week for our first issue of ChartCon Insider.
If you're not yet signed up, now is the time to save your seat! With the way today's markets are behaving, ChartCon couldn't come at a better time. Our speakers have a lot to share with you, and we're all anxious to kick things off in just a few short weeks. Trust us, you can't afford to miss this. To learn more and register, click here.
Until next time,
Grayson Roze
Having trouble seeing this email? Click to view online
Health Care SPDR Achieves Bullish Breakout

by John Murphy

On a day when stocks are rising, and all eleven market sectors are in the black, healthcare is the standout performer. This chart shows the Health Care SPDR (XLV) rising to the highest level since the middle of March. The bottom box shows the XLV/SPX ratio rising to the highest level since late April. The XLV has been rising faster than the SPX since the
Why All The Talk About The Yield Curve Flattening?

by Greg Schnell

StockCharts.com has a nice Dynamic Yield Curve tool that anyone can use. It's extremely friendly. As we roll through the pictures in this article, notice the date in the upper left corner of the yellow box. The red vertical line on the yellow background on the right side shows it in the context of the stock market. Here is a...
Register Now for ChartCon 2018!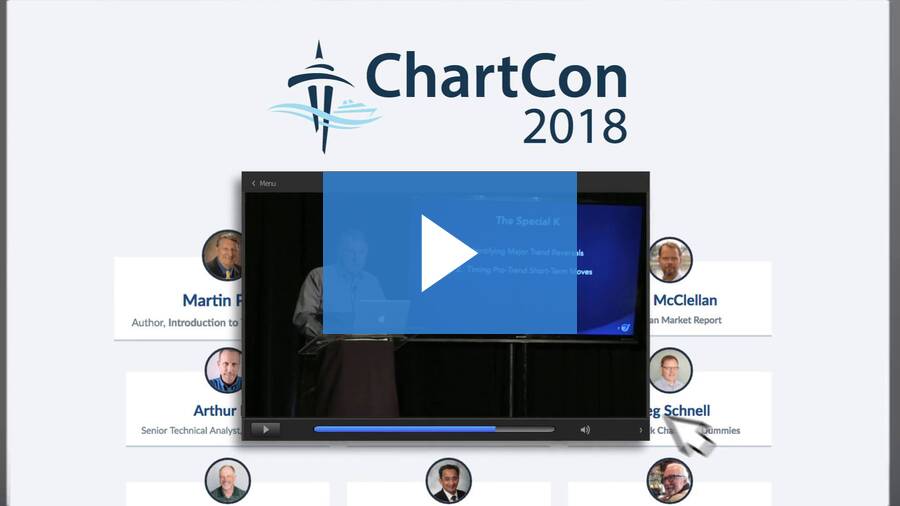 The Trading Strategy That Makes Money

by Tom Bowley

Let's first talk about a trading strategy that doesn't work. I steer clear of companies that struggle to meet Wall Street expectations and there's a very simple reason why. Management helps Wall Street set their expectations. So when companies miss their targets, it's essentially a confession by management that they could not deliver on their promise...
Bookstore Special
Profiting from Earnings Reports

by John Hopkins

The market has been in stall mode for quite some time now. Even though the S&P perked up some on Friday it's still hanging out near levels seen in early January, going nowhere fast. At the same time the market has had all kinds of reasons to totally collapse; tariff wars, Fed tightening, rising US dollar, to name a few. Yet the S&P is back above all key technical levels, waiting...
10 For 25: Essential Lessons, Rules and Strategies From a Lifetime of Investing

by Grayson Roze

Earlier this week, I joined Tom Bowley and Erin Swenlin on MarketWatchers LIVE for something a bit different. Instead of sharing the usual tips and tricks as part of the "Everything StockCharts" segment, I had a chance to join the show as a featured guest. In addition to some lively discussion and great conversation, I had a wonderful time sharing what I believe are the most crucial lessons, rules, and strategies that every investor needs to embrace...
Finding Chart Breakouts with Momentum

by Erin Swenlin

I've presented my favorite PMO scan numerous times during the MarketWatchers LIVE show, but also in articles. Here's a link to my article on that scan. However today I wanted to present my "Chart Breakouts" scan. I use this scan during the MarketWatchers LIVE show to find stocks or ETFs that...
Checking out the land down under on a Relative Rotation Graph

by Julius de Kempenaer

On the Relative Rotation Graph above I have grouped a selection of world equity market indices, mainly some big regions, and put them against the Vanguard Total World Stock Index (VTWSX) as the benchmark. What immediately grabs our attention, or at least mine is the fact that this selection is clearly split between positive (Leading) and negative (Lagging). The universe The universe on the RRG
Unlock All of Our
Tools and Features
+ Larger, Full-Screen Chart Sizes
+ Intraday Charts with Real-Time Data
+ Exclusive, Members-Only Commentary
+ Custom Technical Scans and Alerts
ChartWatchers is our free, twice-monthly newsletter for online investors and StockCharts users. Whether you are brand new to charting or a seasoned analyst, each edition of ChartWatchers brings you insightful, expert commentary from the industry's leading technicians. See what's really happening in the markets through their eyes and gain an edge in your own investing.
For more information about the ChartWatchers Newsletter or to subscribe for free, Click Here
This email was sent to [email]. Need the newsletter sent to a different email address?
Simply unsubscribe your current email, then re-subscribe using the new address.
Click Here to instantly unsubscribe