This market continues to pull investors both ways. After JPM broke out to fresh highs, it looked like everything was moving along nicely. The price bar on today's KBE chart looks remarkably similar to the price bars showing up in the last three rollovers. Even movie producers would tire of making reruns this often!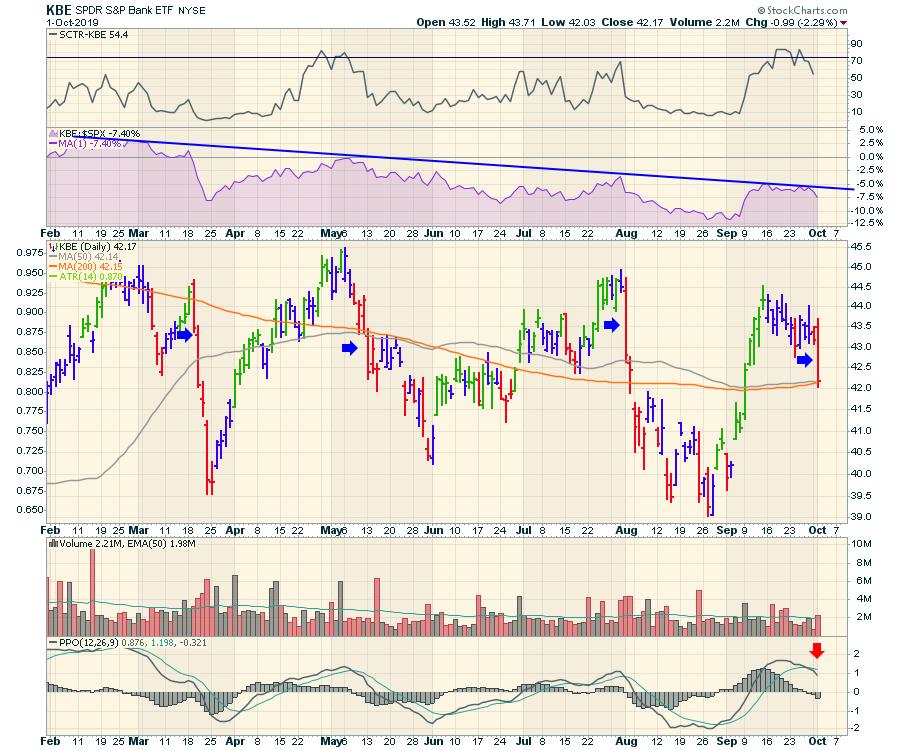 So, with the banks rolling over and the indexes looking a lot more tentative, this market is looking frail. The recent stall at the highs for the indexes was worrisome. We do have one major catalyst next week, which is the possibility of a trade deal. If Chinese negotiators are going to fly over to Washington to meet, it seems like a long way to go to say they are still miles apart after sending deputy negotiators last week. My charts are breaking down, but I don't want to be too bearish with such a potentially important inflection point next week. In my various publications, I have been mentioning that this market is getting dicey quickly. That was a complete flip from three weeks ago where I was very bullish. When the data changes, I'll change. I'd rather be going with the trend.
For some of these articles, you can see the titles and links below. Within these articles are also some links to videos that help explain the quick mood change from mid-September.
On our December 2018 low we had such a nice long run. It was excellent. Lately, we have chopped up and down every month since May. While the input data is rapidly changing, I think it is better to change with the market than fight it. Currently, my data trend is down.
I continue to make progress on my website for a new subscription service I am building. As a non-techie, it surprises me how much has to happen to get all the plumbing to work. With a few experts helping me, we are getting closer! Please head over to gregschnell.com to submit your email address; that way, you will get an email in the next few days with the introductory offer inside. For all of the readers that have followed my work closely over the years, I will have a specific, deep discount for you. Thank you for all your support!