The Consumer Cyclicals have been spiralling into the leading zone on the RRG charts. The stocks have been surging. Arthur Hill and I have been pointing to Consumer Cyclicals since mid July. Home Depot (HD) broke out last week and Arthur covered it in the Market Message to subscribers yesterday Arthur Hill's Market Message. ROSS Stores (ROST) is snapping a major downtrend line that bottom fishers might be interested in. It is also surging compared to the S&P 500 shown in purple (SPURS), the red area chart shows it breaking out compared to the Consumer Cyclical sector , and the green area shows it starting to outperform the industry group. The SCTR ranking is still a lowly 46 so that is mediocre at best.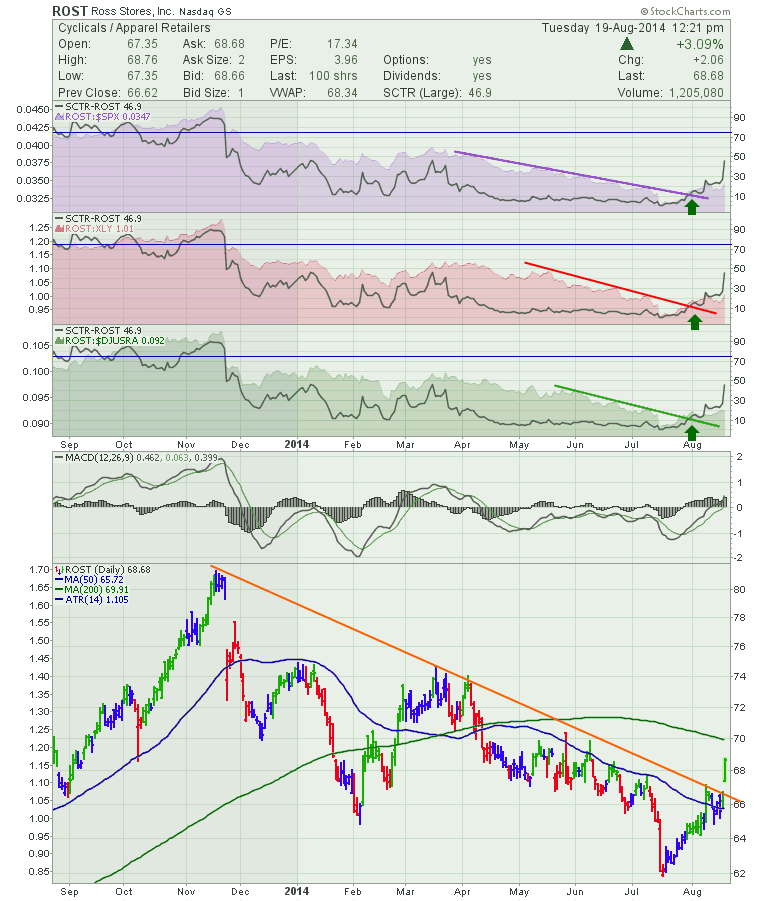 With the break of the big downtrend but still below the 200 DMA, is has work to do. However, If you follow Dr. Elder's work the candle colour has to be blue or green on the weekly. It turned green again today and has been oscillating between green and blue for 4 weeks now.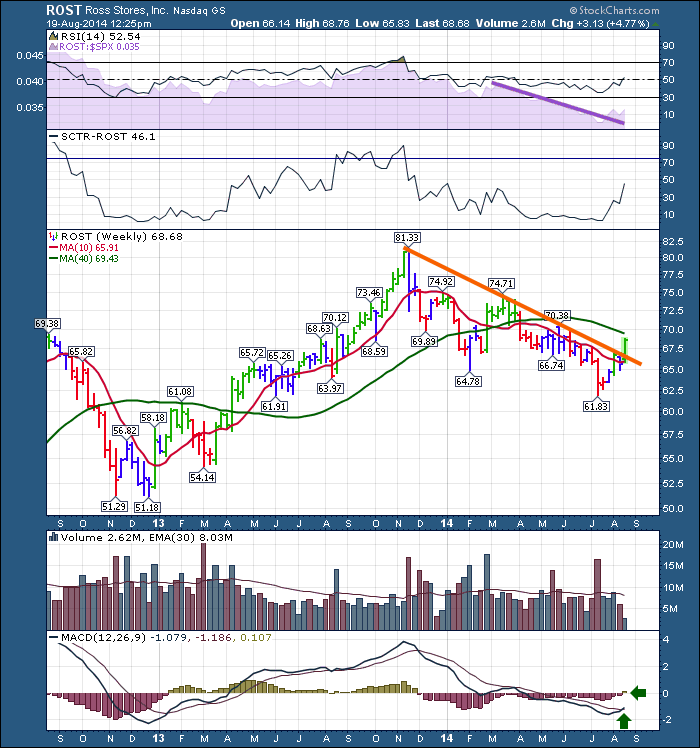 You can also see the weekly MACD gave the first positive cross since the same time last year! Without a doubt, there is lots of positive price action in the Consumer Cyclicals sector.
If you liked this article, feel free to forward it to investing friends and family. If you didn't like the blog, please send me a note on what I could do better. The charts are printable. They should also be clickable so that you can go look at the settings.
We try to keep our articles informative and entertaining. Make sure you check out the other blog writer articles in Mailbag, Chartwatchers, Traders Journal, DecisionPoint, Don't Ignore This Chart, Chip Anderson, Scanning Technically, and The Canadian Technician. Subscribers have access to blog articles by Arthur Hill, John Murphy, Martin Pring as well as the DecisionPoint Tracker and DecisonPoint Reports. Don't forget to look for the subscribe button for RSS feeds and email.
On the Blogs tab, you can also see the Top Advisors Corner in the right hand panel where other technicians post their work. If you are paying for newsletters all over the Internet, don't miss all the articles here that are included!
Good trading,
Greg Schnell, CMT