Potash Corp (POT) has made a huge bull candle today. We could understate it as just a trend line breakout.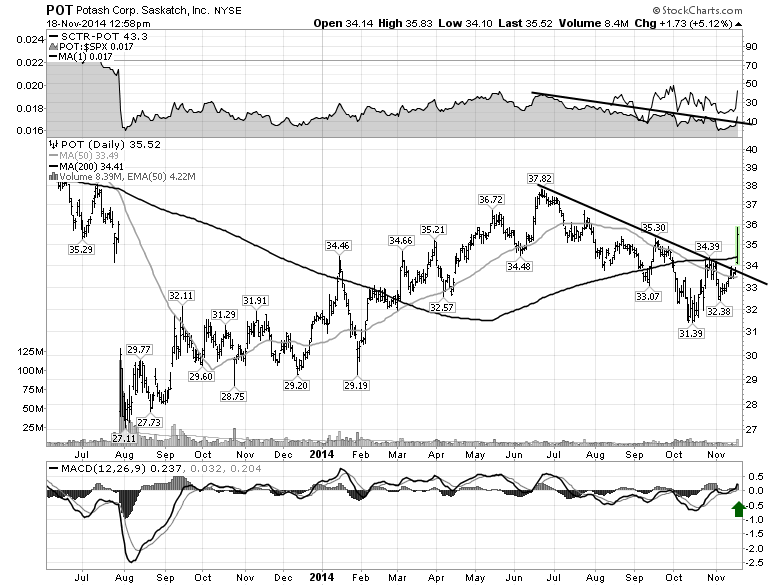 The whole Potash group jumped today so it does not appear to be company specific. This chart has such nice technicals. MACD moving positive today. Relative Strength breaking out at the top of the chart. We can see a clear downtrend being broken today. I put this chart in monochrome so you can see how to print with only a black cartridge and lots of white space. The area chart at the top is light gray. You can click on the chart to see the settings.
---
If you liked this article, feel free to forward it to investing friends and family. If you didn't like the blog, please send me a note on what I could do better. The chart is printable. It should also be clickable so that you can go look at the settings.
We try to keep our articles informative and entertaining. Make sure you check out the other blog writer articles in Mailbag, Chartwatchers, Traders Journal, DecisonPoint, Don't Ignore This Chart, Chip Anderson, Scanning Technically, and The Canadian Technician. Subscribers have access to blog articles by Arthur Hill, John Murphy, Martin Pring as well as the DecisionPoint Tracker and DecisonPoint Reports. Don't forget to look for the subscribe button for RSS feeds and email.
On the Blogs tab, you can also see the Top Advisors Corner in the right hand panel where other technicians post their work. If you are paying for newsletters all over the Internet, don't miss all the articles here that are included!
For attending the next "Canadian Technician" Webinar, Please click here to register. When is it? Thursday November 20, at 4:30 EST.
Good trading,
Greg Schnell, CMT