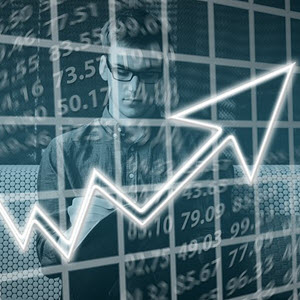 It is time for another round of weekend stock setups. Last weekend I featured seven semiconductor stocks and these are performing well. Two weeks ago I featured a hodgepodge of stocks with mixed results.
The S&P 500 is trending higher, the Index and Sector Breadth Models are net bullish and the Fed is expanding its balance sheet. I do not want to fight the Fed or the tape and this is why I am only featuring bullish setups. All stocks featured below are in some sort of uptrend. They are above their 200-day SMAs and the 65-day SMA of RSI(10) is above 50. Earnings season is here so I am also noting when these stocks report.
Activision Blizzard was featured in ChartWatchers on September 6th with a rounding bottom and breakout. The breakout is holding as broken resistance turns into support in the 50-51 area. ATVI consolidated the last five weeks above the breakout zone and I view this as a bullish consolidation. Watch for a breakout to signal a continuation higher. A close below 50 would warrant a re-evaluation. Note that ATVI reports earnings on November 7th.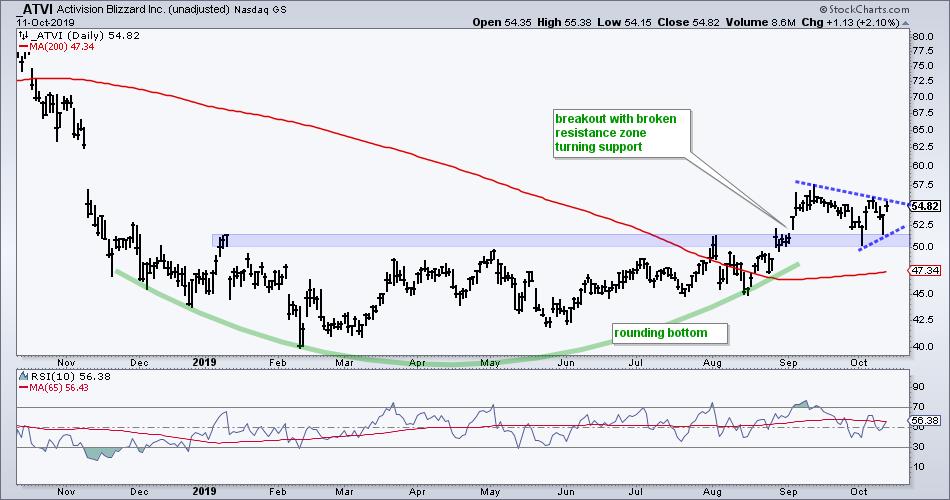 IDEXX Labs is consolidating within a long-term uptrend. The stock advanced from 175 to 290 and then formed a symmetrical triangle, which is a bullish continuation pattern. After a sharp move lower in early September, the stock firmed immediately with a consolidation and support held. I am looking for a short-term breakout within the Symmetrical Triangle as the early signal. IDEXX reports on October 31st.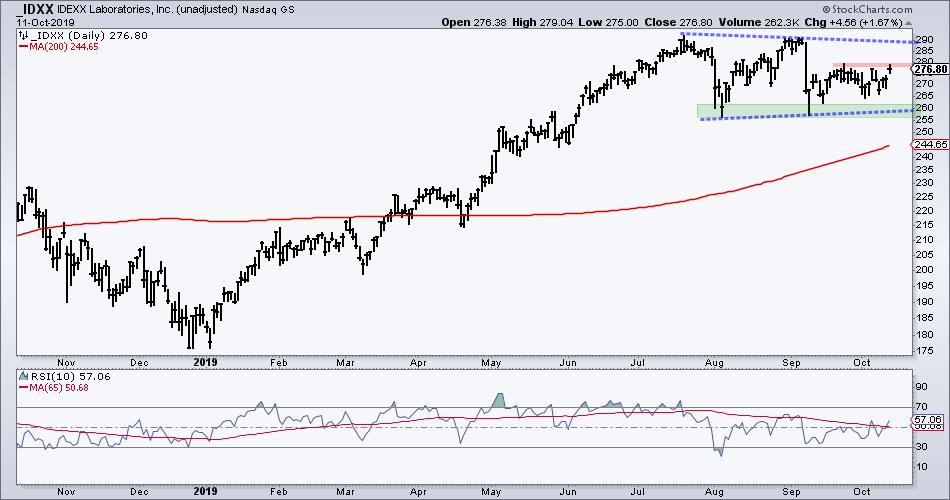 Stericycle (SRCL) is an industrial company in the waste disposal business. The uptrend is fairly nascent because the stock crossed the 200-day in early September and remains below the April high. Nevertheless, the breakout in the 46-48 area held as broken resistance turned into support. A falling flag formed and the stock broke the flag line with a surge over the last three days. A close below 48 would warrant a re-evaluation. SRCL reports on October 31st.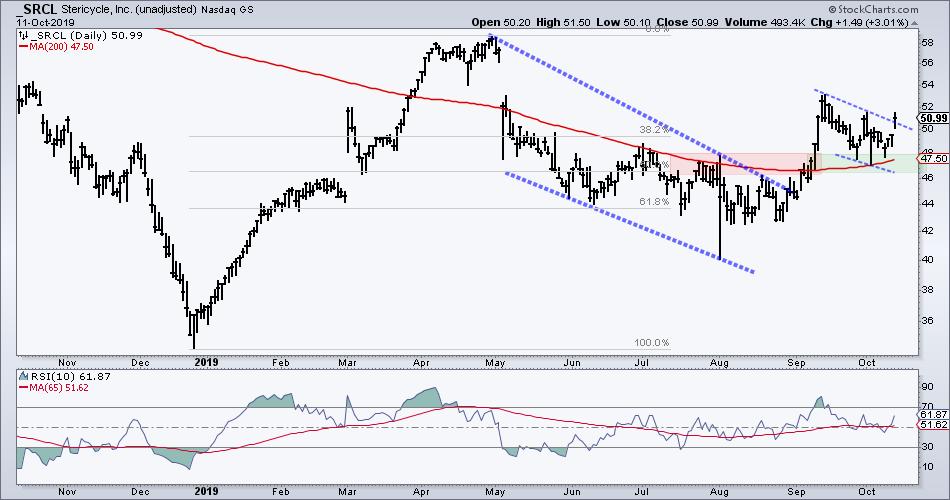 CF Industries (CF) is another industrial stock that recently turned the corner with a breakout this summer. Notice how the stock formed a six month base in the 39-45 area before the breakout. The breakout zone turned into support as the stock consolidated with a rather large triangle. Most recently, we can see a higher low from August to October and a short-term breakout in the works. I would re-evaluate on a close below 47. CF reports on October 29th.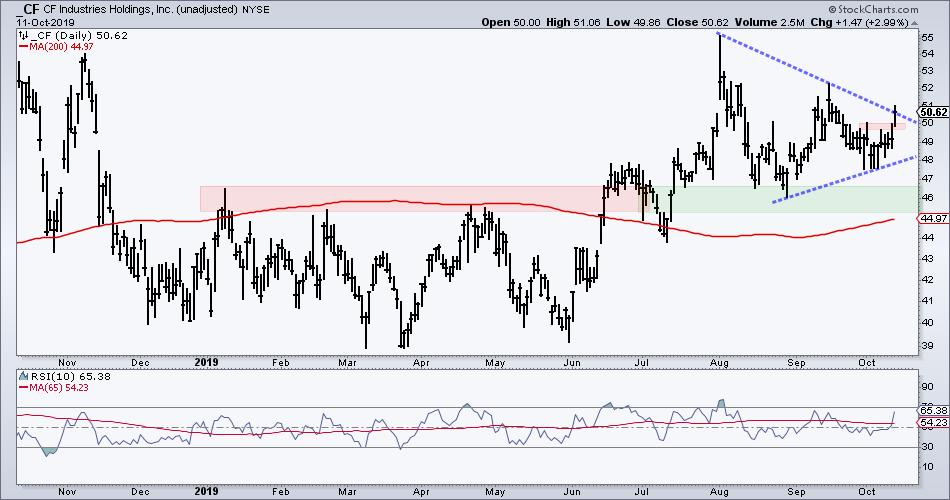 Illinois Tool Works (ITW) is also an industrial stock. ITW broke above its 200-day SMA and resistance in early February and then worked its way higher the last seven months, and I do mean work. Trading was rather choppy, but there is an upward drift with higher lows and higher highs. In fact, the stock hit a 52-week high in mid September. Most recently, ITW held above its August lows in early October and reversed its short-term downswing with a gap-surge on Friday. ITW reports on October 25th.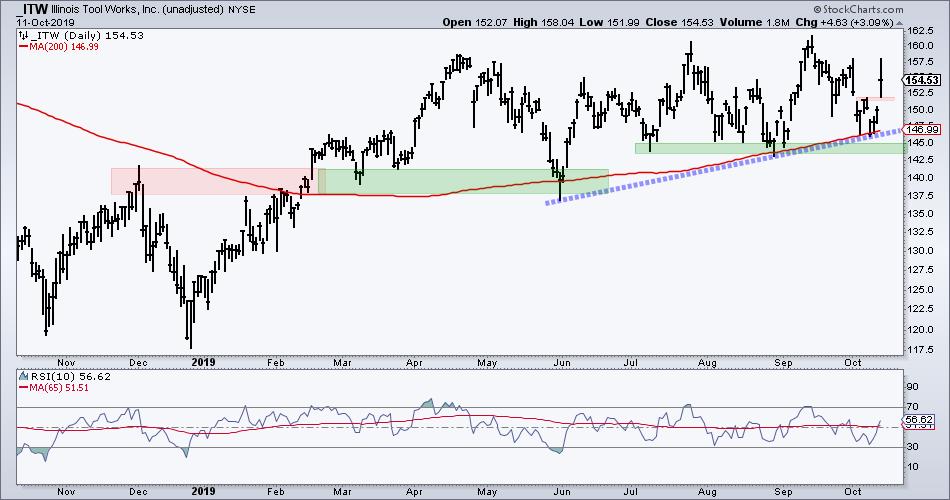 Best Buy (BBY) looks interesting because the stock held support in the 62-64 area in June, August and October. After a sharp decline in early August, the stock firmed the last two months and bounced with the broader market the last seven days. A short-term breakout at 70 could be in the making here. I would re-evaluate on a close below 64. BBY reports on November 18th.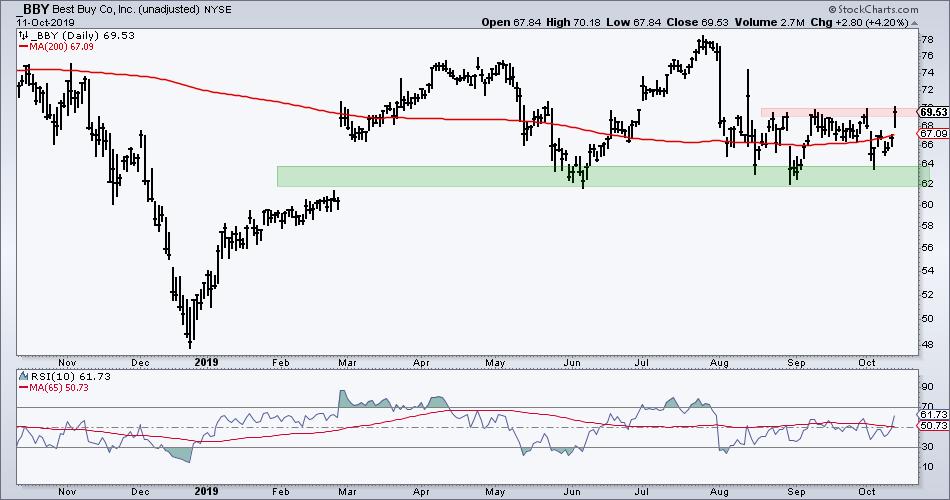 Fiserv (FISV) is one of the stronger stocks in the Technology sector because it is up over 40% this year and less than 5% from a new high. After hitting a new high in mid September, the stock corrected with a falling wedge. FISV broke the wedge line and is close to breaking above its late September high (red zone). A breakout here would open the door to new highs. FISV reports on October 29th.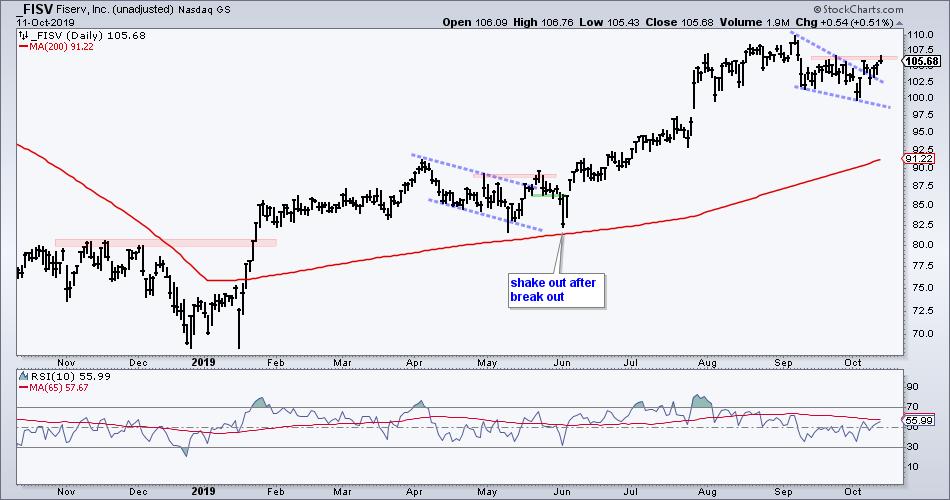 Picking the re-evaluation level on a breakout or setup is always a challenge. As FISV illustrates in May-June, the stock broke out around 89 in late May and then plunged in early June. Traders with a tight stop around 86 would have been stopped out and likely would have missed the June-July surge. Two items to consider. First, FISV held the mid May low. Second, the plunge was a one-day overreaction. After this plunge, traders could have placed a stop below the May low and 200-day SMA. Yeah, I know, hindsight is 20/20, but it is a technique to consider going forward.
LivePerson (LPSN) is perhaps the riskiest stock on this list. It is a small-cap that more than doubled from late December to late August. The stock surged more than 50% this summer and fell 15% during the wedge correction. This correction, however, looks like a normal falling wedge and the stock broke above the upper line this week. Thus, it looks like the correction is ending and the bigger uptrend is resuming. This is a growth stock with above average risk and the company reports on November 6th.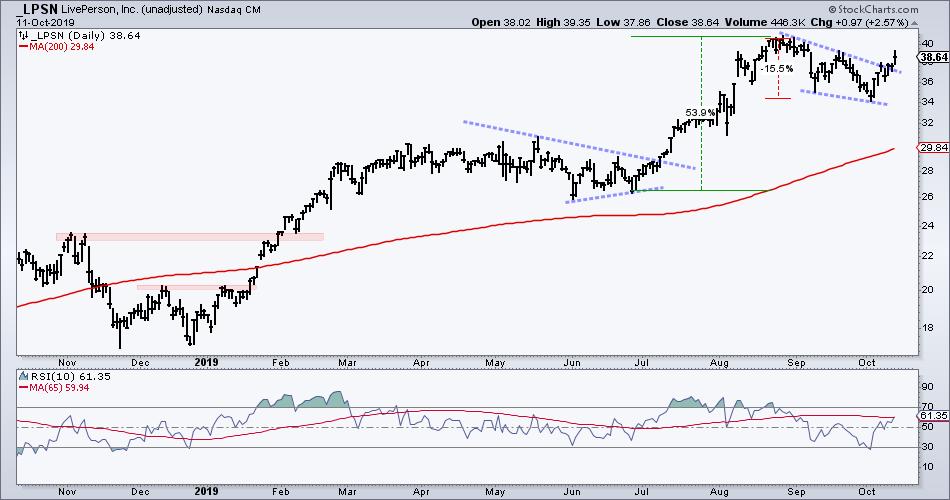 ------------------------------------------------------------
This Week on Art's Charts
Saturday - October 12: Follow Through Day or Not? Long-term Uptrend and Possible Ascending Triangle for SPY
Friday - October 11: The State of the Stock Market - Key Assumptions Determine Probabilities - Index and Sector Breadth Model - Fed Assets
Thursday - October 10: Ranking and Grouping ETFs - Key Large-cap ETFs at Moment of Truth - Many More Downtrends than Uptrends
------------------------------------------------------------