Hello Fellow ChartWatchers!
The market gave back ground this week, especially on Friday as a good Jobs report led to fears that the Federal Reserve would raise interest rates soon. It definitely seems like a turning point in the market just occurred as the Sector Rotation picture is now muddier. Compare last week's Sector Rotation PerfChart to this week's edition: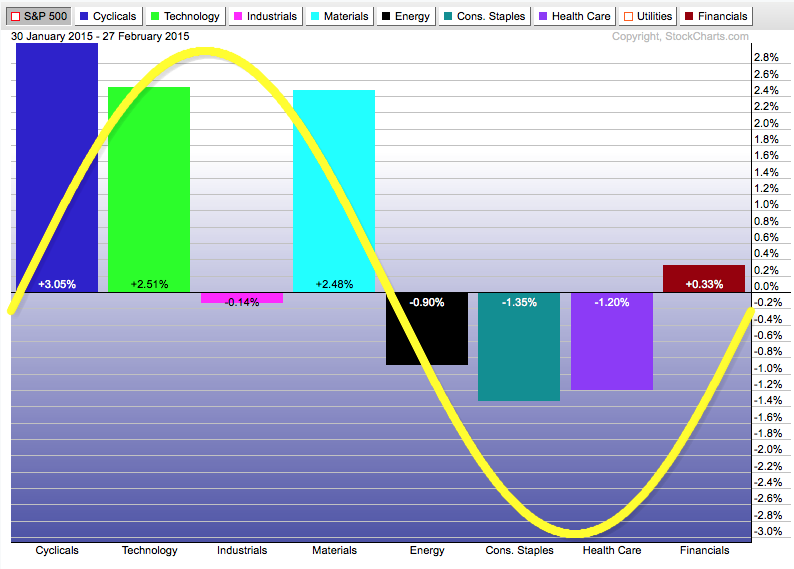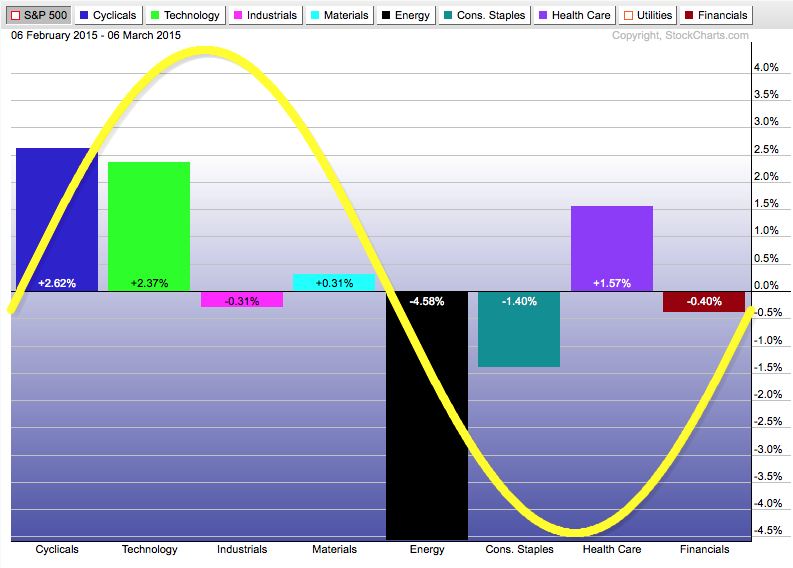 ---
(Note: I've removed Utilities from these charts since they are very heavily skewed downward at the moment.)
In the first chart, most of the bars are positioned between the yellow cycle line and the zero line - an indication that sectors are rotating "normally" with the bullish sectors (on the left side) moving the market higher. In the second chart, things are starting to become more "up-down-up-down" meaning that there is less agreement about where things stand. Click here for more on sector rotation.
Free Market Analysis! Get your Free Market Analysis Right Here!
One of the true "hidden gems" on our website is the "Public ChartList" area. Public ChartLists are sort of like blogs for chartists. Anyone with an Extra, ExtraRT or PRO account can create a ChartList, fill it up with great charts and market commentary and share it out with the rest of the world. These shared ChartLists are free for anyone to read and many of them contain some very high-quality market analysis and trading ideas. I strongly encourage everyone to spend some time at least once-a-week visiting our Public ChartList area.
To see our Public ChartLists, use the "Public ChartLists" link located in the "Commentary" box on the right side of our homepage (or click here for now).
On the main Public ChartList page, you'll see the top 100 lists ranked by "Popularity." The lists at the top have consistently contained high-quality content that other readers have found valuable again and again. They are definitely worth a look. Here's are several somewhat randomly selected examples of what you'll find there: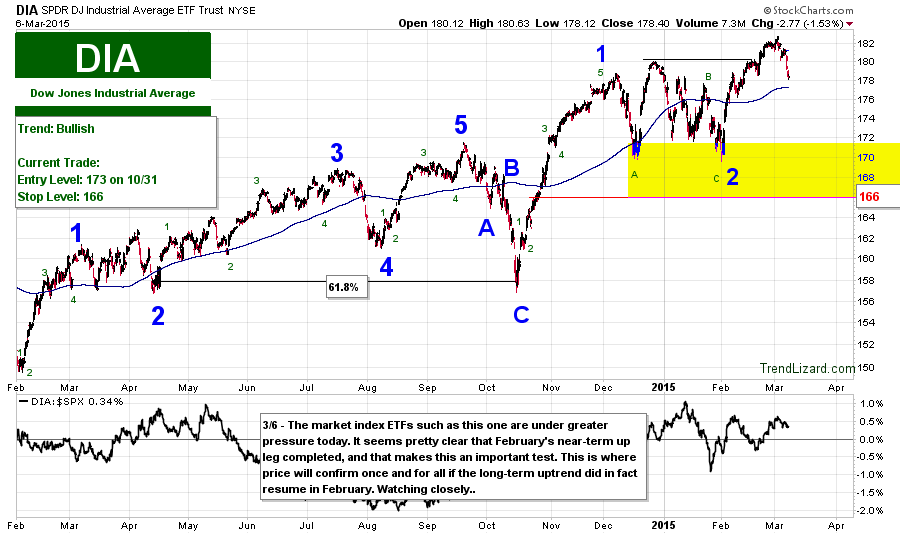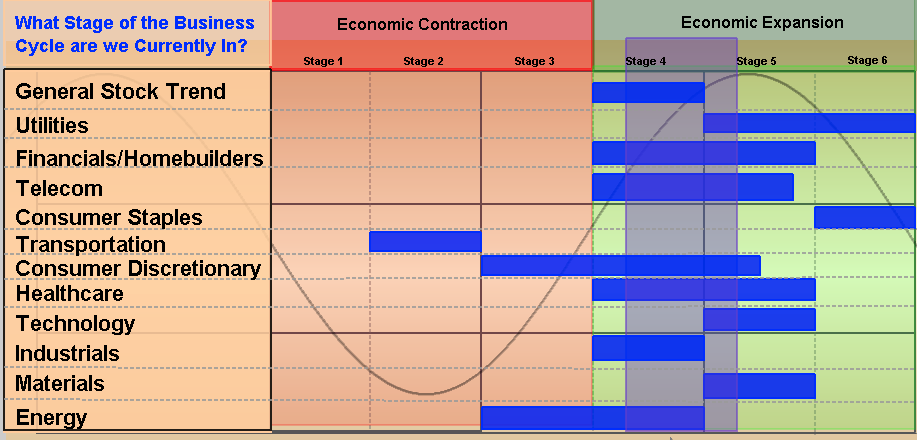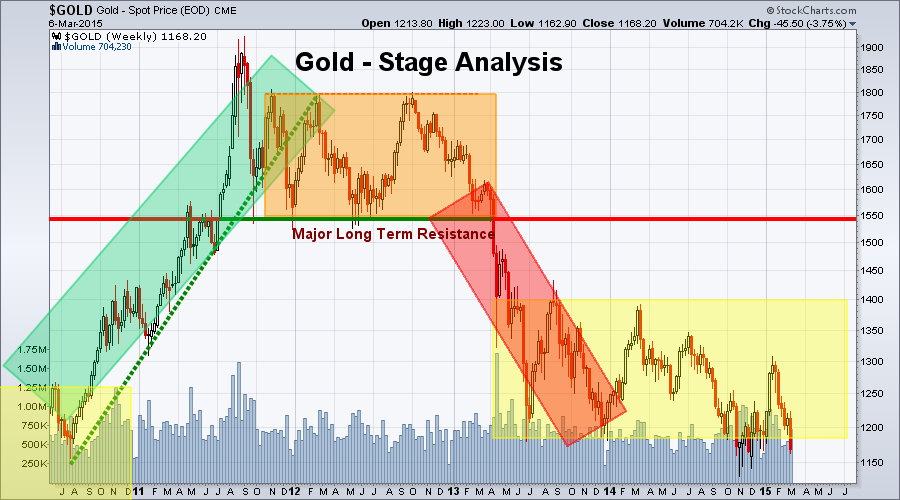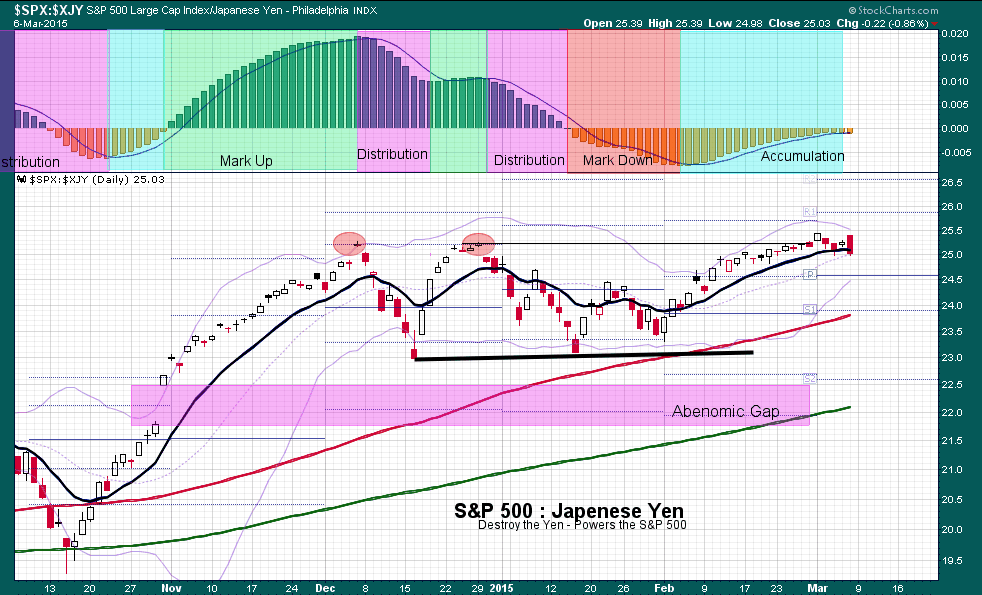 (I'll leave it up to you to find the ChartLists that these charts belong to. Hint: They are somewhere in the top 20 lists.)
As you can see from these examples, there are many, many surprising charts in our Public ChartList area!
In order to help you decide which other lists might be worth a look, we've added several things you should be aware of: Badges and the Categories dropdown.
List authors can earn badges (i.e. the little grey icons beside their name) for completing various skills requirements and training events. The more badges the better.
List authors can also select up to three different categories for their ChartLists. You can use the "Show" dropdown at the top of the page to find lists that better meet your interests.
Finally, if you are a member of StockCharts.com, you can Vote for and/or Follow your favorite lists to reward the author for a job well done. You can vote for up to 3 different lists each day by clicking the "Vote" button in the area at the top of each individual list. As the expression goes "Vote early, vote often." List authors L-U-V your votes.
If you really like a Public ChartList and you'd like to be notified whenever it is updated, click on the list's "Follow" button. That will mark the list as a favorite of yours and send you email whenever updates are made. Following a list will also reward the list's author with additional "Popularity" points.
So, again, don't forget to visit the Public ChartList area of the website at least once-a-week and vote for your favorites. It's your "civic duty" as a ChartWatcher!
- Chip
P.S. For more on Public ChartLists including tips for Public ChartList authors, please watch the recording of this weekend's "ChartWatchers LIVE!" webinar.
SITE NEWS
RECENT ADDITIONS TO STOCKCHARTS.COM
Tom Bowley's New Blog Debuts - Tom Bowley has been a long-time contributor to this newsletter. The good news is that Tom is now a full-time member of StockCharts.com! Tom's new blog - called "Trading Places with Tom Bowley" - debuted last week and his new webinar - called "Trading Places with Tom Bowley LIVE!" (shocking, I know) - debuts this coming Friday. Watch for more and more great things from Tom in the future.
John Hopkins Debuts on ChartWatchers - With Tom making the transition over to StockCharts, that opened up a slot on our newsletter for Tom's InvestedCentral partner, John Hopkins, to start contributing content. John's first article is below. Welcome aboard John!
Invert Your Charts with a Minus Sign - We now allow you to visually invert any SharpChart by added a minus sign to the front of your main ticker symbol. Try it for yourself. Try charting "-$VIX" to see an inverted chart of our favorite inverted market indicator.
GOLD TUMBLES ON RISING RATES
by John Murphy | The Market Message
Gold got hit hard Friday on two fronts. One was the sharp jump in U.S. interest rates. The other was the surge in the U.S. Dollar to the highest level in eleven years. The chart below shows the price of gold tumbling $29 (-2.4%) on Friday to the lowest level for the year. And it did so on rising volume. [Gold stocks lost -7.4% and were day's and week's biggest losers]. The green line is the 2-year Treasury yield. The chart shows gold trending inversely to the 2-year yield. That's been especially noticeable since the start of the year. A peak in the yield line at the start of the year helped push gold into a strong January. The upturn in the green line since late January has helped push gold (and gold shares) sharply lower. There are at least two reasons why. Gold is a non-yielding asset. It has more appeal when U.S. rates are low or declining. It loses its appeal when rates start rising -- as they are now. The second reason is that rising rates push the dollar higher which is also bad for gold. Gold is priced in dollars, as are all other commodities. The surging dollar is a main reason why commodity markets in general are doing so badly.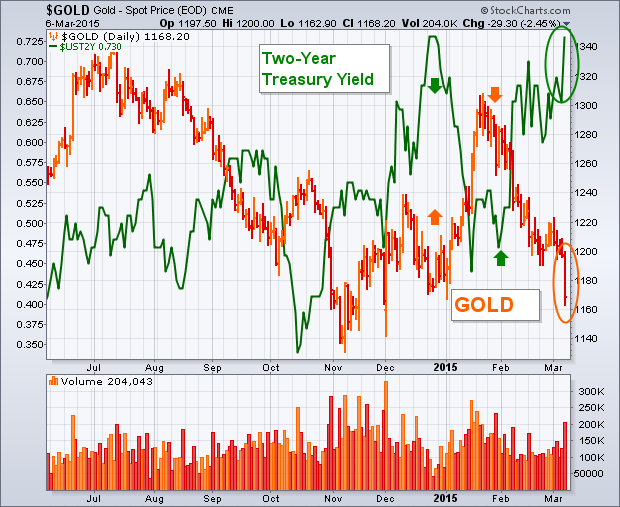 Stocks came under selling pressure in early March and this selling pressure intensified on Friday as the S&P 500 lost 1.42%, which was the biggest one day decline since late January. Even so, it is just one week of selling pressure and not enough to affect the long-term uptrend. As the chart below shows, the S&P 500 hit new highs in November-December, consolidated with a triangle into January and broke out in February. As far as the trend is concerned, the new highs affirm the long-term uptrend and I do not see a major topping pattern taking shape. The index is well above the rising 200-day moving average and the winter lows mark key support in the 1975-2000 area.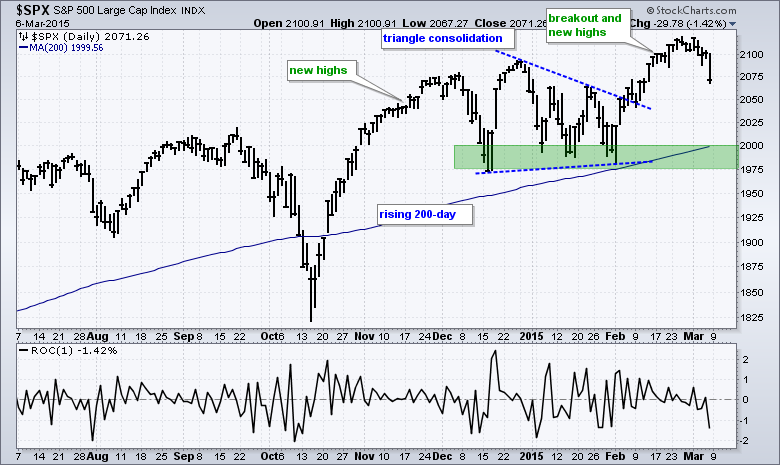 As far as the short-term is concerned, the index surged some 7% from low to high and a pullback is perfectly normal after a sharp advance. In addition, notice that the index is nearing its first support zone. A key tenet of technical analysis is that broken resistance turns support. The January highs marked resistance in the 2065 area and this area now becomes support. The blue lines show the Fibonacci Retracements Tool extending up from the February low to the February high. The 38.2% retracement is at 2066 and this is the first retracement level to watch for a short-term bounce or reversal. It is certainly possible that this short-term decline extends, but I would expect a reversal above the January lows. If the 2065 level does not hold, then I would look for a bounce around 2040, which is closer to the 61.8% retracement.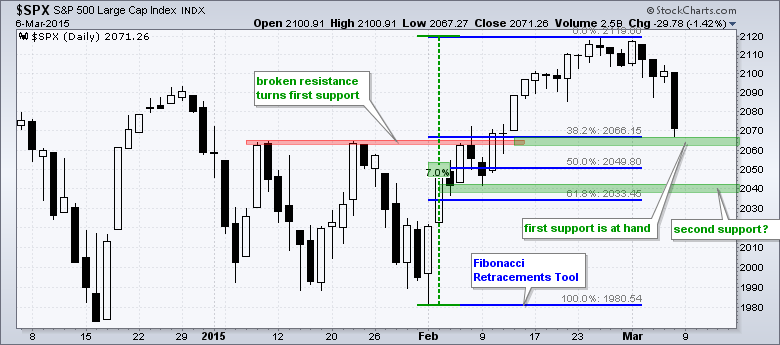 Thanks for reading and have a great weekend!
Arthur Hill CMT
The Full line Insurance Group Is one of the top 5 industry groups over the last month.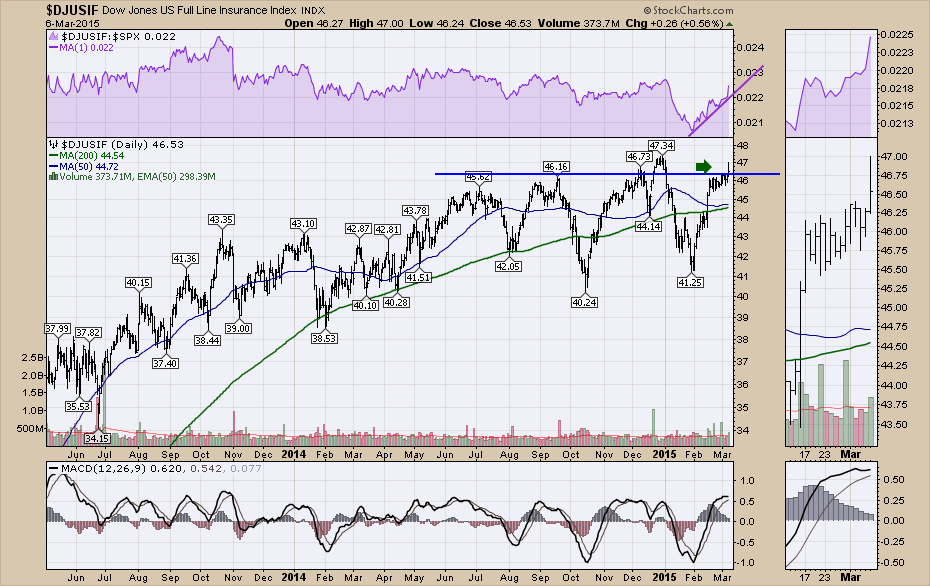 With the market pulling back hard on Friday, this group turned up higher. The Full Line group continues to anticipate better times ahead if the interest rate changes. Another group moving up fast is the Life Insurance group.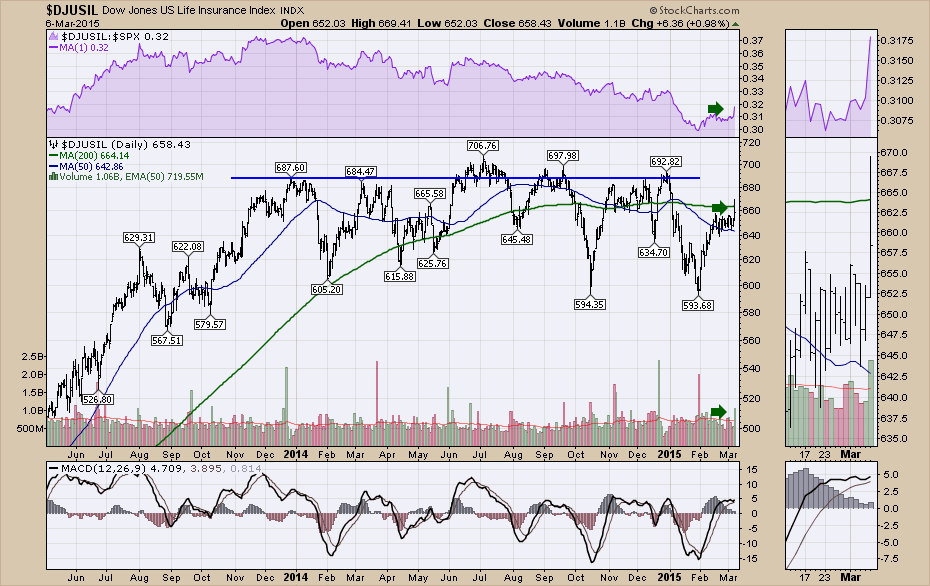 They also rallied on Friday with expectations of a change in rates as a driving cause. This interest rate change could be a major catalyst for the financials that are interest rate sensitive. We'll be watching these areas very closely over the next few quarters.
Good trading,
Greg Schnell, CMT
DecisionPoint has been on an Intermediate-Term Trend Model BUY signal since January 17, 2014, so a Neutral signal is a big deal as far as our timing models are concerned. The signal was generated when the 20-EMA crossed below 50-EMA. It was not a SELL signal because the 50-EMA was above the 200-EMA which implies it is in a "bull market".
The steep continuation of the decline Friday made the breakdown from the foundation of the rising bottoms line "decisive". It is nearly a decisive move from support denoted by the blue line below. Given the new Intermediate-Term Trend Model Neutral signal, it is reasonable to assume that price could make a move to and possibly past the 200-EMA.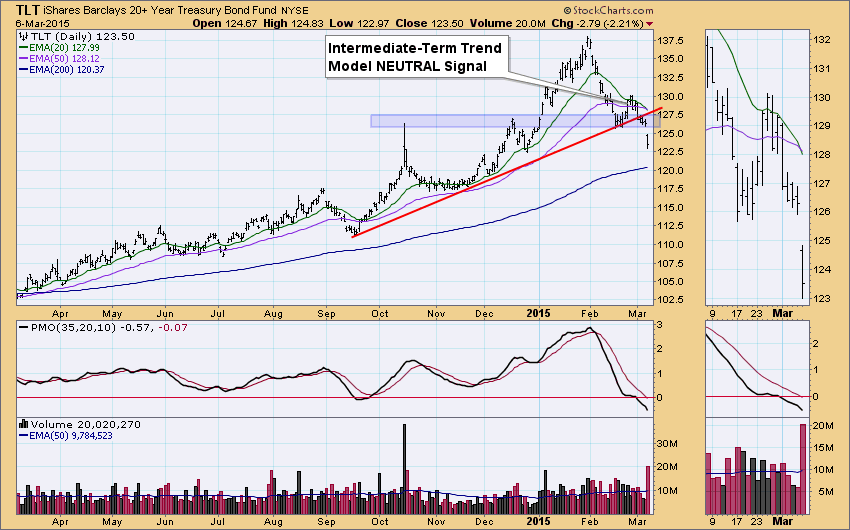 Looking at a longer-term daily chart, we see that the Price Momentum Oscillator (PMO) has plenty of room to fall before becoming even a little oversold. This doesn't bode well for TLT. Worse yet is the strongest area of support is at the lows of 2013 around 96.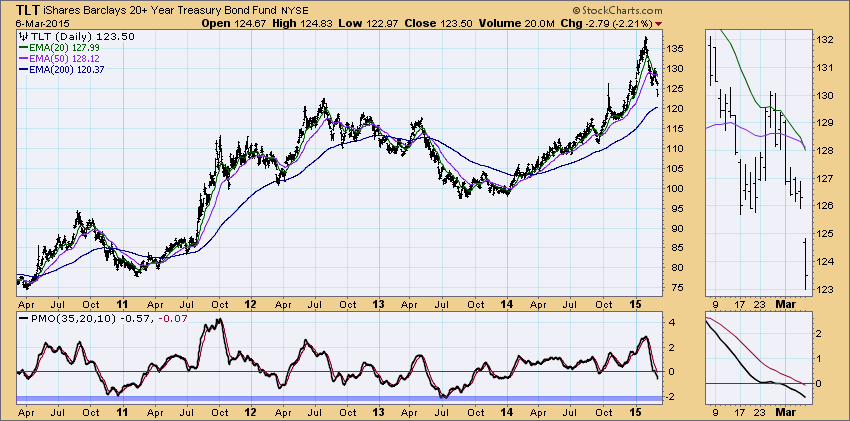 The weekly picture doesn't look much better given price has penetrated the 17-week EMA and the weekly PMO generated a PMO SELL signal in overbought territory today.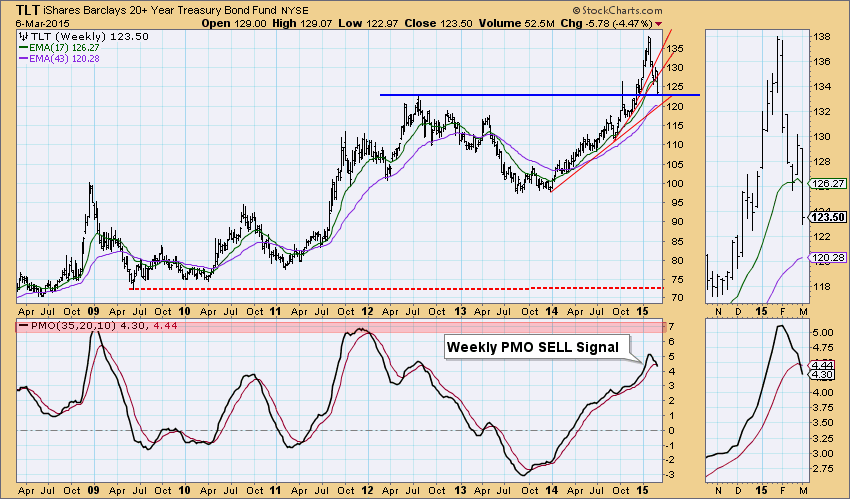 Conclusion: Should TLT penetrate support at the 2012 high, the next area of long-term support will be at the 2013 lows.
Technical Analysis is a windsock, not a crystal ball.
Happy Charting!
- Erin
When we look back at last week's action, a few things stand out to me. First, the aggressive sectors - financials, consumer discretionary, technology and industrials - held up quite well on a relative basis. That should be seen as a positive. The worst performing group was utilities, which makes sense as the yield on the 10 year treasury ($TNX) soared. The fear of rising interest rates spooked the market last week, but I don't believe we've necessarily entered a long-term period of higher interest rates. Instead, we're likely seeing a bounce in treasury yields after many months of decline. In fact, if we look at a long-term 40 year chart on the TNX, it appears to me that we could see yields rise to the 3.75%-4.00% area and still remain in the downtrend channel that began in late 1983. Historically speaking, that would still leave the TNX at a very low level, conducive to stronger economic growth. Take a look at the more than 30 year downtrend: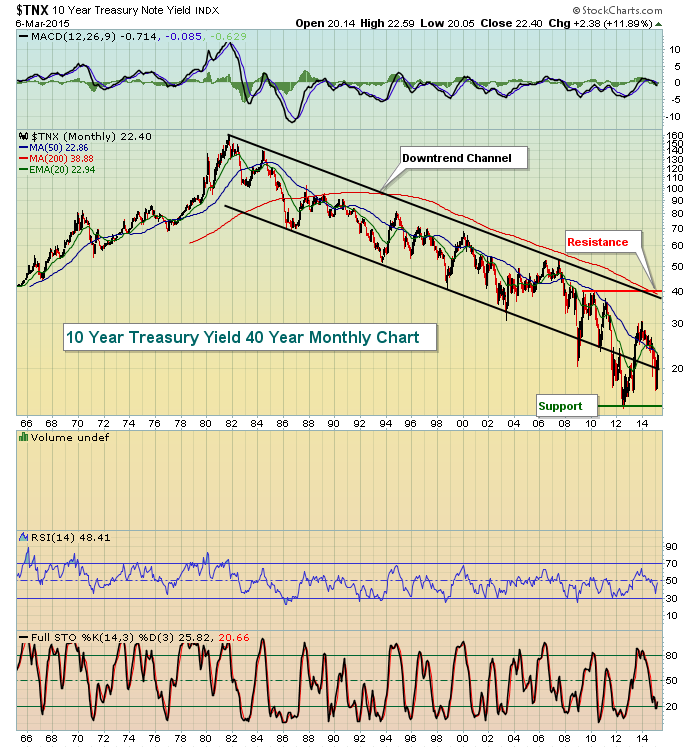 Despite the rather large sell off last week in equities, the internet space ($DJUSNS) actually strengthened. We're still waiting on a breakout in this group, but clearly money began rotating to internet stocks in late February and that rotation continued in early March. Look for a close above 900 or a continuing short-term sell off to price support at 865 and the rising 20 day EMA, currently at 861 as potential opportunities for entry into stocks within this space. Check out the recent strength: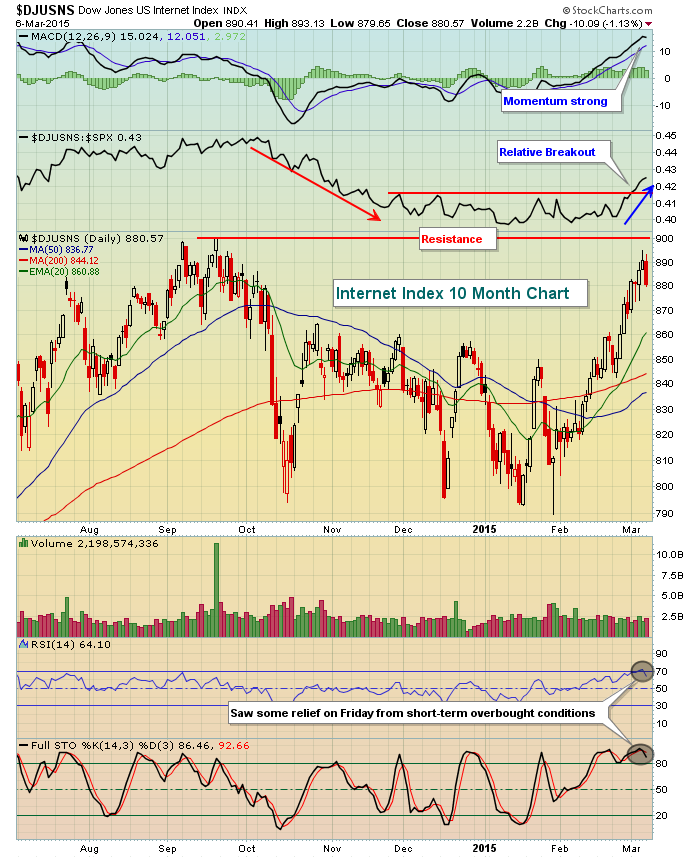 Happy trading!
Tom Bowley
BEYOND TECHNICAL ANALYSIS
by John Hopkins | InvestEd Central
This is my first article as a new contributor to ChartWatchers. I'm a founder and president of Invested Central and many of you know my good friend and co founder of Invested Central, Tom Bowley, who recently joined StockCharts.com and has been a contributor to ChartWatchers for many years.
At Invested Central one of our key missions is to educate traders. We've been doing this for over ten years and as a result I get a lot of feedback from members who share with me some of their struggles as traders. From deciding when to enter a trade, to deciding when to take a profit or deciding when to take a loss. And I've found that even the most experienced traders find it difficult to take their emotions out of trading.
So, my key goal as a contributor to ChartWatchers will be to help you confront and modify some of your own trading demons by focusing on what I term, "Beyond Technical Analysis" which centers on all of the "other" tangible and intangible considerations of trading that go beyond studying charts.
I recently conducted a member survey that went out to our trading community that resulted in hundreds of responses. Here was the one question I asked:
Please rank in order of importance when making a trade:
-Price of the Stock
-Cost (broker fee) for making a trade
-Results (winning trades)
-Understanding Technical Analysis
-Size of the Trade
When I came up with this question I was mostly interested in seeing what was most important to traders next to the most obvious answer; Results, or "winning trades." For example, did the price of a stock really make much difference when making a trade? How about the cost to make a trade; was it really all that relevant?
What I ended up finding out was actually shocking. Only 50% of respondents listed Results (winning trades) as being the most important part of making a trade. Over 30% listed Understanding Technical Analysis as being the most important. 11% listed the price of the stock as being most important.
I really did expect 90%+ of the respondents would answer Results because why else would you get involved in a trade other than looking to make money? I realize for some people who have a lot of time on their hands (and maybe some discretionary cash to play with) that perhaps it's more of a hobby. That's fine. But I doubt this is true of the vast majority of people reading this article or who I polled who are part of the network at Invested Central.
Now, as someone who lives and breathes technical analysis, I applaud those who strive to understand technical analysis to the max. Stochastics, RSI's, Divergences, Moving Averages, Support, Resistance, all of these are critically important to understand when making a trade. But if you enter a trade without your number one goal being to make money, you need to step back and do some reprioritizing (I didn't make that word up.)
There isn't a better place on the planet than StockCharts.com to get tools that will help you uncover high reward to risk trading candidates. I know this from many years of experience. Their scanning tools are phenomenal. And, if you've been reading the ChartWatchers newsletter for any length of time, you aren't going to find better technicians and writers who are willing to share their knowledge with you. But you also need to understand that there's another whole side of trading, "Beyond Technical Analysis" that I plan to share with you as a newcomer to ChartWatchers. So, here's my first lesson:
Don't get involved in a trade unless your number one goal is to make money.
I realize that many of you already get this. But numbers don't lie and when I see that half of the traders I ask are putting something else ahead of making money, well, we've got some work to do!
I'm going to conduct a FREE webinar on Tuesday, March 10, 2015 at 7:30 PM eastern that will dig more deeply into the concept of "Beyond Technical Analysis." I'll share with attendees some of the issues most traders face on a day to day basis. If nothing else, perhaps it will serve as a starting point for you to face some of your own demons and to take steps to make some positive changes that will increase your chances of success. Please join me! Just click here to save your seat.
I'm very honored to be a ChartWatchers contributor and look forward to sharing my many years of experience with readers in the weeks and months to come.
Committed to Helping you Succeed,
John Hopkins
President
Invested Central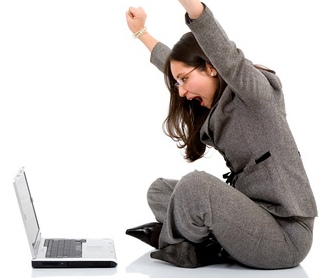 I have three objectives for this blog. First, to invite and encourage fundamental investors to embrace the value of visualized dividends which can now be plotted on a chart along with price. Secondly, to nudge all investors to consider allocating a percentage of their portfolios to dividend yielding stocks, both domestic and international. And finally, to compare three
Read More