Industry breadth is usually helpful in finding a new breakout trend. What we mean by that is the number of stocks within an industry group that are breaking out together. When lots of stocks are moving higher in an industry group, rather than just one, it is a much better signal of opportunity.
Looking at one specific chart that is looking great is $LUMBER. $LUMBER recently broke out to six-month relative strength highs in February, shown in purple. This week it made new 1-year highs. That strength attracts interest by portfolio managers. We can see the downsloping trendline in price broke around the 250 level which was close to the 200 DMA at $257 (not shown due to clutter!). This week, Lumber will close near a one-year high. A break above this level should send lumber related stocks higher.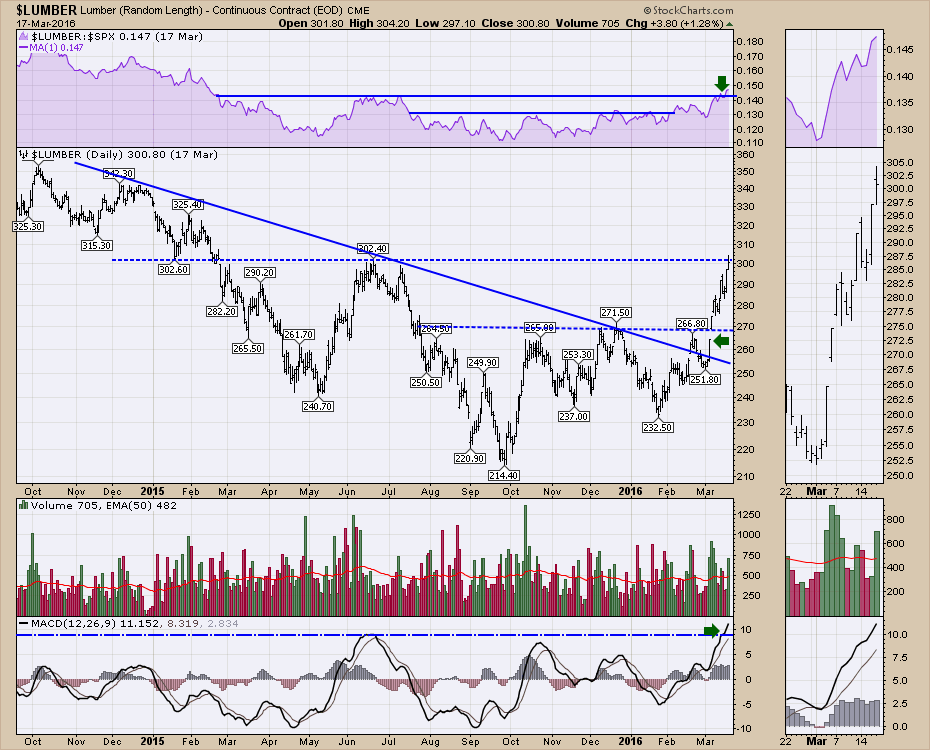 ---
After seeing the $LUMBER move, I noticed some aggressive action in the forestry sector. Below is the %-change for one week. Some stocks had 5% moves this week. Currently, there are 5 of 17 stocks with an SCTR above 75. Not bad. GLT and CLW are just out of the top quartile.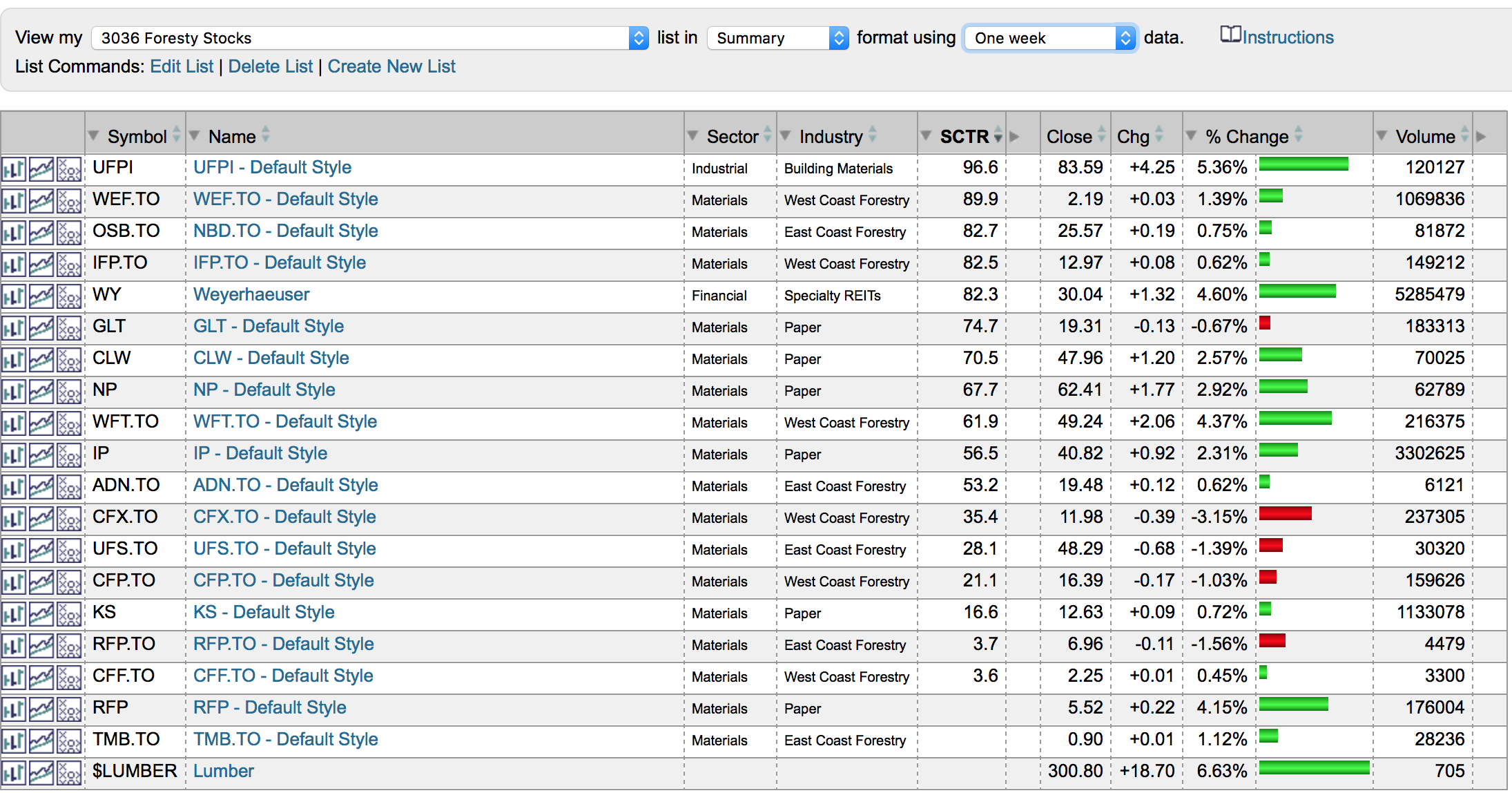 I like the fact that a group of stocks are performing very well in response to the move in $LUMBER. One example of a nice chart is Clearwater Paper (CLW). The SCTR is just below my target entry zone of >75. The RS is very close to new 4 month highs, and the momentum on the MACD has surged to the highest level in 1.5 years. With the broken trend line, this is interesting here. If Lumber breaks above $303 and stays above, these individual stocks will probably continue the uptrend. I would encourage you to look at the stocks with the strongest SCTR rankings first on the list above. Early leaders can perform very well.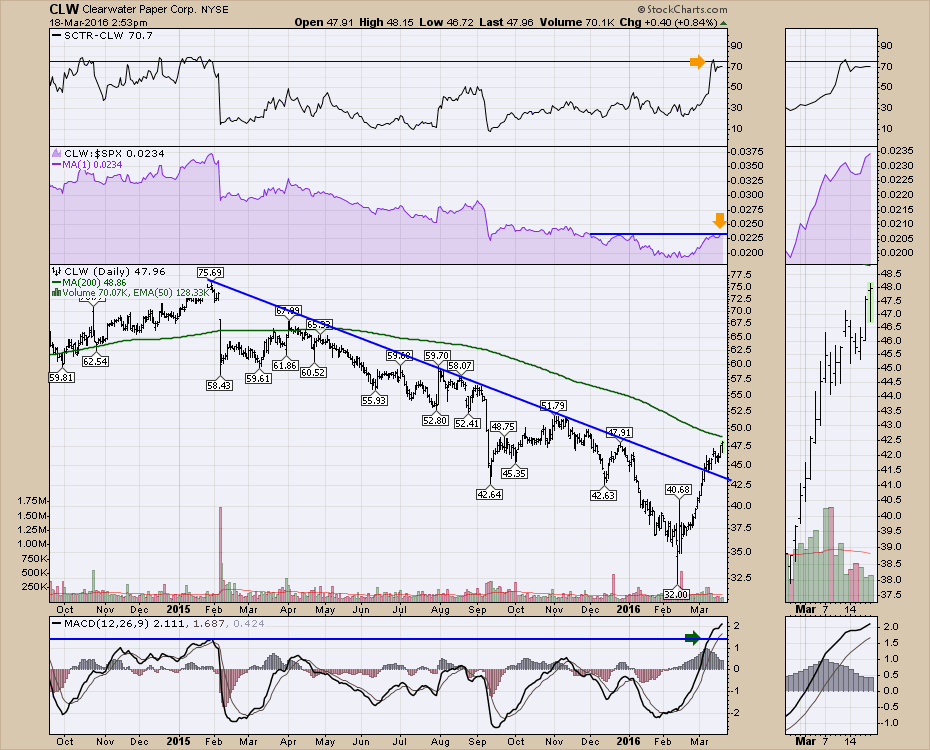 You might want to take some time to look through the $LUMBER related stocks this weekend using the ticker listing on chart 2 above. There could be some opportunities sprouting. I also posted an article on Weyerhaeuser (WY) in Friday's Don't Ignore This Chart. Click on the link to see that one. I also talked about $LUMBER in the Commodities Countdown Webinar 20160317 on Thursday. I couldn't be more concerned about the broader markets, but there are industry groups that might still work out great. Lumber looks like it is trying to set up for a bull run here. Staying above $303 would be part of my thesis. You can click on the $LUMBER or the CLW chart in the future to see the updated chart.
I currently write on four different blogs within StockCharts. The Canadian Technician, Commodities Countdown, Don't Ignore This Chart, and the ChartWatchers newsletter. If you are missing some of the commentaries I refer to, it could be posted on different blogs. Sometimes different commodity articles are discussed on the Canadian blog as well as the Commodities Countdown blog as an example. Please register for each of them independently by clicking yes below the article. You can also follow me on twitter @schnellinvestor for trade ideas or thoughts about the market. You can also connect with me on LinkedIn.
Good trading,
Greg Schnell, CMT, MFTA.
About the author:
Greg Schnell
, CMT, MFTA is Chief Technical Analyst at Osprey Strategic specializing in intermarket and commodities analysis. He is also the co-author of
Stock Charts For Dummies
(Wiley, 2018). Based in Calgary, Greg is a board member of the Canadian Society of Technical Analysts (CSTA) and the chairman of the CSTA Calgary chapter. He is an active member of both the CMT Association and the International Federation of Technical Analysts (IFTA).
Learn More